Sweet Dessert Wines Still Rock! Many Winners for the Holidays
Dessert wines tend to score high as they are so delicious when made well. As you will see below, we found some of these gems. I look forward to sharing some details of these big scoring winners just in time for the holiday season. You also might be surprised to discover that our top three recommendations come from the Finger Lakes in upstate New York.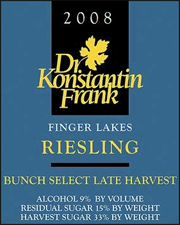 Our top dessert wine is phenomenal. That is the good news. The bad news is it is a bit expensive at $70 for a 375 ml bottle and only 98 cases were made. So if you want to buy some delicious wine for the wine lover in your life, give the winery a call right away if you want to get some. So what is this great wine? It is the 2008 Dr. Konstantin Frank "Bunch Select Late Harvest" Riesling. We scored this wine 97 points. It is full-bodied, ultra smooth and very lush. The flavor profile is an absolutely delicious blend of pear, apple and apricot with a hint of mango. It was clearly the best dessert wine that we covered in quite a while. Theresa called it awesome! We think you will agree!

Our next two Excellent choices are Riesling Ice-styled wines from the Finger Lakes. Both wines scored 94 points.  The first is the 2010 Standing Stone "Riesling Ice" for $25 It is full-bodied, balanced, rich and very concentrated. The flavor profile is a very tasty and sweet ripe apricot with a touch of peach and hint of raisin. This wine is a dessert all by itself. You could also serve it with sliced green apples and sharp cheddar cheese.

Next up is the 2009 Lamoreaux Landing "Riesling Ice." This offering is also pretty good deal at $36 for a 375 ml bottle. You should be a able to find it as 400 cases were made. This offering is sweet, viscous, and displays lots of ripe fruit flavors. Those flavors are a very tasty blend of apricot and honey with just a touch of golden delicious apple. Like the Standing Stone, we decided that this was one to serve on its own.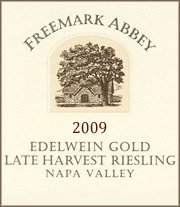 Another rocking offering is the 2009 Freemark Abbey "Edelwein Gold Late Harvest Riesling". This offering scored 93 points and cost $45 for 375 ml bottle. It is made from 100% White Riesling and only 121 cases were made. This offering is full bodied, viscous, and rather smooth. We loved it very tasty peach tea and fig flavors. I also detected hints of honey, apricot, raisin, and sprinkled brown sugar that added to its intrigue and complexity. It would go perfectly with toasted baguette slices with Great Hill Blue cheese to contrast the sweetness.
Our final 93 pointer is another great deal from Standing Stone. Their 2008 "Chardonnay Ice" from the Finger Lakes is a heck of a deal for $25. It is also a 375 ml bottle and only 186 cases were made. It is full-bodied, viscous and very smooth. I loved its very tasty apricot and ripe pear flavors with notes of honey and pineapple. This is an excellent dessert wine that can be consumed on its own and it would be a perfect choice to finish off a romantic evening.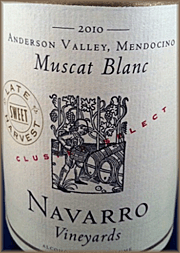 The next four dessert wines are all 92 pointers. These winners were all made from very unique and different grapes. You might find this set of wines to be a great place to explore different kinds of dessert wines. Our first 92 pointer is the 2010 Navarro Vineyards "Cluster Select Late Harvest Muscat Blanc" from the Anderson Valley in California. We found it to be medium to full-bodied, syrupy, and very sweet. Its flavors were like the best orange marmalade jam you have ever tried. There were also notes of honey and a dash of brown sugar as well. This offering like some of the others is a dessert all by itself and does not need anything else to make it special.
Next up is what they call a "Sticky." It is from down under in the McLaren Vale region of Australia. This particular one is from D'Arenberg. Their 2010 "The Noble Mud Pie" is made from Viognier and Roussanne. It opens with a fragrant tangerine, apricot, and honey bouquet. I found it to be viscous and display's pleasant honey and ripe pear flavors with hints of golden raisins towards the back of the palate. It finishes sweet and it would pair well with sharp cheddar cheese.

This next offering from Joseph Phelps and it is a fantastic example of the Scheurebe grape. Their 2010 "Eisrebe" for $50 opens with a very appealing fig, pineapple, and quince bouquet. We enjoyed its pleasantly sweet green apple jelly flavors with notes of mango, dried apricot, and honey. The panel suggested pairing this gem with blueberry cobbler or a French vanilla cheesecake.
For our final 92 pointer, we return to Standing Stone for one of my favorite dessert wines. Every year we find to "Vidal Ice" to be one of our top performers and the 2009 turned out to be another winner. The panel found this wine to be full-bodied, lush, and rich. Those rich flavors were ripe quince with notes of apricot. We also detected hints of raisins, honey and orange marmalade mixed in as well. The panel suggested drinking this one on its own or with bread pudding. They also liked the price ($25) and the value it delivers.
Our sole 91 pointer is true Vidal Blanc Ice Wine. This one also comes from the Finger Lakes. The 2008 Casa Larga "Fiori Vidal Ice Wine" for $45 opens with a very fragrant and attractive apricot and tangerine bouquet with hints of rose petals. It displays classic Vidal apricot flavors with hints of raisin, honey, and molasses throughout. This offering would pair well with bread pudding or a rum cake and be a very good choice for the holidays.
Our 90 Pointers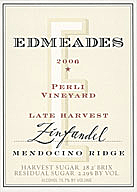 Every year we cover some late harvest Zins and this one from Edmeades was one of the best ones we covered this year. Their 2006 "Perli Vineyard Late Harvest Zinfandel" for $15 is also a very good value. I found it to be medium-bodied and refined while displaying tasty rich plum and boysenberry flavors. The finish is dry, controlled and shows a touch of delicate sweetness. This wine is extremely approachable and elegant when compared to many Late Harvest Zins. It is food-friendly and versatile.  It would pair well with many foods and is not just limited to dessert. Personally, I would suggest serving it with mini pulled pork sliders.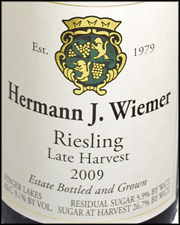 Hermann Wiemer submitted his 2009 "Late Harvest Riesling."  This wine, like many of their wines impressed our tasting panel. This years version is medium-bodied and rather sweet.  Its flavor profile is appealing pineapple and apricot blend with a touch of honey and honeydew melon. The finish remains sweet and lasts for about a minute. The panel thought this wine would pair well with baked brie or peach cobbler.
Our final 90-pointer is the 2007 G & M Machmer "Eiswein Bechtheimer Rosengarten" Riesling for $35. This offering was rather viscous and pleasantly sweet. I liked its unique very ripe apricot and brown sugar flavors with notes of apple and a hint of tangerine and raisin mixed in. This wine would be perfect for readers who like richer styled desert wines. I would suggest serving it with an assorted cheese platter.
Our High Scoring Very Good Options
V. Sattui Winery 2010 "Moscato" (CA) $26 (89)
Macari 2008 "Block E" (Long Island, NY) $40 (88)
EOS 2006 "Zinfandel Port" (Paso Robles, CA) $30 (87)
We think that Dessert wines are a great way to finish off a meal.  Try a few of the above and impress your family and friends this holiday season.  They are guaranteed to make your evening finish on a positive note.
Cheers,
Ken