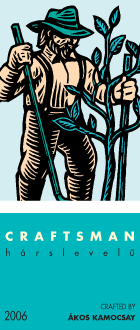 In October we conducted two tastings of several different white wine varietals. We focused on the less common white varietals. We wanted to cover a lot of different varieties over these two tastings so we could share with you our results. Tasting number one was comprised mostly of Gewürtztraminer and Viognier samples. However, there were other options including our winner. We tried 16 wines and recommended 7 of them. The winner was a Hungarian wine from Craftsman. The 2006 "Harslevelu" $9
(Haarsh-leh-veh-lue) is a sweet wine that is indigenous to Hungary. It is one of the grapes used to make the famous Hungarian dessert wine Tokaji Aszu. This crowd pleaser scored an 89.6 and was liked by all the panelists.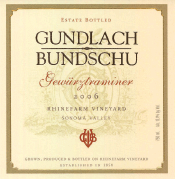 Our second place wine was an old stand by. Gundlach Bundschu has been making terrific Gewürtztraminer for a really long time. The 2006 Gewürtztraminer $25 was our second favorite overall wine of the tasting and our favorite Gewürtz. We scored this wine Very Good (87.56). The next two recommended wines were both Viogniers. The third place finisher was the 2006 Yalumba Viognier $16 from Eden Valley, Australia. This Aussie producer consistently makes some of the best Viogniers from down under. They are also very competitive from a pricing standpoint. This was our favorite Viognier and it scored a Very Good (87.5). Our fourth place finisher was a Viognier from Santa Ynez, California. The 2006 Zaca Mesa Viognier $18 is quite tasty and was recommended by the panel. We also scored this wine a Very Good (87.44).
Other recommended wines from Tasting #1
#5 L'Unabelle 2004 "Reserve" Gewürtz $20 from Alsace, France (87.4) (Very Good)
#6 Ventana Vineyards 2005 Gewürtz $16 from Arroyo Seco, CA (87.11) (Very Good)
#7 Pannotia Vineyards 2006 Torrontes $10 from Argentina (87.11) (Very Good)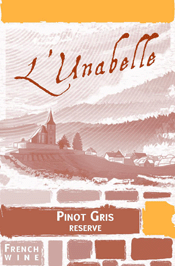 Tasting number two was comprised mostly of Pinot Gris/Grigio and Chenin Blanc samples. We tried 18 wines and recommended 10 of them. The winner from this tasting was a dry Pinot Gris from Alsace, France. The 2004 L'Unabelle "Reserve" Pinot Gris $18 was Very Good and received a score of 88.34 from the panel. Our second place finisher was a combination of Viognier and Chenin Blanc $14 from the Pine Ridge Winery in Clarkburg, CA. It seems that this wine is very popular and Very Good every vintage. The panel scored the 2006 Pine Ridge Very Good with a score of 87.81. Our third place finisher was our favorite pure Chenin Blanc. The 2006 Golden Kaan Chenin Blanc $10 is from the Western Cape in South Africa. The panel scored this wine Very Good (87.81).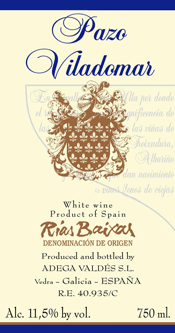 Our fourth place finisher came to us from Spain. It is a combination of the Albarino and Tredxadura grapes. The 2006 Adega Valds "Pazo Vildomar" $17 was quite tasty and scored a 87.75 (Very Good)
Other recommended wines from the second Tasting included:
#5 Columbia Crest 2006 "Grand Estates" Pinot Grigio $11 from Columbia Valley, Washington (87.75) (Very Good)
#6 Groote Post 2006 "Old Man's Blend" $15 from the Coastal Region of South Africa (87.50) (Very Good)
#7 Erbaluce di Caluso 2005 "Elisa" $15 from Piedmont, Italy (87.38) (Very Good)
#8 Anne Amis 2006 Pinot Gris $19 from Oregon (87.31) (Very Good)
#9 Boschendal 2006 "The Pavillion"$9 and is 80% Chardonnay & 20% Semillon from South Africa (87.29) (Very Good)
#10 Zaca Mesa 2005 Roussanne $25 from Santa Ynez, CA (87.25) (Very Good)
Overall, the tasting panel was pleased and excited to tell our readers about these different varietals and blends. Our only disappointment was that none of the submissions at either of the two tastings qualified as Very Good + (Scoring in the 90's). We are certain that there are such wines made from these grapes, but we just didn't try them. The above recommended wines are all Very Good and are a fine representation of what you can expect from these grape varieties. We recommend you try one or two of these options and see what you like – especially if you have never tried a Gewürtztraminer, an Albarino, or a Viognier. Have fun experimenting. Cheers – KWGTP