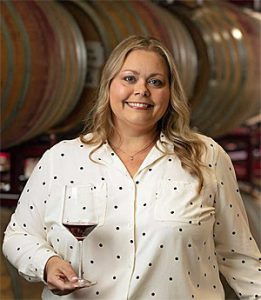 During our interview on April 20th, we learned several thing in speaking with Kristen. The first thing we learned, was that in 2012, Kristen moved to Sonoma County to dedicate herself to wine full time. In addition to joining the winemaking team at Korbel, where she spent six years honing her skills working with sparkling wine and Pinot Noir. Simultaneously, she also gained some invaluable experience with cool-climate Pinot Noir working for Joseph Phelps's Freestone Winery on the Sonoma Coast.
After joining Goldeneye in 2019, Kristen quickly distinguished herself for her unparalleled work ethic, gifted palate, and scientific acumen. She rapidly rose through the ranks from enologist II to assistant winemaker in Feb 2020 to winemaker in June of 2021.
Kristen shared with us, the unique characteristics of their three estate vineyards. We learned how the Confluence Vineyard develops vibrant red fruit characteristics in their wines. While the Gowan Creek Vineyard which is right at the winery, yields voluptuous and deep blue-fruit styled wines. I also noted how the wines appear to be evolving in a bit more restrained fashion of the last 4 years. She agreed, especially with the Gowen. The last Estate vineyard we explored was the Narrows Vineyard. This vineyard is on a hillside and delivers fascinating terroir-driven rusticity in its wines. All three estate wines were very different. We also had a chance to try the "Ten Degrees" Pinot which is a blend of the best barrels from the three Estate vineyards. They certainly picked the right barrels in 2019! Finally, we also had a chance to explore a Pinot from the Cerise Vineyard. This vineyard from the Anderson Valley has supplied grapes to the Kosta Browne label and now Kristen gets to play and craft wines from those grapes as well!
Below is a summary of all the impressive wines that we covered with Kristen. The links are to our full reviews. If you are interested in ordering and trying these wines, you will find a few of them via your favorite wine shop or fine dining restaurant. The rest are available for order via the Goldeneye website.

Goldeneye 2020 Gewurztraminer "Confluence Vineyard" (Anderson Valley) $40 (KWGTP 92)
Goldeneye 2021 Rose "Vin Gris of Pinot Noir" (Anderson Valley) $36 (KWGTP 92)
Goldeneye 2019 Pinot Noir "Anderson Valley" $60 (KWGTP 92)
Goldeneye 2019 Pinot Noir "Confluence Vineyard" (Anderson Valley) $88 (KWGTP 93)
Goldeneye 2019 Pinot Noir "Gowan Creek Vineyard" (Anderson Valley) $88 (KWGTP 94)
Goldeneye 2019 Pinot Noir "The Narrows Vineyard" (Anderson Valley) $88 (KWGTP 94)
Goldeneye 2019 Pinot Noir "Ten Degrees" (Anderson Valley) $130 (KWGTP 95)
Goldeneye 2019 Pinot Noir "Cerise Vineyard" (Anderson Valley) $140 (KWGTP 94)
You can find reviews of past and additional Goldeneye wines that we cover on the KWG Goldeneye winery page on our website. Cheers! Ken