Over the last few months we have reviewed over 45 different Sauvignon Blancs in preparation for the summer wine drinking months.  Below we recommend 25 of them as Very Good or better.  In our opinion, Sauvignon Blanc is a terrific summer pour.  It performs well when served chilled and is more refreshing than most wines.  Since we did several tastings to get to this point, we will list the wines in decending order with highest scoring wines listed first.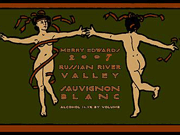 The highest scoring wine we tried this spring was Merry Edwards 2007 "Russian River Valley" Sauvignon Blanc for $29.  We scored this wine 92 points, shortly thereafter the Wine Spectator scored it even higher at 96 points.  At that point it became very very tough to get a bottle.  But we know our readers enjoy a challenge.  As for the wine, we found it to be very well balanced between its acidity and fruit.  It is also quite tasty and displays light lime and green apple flavors.  The finish is dry, crisp, and refreshing.  It also lingers quite some time for a Sauvignon Blanc.  I would suggest that you find a restaurant that lists this now highly allocated bottle of wine and enjoy it with some chicken piccata.  It was clearly one of the best Sauvignon Blancs of the year.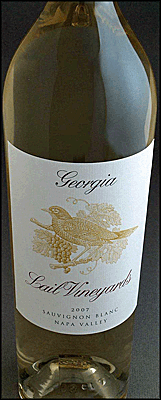 Our second favorite Sauvignon Blanc is from Lail.  Their 2007 "Georgia" is quite nice.  We also scored it Very Good + and awarded it 92 points.  However, this wine comes with a pretty big price tag at $100.  It is a very classy Sauvignon Blanc and it won over quite a few tasters when we recently tried it.  Its different style and sophistication surprised the group.  It is extremely smooth and well balanced.  The flavor profile is an unusual complex blend of honey, cantaloupe, and oak, not atypical for Sauvignon Blanc.  If you can afford it, give the winery a call and try a bottle of this unique version Sauvignon Blanc.

To no one's surprise our third highest scoring Sauvignon Blanc comes from Kim Crawford.  The 2008 Sauvignon Blanc for $19 scored 92 points.  Personally I liked the 2008 more than the highly acclaimed 2007.  It is a light bodied wine that is well balanced, clean, and displays tasty lime flavors.  What I like most about it, is that it is very food-friendly and would pair quite nicely with swordfish or mahi mahi.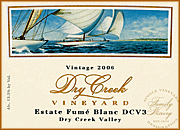 Dry Creek Vineyard has always been known for their Sauvignon Blanc.  Their 2006 "DCV3 Estate Fume Blanc" for $25 stood out as their best offering this year.  It was quite impressive and we scored it 91 points. It is brilliant and bright with its white gold coloring.  On the palate, this wine is full bodied, creamy, and viscous. You usually do not find these kinds of characteristics in a Sauvignon Blanc. The flavor profile was impressive as well. There were tasty ripe pear flavors mixed with some green apple and a touch of minerality.  This wine would pair very well with Chicken St. Timothy or any other chicken dish is a cream sauce.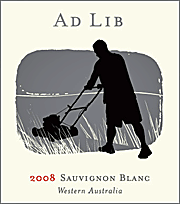 The next Sauvignon Blanc came out of nowhere.  Or shall I say it was a wine from Western Australia that I had never heard of before.  The 2008 Ad Lib "Straw Man" Sauvignon Blanc for $17 scored 90 points in one of our mini flights.  One reviewer stated that this offering from down under was clearly one of the best Sauvignon Blanc's that we tried this month.  It is light-bodied, balanced, and crisp with very tasty lime flavors with hints of minerality nicely blended in.  Very refreshing and perfect for a hot summer day.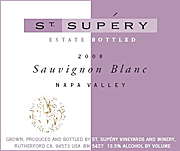 Next up was the 2008 St. Supery Sauvignon Blanc from Napa Valley for $23.  In a different mini flight this wine took top honors and we awarded it with 90 points.  It is nicely balanced and slightly viscous.  The flavor profile is grapefruit with a hint of minerals and lime.  One taster could not believe this wine was from Napa.  He pegged it from New Zealand because of its style.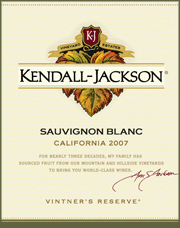 Our next wine is a terrific value.  If you are having a summer party, I would certainly recommend the 2007 Kendall Jackson "Vintners Reserve" Sauvignon Blanc for $11.  We also gave this wine 90 points.  KJ has done a terrific job with their "Vintners Reserve" level whites in recent vintages.  This Sauvignon Blanc is no exception.  As a matter of fact, we think this offering is a terrific wine for the money.  We recently conducted a mini blind tasting of Sauvignon Blanc's and this wine tied for the top spot.  Our group agreed this Sauvignon Blanc would do quite nicely on its own on a hot summer day.  But it would also certainly enhance a mild flavored meal like broiled scallops.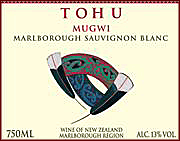 In our big blind tasting, our top 2 spots went to Sauvignon Blancs from New Zealand.  The 2007 Tohu "Mugwi" Sauvignon Blanc for $22 was our clear winner.  This wine scored a Very Good and it was awarded 89.3 points from the panel.  On the palate, this medium bodied wine was well balanced and slightly creamy.  The flavors are mineral infused gooseberry with hints of grapefruit.  The panel thought this wine would pair well with grilled tuna.  After the tasting, several panelists ordered this wine.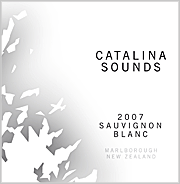 In second place in this tasting was the 2007 Catalina Sounds Sauvignon Blanc for $17.  This offering was a little lighter with crisp green apple flavors.  It also showed off its New Zealand roots with notes of grapefruit and minerality detected on the back palate.  One panelist declared; "this is what you expect from a Very Good New Zealand Sauvignon Blanc."  It received 89.3 points.
Next up was Lail Vineyards, who returned to the recommended list with its second label.  The 2008 "Blueprint" Sauvignon Blanc for $38 scored a Very Good and was given 89 points.  Like the Georgia, this Sauvignon Blanc from Napa is stylistically very different than most Sauvignon Blancs you will try.  It offers a complex blend of ripe peach, apricot, butterscotch and some minerality.  The group that tried this wine liked it and the consensus was that they would pair it with chicken marsala.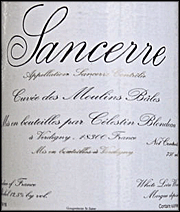 Our favorite French offering was the 2007 Celestin Blondeau "Cuvee des Moulin Bales" for $20.  This wine from Sancerre also scored 89 points. It was light-bodied, nicely balanced, and had a dry mouthfeel.  Its flavors were a tasty light lime and green apple blend.  We felt this wine would pair well with ham.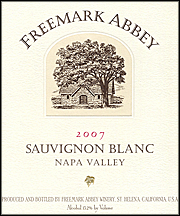 Returning to our blind tasting, the 2007 Freemark Abbey Sauvignon Blanc for $24 finished in 3rd place.  Readers interested in sustainably grown wine would like to know about this Napa Valley Sauvignon Blanc.  We scored this wine Very Good and gave it 88.7 points.  The panel was intrigued by how clear the color of this wine was.  However for what it lacked in color, it made up for with bouquet and taste.  We really enjoyed its attractive flowery and honeydew melon like bouquet and its mineral infused green apple flavors.  A crowd pleaser and a nice refreshing summer option.

Our favorite Chilean offering came from Cono Sur.  This was no surprise as we have found Cono Sur to be a leader with their value priced white wines.  The 2008 "Vision" Sauvignon Blanc for $15 finished in 4th place in our big blind tasting.  The panel found this offering to be a lot of wine for the money.  They scored it Very Good with 88.4 points.  It was crisp and a little tart.  It displayed green apple flavors with some light lemon and minerals mixed in.  The panel thought it would nicely complement grilled swordfish.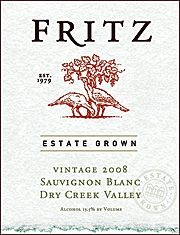 The last wine we are going to highlight is the 2008 Fritz "Estate Grown" Sauvignon Blanc $22 from Dry Creek Valley.  Fritz has performed consistently well with our panel over that last couple of years.  Especially with their white wines.  This offering is light bodied and zippy with tasty tangy lime flavors.  One panelist felt this wine would pair perfectly with his seared scallops over a bed of sautéed brussels sprouts and shallots.  We scored this 88.3 points.
Other recommended Sauvignon Blancs for your enjoyment this summer:
15) Veramonte 2008 SB "Reserva" (Casablanca Valley, Chile) $11 (88)
16) Claude Riffault 2007 SB "Les Boucauds" (Sancerre, FR) $22 (88)
17) Navarro Vineyards 2007 "Cuvee 128" (Mendocino, CA) $18 (87.7)
18) Clayhouse 2007 Sauvignon Blanc (Paso Robles, CA) $14 (87.7)
19) Chateau Ste. Michelle 2007 SB "Horse Heaven Vineyard" (WA) $15 (87.6)
20) Villa Maria 2007 SB "Cellar Selection" (Marlborough, NZ) $20 (87.3)
21) Adobe Road 2006 SB "Dry Creek Valley" $25 (87.3)
22) Vina Robles 2008 Sauvignon Blanc "Jardine" (Paso Robles, CA) $16 (87)
23) Fritz 2008 SB "Russian River Valley" (RRV) $18 (87)
24) Chateau Ste. Michelle 2008 SB (Columbia Valley, WA) $11 (87)
25) Dutton Estate 2008 SB "Kylie's Cuvee" $17 (87)
26) Columbia Crest 2006 SB "Two Vines" (Columbia Valley, WA) $8 (Good+ 86)
In conclusion, we hope you enjoy these great poolside wines this summer.  Please be sure to report back to us and comment on your favorite Sauvignon Blancs.  We would love to hear your thoughts.  Cheers!
Ken