As promised, here is the second quick post of white grapes that don't get a lot of attention, but are well worth your time. The Gewurztraminer grape is a long time favorite of mine. I have very high expectations for this grape and when made well, it can be breathtaking. Only a few producers, in very good vintages can achieve that magic. But when they do, the wine is memorable. In 2010 and early 2011, I covered several Gewurztraminers.  These are the ones I liked best. None of these were magical (See Navarro 2007 and Navarro 2000) but several were terrific offerings worth your exploration of this great grape.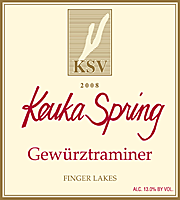 The first three, all received 90 points. They were the best of the best that I covered over the last several months. The first one comes from the Finger Lakes region in upstate New York. The 2008 Keuka Springs Gewurztraminer for $17 is impressive. It was my favorite in its mini-flight. It was medium-bodied, balanced, and delicate with tasty peach flavors and a touch of lime and cinnamon mixed in. It is reasonably priced and would pair perfectly with chicken and mushroom lo-mein.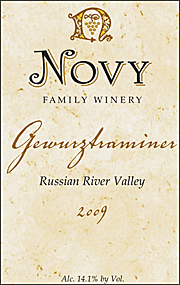 Next up is the 2009 Novy Gewurztraminer for $19. This Russian River Valley gem opens with a fragrant orange and lime bouquet. It is full-bodied, creamy, and shows a touch of acidity. Its flavor profile is a complex blend of tangerine, lychee, lime and spice. It finishes dry and is pleasantly refreshing. I found it to be food-friendly and I would pair it with baked halibut.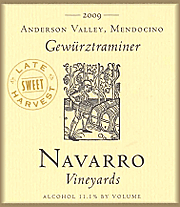 Navarro, who I mentioned above, is North America's leading producer of Gewurztraminer in my humble opinion. They have produced 2 vintages of "heavenly juice" from this grape, as I mentioned above. In 2009 they produced a couple of winners as well. The 2009 Navarro "Late Harvest" Gewurztraminer for $35 is not a dessert wine as you might think. Instead it is medium-bodied, balanced, and not as sweet as you would expect from a late harvest wine. Its tasty lychee flavors with notes of cinnamon and clove were very well received by the tasters. It finishes semi-sweet and would pair well with a lemon meringue pie. Now, switching gears and going to the dry side, you have to try the 2009 Navarro "Dry" Gewurztraminer from the Anderson Valley for $19. We scored this wine 89 points. This offering is medium-bodied, slightly acidic, and definitely has a dry mouthfeel. Its flavor profile is a mineral-infused mild peach and green pear blend. There was also a touch of lychee detected as well. The finish is dry and very refreshing and would pair nicely with bacon wrapped scallops. This producer is one that must be included in your exploration of this grape.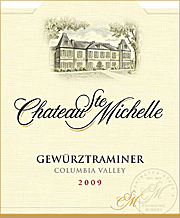 Coming in at 88 points, our top bargain Gewurz is the 2009 Chateau Ste Michelle Gewurztraminer for $10 is a real deal. This Gewurz from the Columbia Valley in Washington is medium-bodied, crisp, and slightly acidic. Its flavor profile is lime with a hint of peach and honeydew melon. I found it to be food-friendly and I would pair it with a seafood casserole.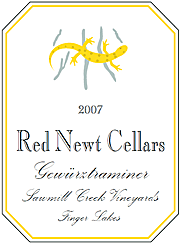 Our final two Gewurztraminers come from Red Newt Cellars in the Finger Lakes. These offerings scored 88 and 87 points respectively. The first offering is the single vineyard 2007 "Sawmill Creek Vineyard" Gewurztraminer for $39. I found it to be medium-bodied, balanced, and quite quaffable. It delivered mild Bartlett pear flavors with a hint of apple. It finished dry and easy going.  It would be an excellent complement to grilled swordfish. We wrap up our recommendations with the 2008 Red Newt Gewurztraminer for $14. This wine is more medium to full-bodied with mild mineral-infused lime flavors. I also detected a gentle touch of tangerine and lychee as well. This offering had a touch of sweetness and would go well with a sharp cheddar cheese course after dinner. 
I hope you take the time to explore this intriguing grape. You will find this grape comes in all sorts of styles: bone dry – like you find in Alsace, dry, and semi-sweet. There are also several late harvest sweet dessert styles as well. I personally find it best when it is dry with just a kiss of sugar so you do not lose its wonderful spicy flavors. As you can probably tell, I have truly enjoyed my long history with this special grape. It was one of my early favorites, going all the way back to college. I am sure you will find a style of this grape that you enjoy as well. Cheers – Ken