Merlot Madness!! Washington Merlots Were the Winners

In June the KensWineGuide.com tasting panel sat down with so many Merlots that we had to divide them into 2 different tasting groups. The first week we tasted the more expensive Merlots and the second week we tasted the less expensive Merlots. What we found was that the United States's most popular red wine grape, based on sales, is still a very good option for wine lovers.
As always we tasted all the wines blindly. We threw out the high and low scores and averaged the remaining scores. All wines receiving a Very Good (87-89) score or better were recommended. The tasting notes for all the recommended wines were consolidated and posted on KensWineGuide.com.
In the first tasting, we tried the high end Merlots. We reviewed 13 wines and recommended 9 of them. The Top 2 wines came from the state of Washington. The winner was the 2003 Reininger Merlot $30 which scored a Very Good + (90.8) score. Not too far behind was another Washington Merlot from J. Bookwalter. Their 2004 Merlot $38 scored a Very Good + (90) from the wine tasting panel. Napa Valley came in the money with an entry from Burgess Cellars. This 2004 Merlot from Burgess scored an (89.9) and is a real bargain for about $23.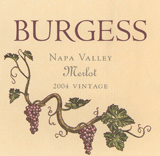 The rest of the recommended wines all scored a Very Good (87 to 89) from the panel.#4
B&E Vineyards 2003 "Reserve"
$20 (Paso Robles, CA)
#5
Jeff Gordon 2004
$55 (Napa Valley, CA)
#6
Merriam Vineyards 2002 "Windacre"
$29 (Russian River Valley, CA)
#7
Silverado Vineyards 2003
$30 (Napa Valley, CA)
#8
Clos Pegase 2003 "Mitsuko Vineyard"
$25 (Carneros, CA)
#9
Thelema 2004
$29 (Stellenbosch, South Africa)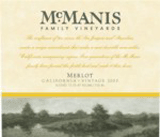 The following week we moved on to tasting the less expensive Merlots. We reviewed another 12 wines. The panel only recommended four wines from this group. All the recommended wines from this group were rated Very Good (87 to 89). The winner was the
2005 McManis Family Merlot
$10. This wine received an 88.6 score from the panel. For $10, this wine is a steal. In second place was the
2003 Pietra Santra Merlot
$15 from Cienega Valley, CA. The panel liked this wine because it has a lot of structure and kick for the money. Our third place finisher was the
2004 Klassen Merlot
$15 from Calaveros County, CA. Our final recommendation, again, came from the state of Washington. It was the
2003 Covey Run Merlot
$10. Overall, we recommended 13 out of the 25 wines we tasted. We discovered that there are plenty of "Very Good" Merlots out there and we strongly encourage you to try this wonderful grape. This very food friendly wine should definitely be a part of your summer wine purchases. Cheers, Ken