Ken's Wine Guide consolidates professional ratings from eight of the leading wine rating publications and highlights notable wines, restaurants, wineries, places to stay and other wine fun for novices and enthusiasts alike. Enjoy!
What's New on KensWineGuide.com
Latest Post on the KensWineGuide.com Blog!

Spring out of your daily routine and into wine country! The weather is warming up, flowers are blooming, Easter candy is filling the shelves in every store, and suddenly we have to move our clocks forward and lose a precious hour of sleep. It can only mean one thing…spring is coming! That said, our friends at Touring & Tasting have some great ideas so you can spring out of your winter rut, and into wine country! Check out our lasted blog post with their great ideas!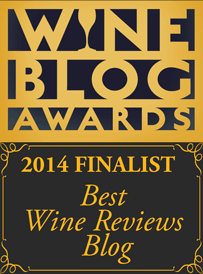 KensWineGuide.com is once again a finalist for Best Wine Reviews on a Wine Blog. Thanks to all the Readers who voted for us!
Follow Ken on Facebook!
If you're on Facebook, stay current by becoming a KensWineGuide.com fan! Click on the icon below to become a fan!

KensWineGuide.com
Follow Ken on Twitter!
Please click on the icon below to follow KensWineGuide on Twitter.
Text this wine to your mobile device!


Check out one of our favorite features on KensWineGuide.com. At the bottom of each wine review we've added the image above. After clicking on this image, the text message you receive provides information about the selected wine, including the vintage, the winery, and the grape varietal. The next time you are ready to purchase wine, whether you are in a wine shop, at a restaurant, or ordering wine online, you will have all the information for that wine in your mobile device. No need to write anything down—all the information you need is in one place—your mobile device!
New Wines on KensWineGuide.com!
Stay current on all the wines added to KensWineGuide.com. Monitor the Last 100 Wines Added To The Website! This way you will be on the cutting edge of all the recently released, highly rated wines. Enjoy!!
Another way to receive Ken's most recent wine recommendations and wine reviews as they go on-line iby subscribing to the KensWineGuide.com RSS Feed. Be the first to learn about the best bottles of wine on the market before they disappear off wine shop shelves!
Feedback or Suggestions?
If you have any feedback and/or suggestions on how we can improve the website, please send an email to Ken@KensWineGuide.com. We would love to hear from you!
Attention KensWineGuide.com E-Newsletter Subscribers
If you are a KensWineGuide.com Subscriber and you have changed your email address, please send an email to Ken@KensWineGuide.com to let us know so we can update our records. If you are a subscriber and you are not receiving our bi-weekly Subscriber E-Newsletters, please check your spam blocker or send us an email.
Please consider adding Ken@KensWineGuide.com to your address book or "safe list" to ensure our Subscriber E-Newsletters reach you.

The next FREE Subscriber E-Newsletter will be sent out on Thursday, June 4, 2015
Check out the latest Ken's Wine Guide Newsletter:
May 21, 2015 - Memorial Day Weekend - Think Summer Wines!
Check out the 2014 & 2015 Ken's Wine Guide Newsletters:
2014 & 2015 Ken's Wine Guide Newsletters
If you haven't subscribed yet, don't miss out on all the fun! Subscribe here. It's FREE! The free bi-weekly e-newsletter sent to subscribers highlights Ken's wine tips and recommendations, the Ken's Wine Guide tasting panel results, and wine news.
Who is Ken?
Who is Ken and what is this website about? The concept of "Ken's Wine Buying Guide" originated in February 1998 with the first recorded "Ken's Boston Wine Expo Notes." These "notes" evolved dramatically from the original 15 wines Ken recommended to a 36+ page Microsoft Word document that was sent quarterly to friends and family as recently as the spring of 2006. Over the years many friends had suggested making "Ken's Wine Buying Guide" available online for those near and far to have easy access to it. In the summer of 2006, we began to create www.KensWineGuide.com, going live in the fall of 2006. To read more of the history of Ken's Wine Guide, click on About Us.

Tip for Using KensWineGuide.com:
What does the small wine glass image next to a wine review indicate?

The small wine glass image indicates that Ken or the Ken's Wine Guide Tasting Panel reviewed the wine.
Most of the wines reviewed and recommended on KensWIneGuide.com are provided as free samples from wineries for evaluation.
Cheers!
Ken and Theresa Hoggins