Welcome to KensWineGuide.com, home of the Internet's most comprehensive wine buying guide. Reviews by Ken and the KWG tasting panel will help you find that perfect bottle of wine for any occasion.
Ken's Wine Guide consolidates professional ratings from eight of the leading wine rating publications and highlights notable wines, restaurants, wineries, places to stay and other wine fun for novices and enthusiasts alike. Enjoy!
Robert Foley 2012 "Napa Valley" Charbono, CA

Ken's Wine Rating: Very Good+ (91)
Price: $35
KWG Score: 91
No. Professional Ratings: 1
# of Cases: 600
This opaque and very dark ruby colored Charbono is another winner from the Robery Foley portfolio. It opens with a fragrant and attractive black raspberry and red currant bouquet. I also picked up some hints of dried cranberry and oak as well. On the palate, this wine is medium bodied, balanced and smooth. The flavor profile is an oak infused black plum with notes of minerality and hints of red currant and black pepper. The finish is dry and it flavors and moderate tannins linger and last for quite a while. Our mini-group of tasters suggesting this tasty Charbono with a New York strip steak. Enjoy – Ken

by KensWineGuide.com

Tortoise Creek "Le Charmel Sevre et Maine Sur Lie" 2013 Muscadet (French)
Dashwood "Marlborough" 2013 Pinot Noir
Chateau Frank "Celebre Cremant" (8/15) NV Champagne & Sparkling Wine
Knapp Vineyards "Dry" 2014 Rose
Montes "Alpha" 2012 Carmenere
Robert Foley "Napa Valley" 2012 Merlot
Dutton Goldfield "Dutton Ranch" 2013 Pinot Noir
Lamoreaux Landing "T23 Unoaked" 2013 Cabernet Franc
La Val "Albarino" 2013 Spanish White
Wagner Vineyards "Estate Bottled" 2012 Cabernet Franc


What's New on KensWineGuide.com
Latest Post on the KensWineGuide.com Blog!

Farwell My Summer Love! As summer comes to a close, it's time to start preparing for the upcoming change in seasons. Our friends at Touring and Tasting can't think of a better way to end an amazing summer than to drive to wine country. They've handpicked 12 unique wine country regions that they think will make the perfect final getaway to end your summer with a bang. Check out our lasted blog post for their recommended destinations!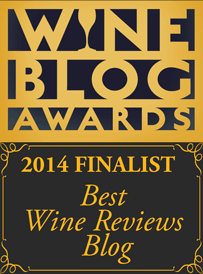 KensWineGuide.com is once again a finalist for Best Wine Reviews on a Wine Blog. Thanks to all the Readers who voted for us!
Follow Ken on Facebook!
If you're on Facebook, stay current by becoming a KensWineGuide.com fan! Click on the icon below to become a fan!

KensWineGuide.com
Follow Ken on Twitter!
Please click on the icon below to follow KensWineGuide on Twitter.