Welcome to KensWineGuide.com, home of the Internet's most comprehensive wine buying guide. Reviews by Ken and the KWG tasting panel will help you find that perfect bottle of wine for any occasion.
Ken's Wine Guide consolidates professional ratings from eight of the leading wine rating publications and highlights notable wines, restaurants, wineries, places to stay and other wine fun for novices and enthusiasts alike. Enjoy!
Dutton Goldfield 2013 "Dutton Ranch" Chardonnay, CA

Ken's Wine Rating: Very Good+ (90)
Price: $38
KWG Score: 91
No. Professional Ratings: 4
# of Cases: 3,954
This light yellow colored Chardonnay from the Russian River opens with mild lemon verbena and apple bouquet. On the palate, this wine is medium bodied, balanced and approachable. The flavor profile is a tasty green apple with notes of pear. There is also nicely integrated minerality and a touch of oak. The finish is dry and its flavors drift away nicely. This wine would pair well with a chicken and wild mushroom ravioli with a mild cream sauce. Enjoy - Ken

by KensWineGuide.com

Benovia "Tilton Hill" 2012 Pinot Noir
Cypher "Camp 4 Vineyard" 2014 White Blends or Varietals
Dominio Del Plata "Susana Balbo Brioso" 2012 Argentina & Chile (Red Blends)
Reininger "Helix Stillwater Creek Vineyard" 2013 Viognier
Maison L'Envoye "The Attache" 2013 Pinot Noir
Matanzas Creek "Sonoma County" 2013 Sauvignon Blanc
Ramey "Ritchie Vineyard" 2012 Chardonnay
Cristom Vineyards "Estate" 2014 Pinot Grigio & Pinot Gris (Other than Italy)
Isabel Mondavi "Estate" 2012 Pinot Noir
Duckhorn Vineyards "Decoy" 2014 Sauvignon Blanc


What's New on KensWineGuide.com
Latest Post on the KensWineGuide.com Blog!

10 Wine Destinations for the Perfect Summer Road Trip! The weather is heating up, school is ending, and the beach is calling your name, which can only mean one thing. It is officially summer! We can't think of a more appropriate way to welcome the new season than with a classic summer wine road trip. That said, our friends at Touring & Tasting have compiled a list of their favorite wineries along the West Coast. You won't want to miss these world-class tasting rooms. Check out our lasted blog post with their great ideas!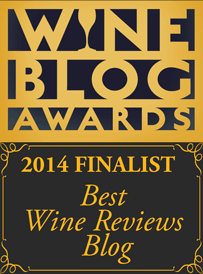 KensWineGuide.com is once again a finalist for Best Wine Reviews on a Wine Blog. Thanks to all the Readers who voted for us!
Follow Ken on Facebook!
If you're on Facebook, stay current by becoming a KensWineGuide.com fan! Click on the icon below to become a fan!

KensWineGuide.com
Follow Ken on Twitter!
Please click on the icon below to follow KensWineGuide on Twitter.
Text this wine to your mobile device!


Check out one of our favorite features on KensWineGuide.com. At the bottom of each wine review we've added the image above. After clicking on this image, the text message you receive provides information about the selected wine, including the vintage, the winery, and the grape varietal. The next time you are ready to purchase wine, whether you are in a wine shop, at a restaurant, or ordering wine online, you will have all the information for that wine in your mobile device. No need to write anything down