Ken on WBZ's Connoisseurs Corner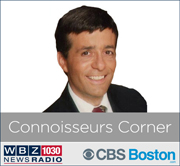 Recently, Ken was a guest with
WBZ radio host Jordan Rich on his Connoisseurs Corner segment.
Ken and Jordan discussed the website and many other topics over 10 spots this Fall. Some of those topics included Riesling, Pinot Noir, Chardonnay, Merlot, Celebration Wines, Good Value Whites and Trying Something New.
This Fall's 10 spots with Jordan.
Dr. Loosen 92 Point Riesling
Dr. Pauly Bergweiler 92 Point Riesling
Dry Riesling Winners
This Summer's Chardonnay Winners
This Summer's Merlot Winners
Try Something New This Fall
Two Value White Wines
Pinot Is Hard To Grow - Talley Pinot
Cakebread Pinot Noir
Celebration Wines
Below are several spots that Ken and Jordan previously recorded.
Dry Rose is still very popular
Why Sauvignon Blanc is a perfect summertime wine
Red blends are a hot trend
Zinfandel is a terrific summer barbecue wine
Try something new this summer: White Wines
Try something new this summer: Red Wines
Intro to Ken and KensWineGuide.com
Good Value Wine Recommendations
More Good Value Wine Recommendations
Wine Gifts Ideas
High End Red Wine Recommendations
Sparkling Wine Recommendations
More Sparkling Wine Recommendations
Try Something New In 2016