Coach Grill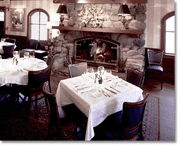 Address: 55 Boston Post Road, Wayland, Massachusetts 01778
Phone: (508) 358-5900
Web Page: http://coachgrill.com/
Type of restaurant: American
Entree price range: $17 to $32
Handicapped accessible: Yes
Review date: July 15, 2006
Review: The Coach Grill in Wayland, MA is part of the Back Bay Restaurant Group, Inc., a recipient of the 2005 Award of Excellence from Wine Spectator. The Coach Grill has a spacious dining room with cherry wainscoting and an elegant atmosphere. The wait staff was very attentive and professional.
We began our experience with delicious fresh bread brought to the table. For an appetizer, I selected the Tossed Garden Salad with balsamic vinaigrette dressing ($3.00 with entrée). It was fresh and tasty. For an entrée, I ordered the Crabmeat Stuffed Shrimp, baked and served with lemon hollandaise sauce and fresh corn pudding ($25.00). The crabmeat stuffed shrimp was fantastic and the fresh corn pudding melted in my mouth. Never having had corn pudding before, I didn't know what to expect. I loved it and would definitely order it again. While the dessert menu was very tempting, I skipped dessert, as I was full.
I had a glass of the 2004 Steele "Cuvee" Chardonnay, CA ($8.25/glass). The waiter served the wine from the bottle. He held three different bottles of wine on the tray and poured each glass of wine individually. It was a very classy approach and made a nice presentation. I really enjoyed this chardonnay. It went well with my meal and was not too overpowering. This full-bodied and creamy wine opens with a mild bouquet. It is a bold, in-your–face, and expressive wine that explodes in your mouth with a huge vanilla flavor. This was classic California Chardonnay that could stand on its own or match with very rich food.
Ken had the 2005 Chateau St. Michelle "Eroica" Riesling, Columbia Valley, WA ($9.00/glass). This medium-bodied off-dry wine opens with a very floral and impressive bouquet. The wine is quite flavorful: both fruity and zingy. The wine was very food-friendly.
Ken also tried the 2002 Beaulieu Vineyard "Tapestry" Cab Blend, Napa Valley, CA. The wine opens with a mild bouquet. On the palate, this gem was smooth as silk. It has wonderful cherry flavors and is very well balanced. It was an excellent complement to Ken's steak dinner.
We would definitely recommend The Coach Grill for wine and food lovers alike. We hope to have dinner there again. Worth noting, Coach Grill is handicap accessible. The minimum entree price was $17.00 for the Chicken Piccata. The maximum entree price was $32.00 for the Jumbo Lump Crabcake and Filet.
Theresa