Ken on WBZ's Connoisseurs Corner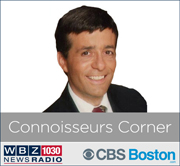 Recently, Ken was a guest with WBZ radio host Jordan Rich on his Connoisseurs Corner segment. Ken and Jordan discussed many topics over 8 radio spots for this Fall. Some of those topics included: Spooky Good Wines for Halloween, Cru level Beaujolais, Tailgate Wines, Red & White Wines That Seriously Over-Deliver, Labor Day Weekend Wines, KWG Winemaker Interview Series, Try Something New – Two White Wines Enjoy!
8 spots for the 2022 Fall Season.
Spooky Good Wines for Halloween
French Wine Class - Cru level Beaujolais
Tailgate Wines
Red Wines That Seriously Over-Deliver
Labor Day Weekend Wines
White Wines That Seriously Over-Deliver
KWG Winemaker Interview Series
Try Something New – Two White Wines
2022 - Wine Segments
Fourth of July Weekend Wines
Father Day Wines
BBQ wines for Summer
Memorial Day Weekend Wines
Rose Winners
Mothers Day Wines
Sauvignon Blanc Winners
Good Value Wines
Easter Weekend Wines
French Wine Class - Bordeaux - St. Julien
Malbec Winners
Try Something New – A White and a Red
Warm Wines For Cold Winter Nights
Valentine's Day Wines
Good Value Wines for your Super Bowl Parties
Ken's Wine Guide - Intro to the Guide