Navarro Vineyards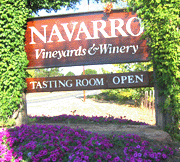 Address: 5601 Highway 128, Philo, California 95466
Phone: (707) 895-3686
Web Page: http://navarrowine.com/main.php
Handicapped accessible: Yes
Review date: September 25, 2006
Review: Ken and I visited Navarro Vineyards on a beautiful September morning. It was right in the middle of harvest season so saying it was a busy time on the farm is an understatement.
Navarro Vineyards has been growing grapes and bottling wine in the Anderson Valley since 1973. We learned a lot on our tour of Navarro Vineyards. They avoid using insecticides and herbicides. They plant flowers, radishes and beans for beneficial bugs which keep pests in check as well as minimize erosion. 90 acres of the 910 acre farm are planted in grapes: Pinot Noir, Gewürztraminer, Chardonnay, Riesling, Pinot Gris and Muscat. They are using 12-18 different root stocks. We heard on our tour that all the grapes at Navarro are handpicked.
The majority of Navarro's workers are full time and they have full benefits. During very busy times, they do hire temporary workers who live in the valley and friends and family of people who work at Navarro Vineyards.
The cool, rugged weather of Philo includes early morning fog and coastal ocean breezes which are perfect for the types of grapes they grow. The scenery at Navarro is beautiful. Between the pretty flowers and the rolling hills planted with grapes, Navarro Vineyards offers spectacular scenery. We also saw metallic tape blowing in the breezes to protect the grapes from the birds. We walked through the vineyards up and down the rolling hills. The winery tour is not handicap accessible. The tasting room is handicap accessible.
Navarro uses French oak barrels and temperature controlled stainless steel tanks. While we were on the tour we were offered the opportunity to "punch down" fermenting pinot noir grapes. In order to "punch down" the grapes, people put on a very long rubber glove – the entire length of an adult arm. This technique is not particularly cost effective but assures that the delicious flavors of the grapes are not obscured.
We enjoyed our tour of Navarro Vineyards. We are big fans of their Gewürztraminer as well as the rest of their wines. Please click here to see our favorite Navarro Vineyards wines . They have an attractive tasting room with picnic tables outside under grape vines growing on trellises overhead. It's quite picturesque.
Over 90% of their wine is sold directly to customers either in their tasting room, through their mailing list, or by visiting their website. They make 40,000-45,000 cases of wine per year. Their tasting room is open daily 10:00 AM - 5 PM, PST. We recommend a tour of Navarro Vineyards. And if you haven't tried their wine yet, please do. We think you will really like it. We do.
Theresa & Ken