Lambert Bridge Winery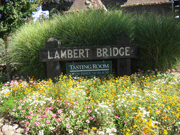 Address: 4085 W. Dry Creek Road, Healdsburg, California 95448
Phone: (800) 975-0555
Web Page: http://www.lambertbridge.com/
Handicapped accessible: Yes
Review date: September 22, 2006
Review: Lambert Bridge has a fun tasting room. We were there on a Saturday in September and it was a happening place. They had little white votive candles lit which added to the upbeat ambiance. There is an attractive, stone fireplace in their newly expanded, spacious tasting room. The tasting room has very high ceilings. You can see French oak barrels everywhere you look. The tasting room walls and ceiling are made from beautiful redwoods cut down from the property. There is also a custom 12-foot redwood bar.
Lambert Bridge has gorgeous picnic grounds and gardens. While we were there, they were setting up for a private party later that evening. The people at Lambert Bridge were very welcoming and friendly to us. We enjoyed seeing their old fashioned pick up truck. We were even lucky enough to meet the vineyard dog, "Gus" whose mother lives up the street at another vineyard. Many of the vineyards we stopped at had "vineyard dogs." There is even a book out now on "vineyard dogs."
We tried some excellent wines while we were at the Lambert Bridge Winery. Lambert Bridge presents their wine in Riedel glasses and pairs the wine with artisan cheeses and chocolates. We did not take a "tour" per se but we enjoyed visiting the tasting room and trying many of the Lambert Bridge wines. Please click here to see our favorite Lambert Bridge Wines.
Many of Lambert Bridge's wines are sold through their wine club and the tasting room. We recommend stopping in at the Lambert Bridge tasting room to try some great wines and enjoy the relaxed atmosphere and beautiful scenery.
Theresa & Ken