Dry Creek Vineyard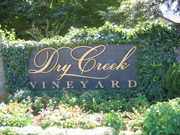 Address: 3770 Lambert Bridge Road, Healdsburg, California 95448
Phone: (707) 433-1000
Web Page: http://www.drycreekvineyard.com/
Handicapped accessible: No
Review date: September 23, 2006
Review: We enjoyed our visit to the Dry Creek Vineyard tasting room. The tasting room has a sailing motif. Many of their wine labels also have a sailing motif. The picnic table area is under shady trees.
The Dry Creek Vineyard was the first new winery to be established in the Dry Creek Valley since the days of Prohibition. David Stare arrived in 1972, and brought some new ideas with him. David Stare was the first to plant Sauvignon Blanc in the Valley. Sonoma County's first Fumé Blanc was produced at Dry Creek Vineyard. The winery also produces a number of award winning Zinfandels.
We tried many wines in the Dry Creek Vineyard tasting room. One of Ken's favorites was the 2003 Dry Creek Vineyards "Late Harvest Zinfandel" dessert wine. Please click here to view all of our favorite Dry Creek Vineyard wines. The Dry Creek tasting room is open daily from 10:30-4:30. Our hostess was very personable and knowledgeable. We recommend you stop in for a visit. We know you will like their wines.
Theresa & Ken