Il Forno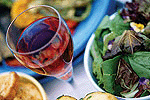 Address: 508 Nagog Park, Rte 2A, Acton, Massachusetts 01720
Phone: (978) 263-5311
Web Page: http://www.il-forno.com/
Type of restaurant: Italian
Handicapped accessible: Yes
Review date: January 6, 2007
Review: At the Il Forno restaurant in Acton you can bring your own wine. Ken and I like that feature very much. Il Forno has a variety of meals including traditional Italian dishes as well as brick oven pizza. They also have a kids menu. If you don't have time to sit down and stay for dinner, they offer take out.
We were served garlic bread at the table which was delicious. For an appetizer, Ken and I shared the Seafood Stuffed Mushrooms ($10.95). They were nicely flavored and not overdone. The three mushrooms were served in a lobster cream sauce with a tasty stuffing.
Ken had the Tortellini Alapana ($12.95) with shallots, ham and peas in an Alfredo cream sauce with a choice of pasta. Ken said his meal had a smoky flavor that he liked very much. He enjoyed the thick Alfredo cream sauce. I tried Ken's dinner and it was mouth watering. I had the Meat Lasagna ($12.95) baked with ricotta and mozzarella cheese in a marinara meat sauce. The lasagna was excellent. It was one of the best I have ever had. Both dinners included a house salad.
We skipped dessert as we were full. We liked our meal at Il Forno. Our wait staff were friendly and helpful. We will go back again for a visit. We recommend Il Forno for wine lovers.
Theresa & Ken