Grapeseed American Bistro & Wine Bar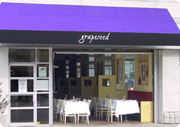 Address: 4865 Cordell Ave, Bethesda, Maryland 20814
Phone: (301) 986-9592
Web Page: http://www.grapeseedbistro.com/chefb.html
Type of restaurant: American
Handicapped accessible: Yes
Review date: February 6, 2007
Review: When traveling to Washington DC, make your way out to Bethesda and be sure to visit Grapeseed American Bistro & Wine Bar. Grapeseed is a nice bistro styled restaurant owned by Chef Jeff Heineman. Upon arrival, it makes sense to take advantage of the valet parking out front for $5.
We began the evening with Mussels served in a wine, garlic, & tomato based broth. It was nice and tasty and the mussels were quite large. For our opening wine, the group really enjoyed the 2003 Goldeneye Pinot Noir from Anderson Valley. This Excellent wine was on the list for $120 and for that price it was a steal. The group was in awe…
For dinner, I had the Pan Roasted Filet Mignon with Oxtail-Mushroom Ragoût sauce. It was cooked to perfection (for me that is medium well, not mooing). This was served with horseradish mashed potatoes which were excellent as well. It had a wonderful flavor, but by no means was it overdone. The sauce was rich and blended well with the filet and the potatoes. With dinner, we all enjoyed the 2003 Behrens & Hitchcock Merlot which was Very Good. The Goldeneye is a tough act to follow. It was our favorite.
For dessert, the group opted for the cheese plate. The plate had a Pecorino Mejdoro (Italy), Toma Piemontese (Italy) & Blue de Gex (France), and sliced granny smith apples. My favorite was the Mejdoro which is a hard sheeps cheese from Sardinia. It was tasty and was a good match with the wine. For a finishing wine, we closed the evening with the 2001 Karl Erbes "Ürziger Würzgarten" Auslese from Mosel. This Excellent dessert styled wine was perfectly balanced, rich, and concentrated. One of our guests mentioned that its sweet tones were not overdone and it was not syrupy like many dessert wines.
Grapeseeds has many wines available by the glass. They offer tastes, glasses, and bottle pricing. Chef Jeff has wine match suggestions on the menu for each meal. This destination for wine lovers has been recognized by Wine Spectator and received their award of Excellence since 2002. In my opinion, this award is well deserved. I am sure you will enjoy your visit as much as I enjoyed mine. Ken