Mamma Maria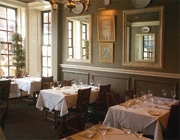 Address: 3 North Square, Boston, Massachusetts 02113
Phone: (617) 523-0077
Web Page: http://www.mammamaria.com/index.html
Type of restaurant: Italian
Handicapped accessible: Yes
Review date: August 30, 2006
Review: On Wednesday, August 30th I visited Mamma Maria's restaurant in the North End of Boston with some colleagues and clients. This restaurant is situated at the end of an open plaza just down the street from Paul Revere's house. The area, as you might imagine, has a rich history.
We were seated upstairs. The first floor is handicap accessible. The restaurant is in an old building, a converted home to be exact. Similar to many North End restaurants, the seating was tight. It was very crowded (a good sign). It seems like the place was loaded with business dinners and parents taking their kids back to college.
We began dinner with various appetizers. I chose their signature thick bread zuppa. This was very good. It was loaded with flavor. It was stew like and hearty. I would highly recommend it.
As you might have guessed, I was in charge of the wine selections. Having researched the wine list well in advance, I was well prepared. I wanted the 2002 JC Cellars "Haley's Reserve Syrah". Unfortunately, they were out of it. (Lesson #1 – call in advance) However, since they have an extensive wine list, there were plenty of other choices. I chose the 2003 Amavi (Walla Walla) Syrah, $63. This wine was Very Good +. It was enjoyed by all.
As we moved on to dinner, we needed another bottle of wine. The next selection was the '03 Turley (Napa) "Library Vineyard" Petite Sirah, $120. This wine was Excellent and a treat. The bouquet was exquisite and the wine was smooth as silk. It was a perfect enhancement to everyone's meal.
For dinner, I had the very rich, fresh Maine shrimp served with spinach spaghetti, tossed smoked bacon and sweet local creamed corn. This was scrumptious.
We closed the evening with desserts and after dinner drinks. I chose coffee and the Classic Crème Brulee with honeyed raspberries and blackberries. This was also very good and filling.
Overall, I would rate my experience as Very Good. It would have been Excellent had the service been a little bit quicker. I certainly would return for another visit as the wine and food were both Excellent.
Enjoy – Ken
2003 Amavi (Walla Walla) Syrah (Very Good +)
This wine opens with a spicy bouquet which was quite interesting. On the palate, the wine is well balanced. It was quite flavorful and smooth with a bit of an edge. The wine finishes with a long 30 second finish. It was very enjoyable and an excellent complement to my hearty zuppa.