Maggiano's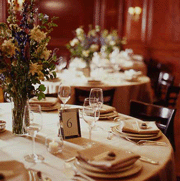 Address: 4 Columbus Ave, Boston, Massachusetts 02116
Phone: (617) 542-3456
Web Page: http://www.maggianos.com/locations/detail.asp?unit_id=001.025.0139
Type of restaurant: Italian
Handicapped accessible: Yes
Review date: March 31, 2007
Review: Maggiano's has delicious Italian food. They offer a regular menu and a family style menu. On the family style menu, their portions are large enough to share so you get to taste more of a variety of foods than you would if you were to order individually. Family style is available for entire tables of four or more.
To begin our dinner, I ordered a Side Salad with romaine and iceberg lettuce, grape tomatoes, red onions, croutons, and Italian Vinaigrette. I enjoyed my salad and the dressing. Ken ordered the Veal and Mushroom Ravioli as an appetizer. This homemade ravioli was filled with ground veal, mushrooms, Marsala wine and asiago cheese. It was browned on top with toasted bread crumbs and the house cheese. It was served with Alfredo sauce, sun-dried tomatoes, basil and parsley. Ken thought the Veal and Mushroom Ravioli was terrific.
We had a very good bottle of wine with dinner. The 2003 Nozzole Chianti Classico Riserva (Greve, Italy) had a classic old world bouquet. The wine had a big oak influenced aromas. On the palate, this medium bodied wine was rich, had oaky old world flavors, and was pretty smooth. The finish was dry, slightly tannic and had some length to it. This wine calls for a hearty meal.
For dinner, I had the Eggplant Parmesan which was sliced eggplant, breaded and fried, layered with provolone cheese and marinara sauce. It was delicious. The portion was very large so I took some home and had it for lunch the next day. What a treat! Ken had the Veal Parmesan which included three cutlets, breaded, and baked with provolone cheese and topped with marinara sauce. Ken thought his dinner was very good. The service was also very good.
We skipped dessert, although the dessert menu looked very tempting. We look forward to returning to Maggiano's for dinner again soon. We will definitely try a dessert on our next visit. We recommend Maggiano's for food and wine lovers alike. Those who are especially keen on "old world" style wines will enjoy Maggiano's wine list.
Maggiano's is located on Columbus Avenue near the Theater District, Boston Common and Park Plaza. Parking validation is available Monday - Friday after 5PM and on weekends ($8 for up to 3 hours). Maggiano's has a 350-seat dining room as well as 6 attractive banquet rooms. Maggiano's is handicap accessible.
Theresa & Ken