The Sole Proprietor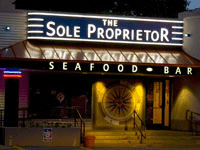 Address: 118 Highland St., Worcester, Massachusetts 01609
Phone: (508) 798-3474
Web Page: http://www.thesole.com/
Type of restaurant: Seafood
Entree price range: $17.99 to $33.99
Handicapped accessible: Yes
Review date: May 27, 2007
Review: To begin our dining experience we were greeted very warmly by our servers bringing us tasty, warm rolls with butter. For my entrée, I ordered the Haddock with Lobster Newburg, $21.99. With all the dinners, we had a choice of the seasonal salad, seafood chowder, soup du jour or coleslaw. Clam chowder was also available for an extra charge of $1.00. I chose the clam chowder and loved every drop of it. The New England Clam Chowder had a delicious bacon, smokey flavor.
The baked North Atlantic haddock fillet with diced lobster meat and seasoned Ritz crumbs was fantastic. The entrée finished with a Newburg sauce, accompanied by rice pilaf and vegetables. The Lobster Newburg sauce had good sized lobster chunks on top of a bed of rice pilaf. The entrée was presented beautifully. The carrots, broccoli, zucchini, and summer squash were all very fresh. Our server had recommended the Haddock with Lobster Newburg and I was glad I had trusted her judgment. My dinner was outstanding.
Ken chose the Maple Glazed Sea Scallops, $21.99, for his entrée and they were equally delicious. The lightly fried sea scallops were glazed with pure Massachusetts maple syrup. The scallops were placed over the sweet potato mash and broccoli, drizzled with a red wine demi glaze. Ken enjoyed the seafood chowder which he described as thick and creamy with good, fresh seafood. Ken's broccoli was cooked perfectly (nice and crunchy). The scallops were melt in your mouth good. The coating of scallops with maple syrup sauce was delicious. The sweet potatoes perfectly complemented the scallops.
As an after dinner treat, we opted for dessert. Ken had a piece of Key Lime Pie. It was a "real" key lime pie, a true pale yellow pie, with a firm custard topped with a sweet sour cream frosting, $6.99. Ken described his dessert as "wonderful." Being the chocolate lover that I am, I opted for the Chocolate Terrine with two sauces, $6.99. This chocolate lover's delight was a bittersweet chocolate mousse flavored with Myer's Dark Rum and glazed with semisweet chocolate cream. It was served with a white chocolate and New Amsterdam dark chocolate sauce. It was very rich.
With our dinner, Ken and I enjoyed a bottle of the 2005 Cliff Lede Sauvignon Blanc (Napa Valley, CA), $35.00. This very light yellow wine had a nice fragrant bouquet with hints of lychee and lemon. On the palate, the wine was very well balanced and very smooth. The finish was nicely dry and slightly prolonged. This wine complemented our haddock and scallop dinners. We liked this wine very much.
The service at The Sole Proprietor was excellent. Our servers were both friendly and helpful. The Sole Proprietor is handicap accessible. Also worth noting, The Sole Proprietor was awarded Wine Spectator's "Award of Excellence" in June 2005. We enjoyed our food and wine and recommend The Sole Proprietorfor for food and wine lovers alike. We look forward to a return visit soon.
Theresa & Ken