Dano's Heuriger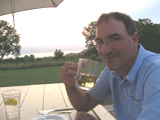 Address: 9564 Route 414, Lodi, New York 14860
Phone: (607) 582-7555
Web Page: http://danosonseneca.com/index.html
Type of restaurant: Austrian
Entree price range: $9.95 to $17.95
Handicapped accessible: Yes
Review date: August 6, 2007
Review: Dano's Heuriger on Seneca Lake in the Finger Lakes wine region in upstate New York offers delicious food paired with many of the region's favorite wines. Dano's is America's first Heuriger serving traditional Austrian cuisine in a casual atmosphere. The restaurant features Viennese-inspired cooking by the chef/co-owner Dano Hutnik and pastries by pastry chef/co-owner Karen Gilman.
Are you asking yourself, "What's a heuriger?" According to Dano's website, in Austria, heurigers are an integral part of Viennese life. Friends gather to enjoy the casual atmosphere, to drink new wine from mugs and to share hearty, satisfying heuriger food served family-style. Food is ordered a la carte.
While we were enjoying our glass of wine on the patio we had the opportunity to meet Chef Dano. He took a short break from the kitchen and visited with the diners on the patio. He spoke with his guests and genuinely inquired about their meals. It is easy to see his enthusiasm for food and wine. He is passionate about the food he prepares and the area's fine wines. The restaurant's ambiance is casual with beautiful views of Seneca Lake and the peaceful grape vines cascading down the hill towards the water's edge.
As we sat on the patio on a beautiful August evening the sun was setting over Seneca Lake. I ordered the 2006 Standing Stone Vidal Blanc (Finger Lakes, NY) ($5.00 per mug) and Ken ordered the Damiani Dolce Bianco (Finger Lakes, NY) ($5.00 per mug). The wine was served in a traditional Heuriger style glass mug rather than the usual wine glass. The mug was a fun way to drink a glass of wine as we took in the tranquility of the area.
The Damiani Dolce Bianco opens with a very unique bouquet. On the palate, this wine is very creamy, viscous and vibrant with lemon-lime flavors. On the finish the wine is dry and a touch tart. It was Good+. The Standing Stone Vidal Blanc opens with a terrific floral bouquet with a hint of lychee. On the palate, the wine is vibrant and citrusy (leaning towards lemony). This is a very refreshing summer wine to enjoy pool or lake side. The finish is dry and tingly. It was Very Good.
There was a light breeze blowing on this warm summer night as we glanced at our Austrian menu. We decided on a bowl of the traditional Goulash ($6.95) as our appetizer. The Goulash was similar to a vegetable beef soup with little dumplings and celery. We both loved it.
For dinner, Ken ordered the Wiener Schnitzel ($11.95) and I ordered a Heuriger Burger, specially seasoned ($11.95). The burger was thick and juicy and topped with locally grown organic lettuce, tomatoes, and onions served with Heuriger potato salad. It was an excellent burger. The Wiener Schnitzel was very tender and delicious – perfectly breaded and enhanced by the lemon. Chef Dano uses Pennsylvania meadow fed veal in his Wiener Schnitzel. The garlic mashed potatoes were perfectly seasoned and just yummy with the perfect amount of butter. We skipped dessert as we were full from our fabulous meal.
After briefly speaking with Chef Dano you can sense that fresh food is very important to him. He has his own garden out in front of the restaurant. You can see it as you are walking up to the restaurant door. Chef Dano cans his own preserves. We tried his quince preserve and really liked it. You can buy Dano's home made preserves at the restaurant. Chef Dano also grinds his own organic ground beef. His enthusiasm for excellent food and wine is contagious. We enjoyed meeting Chef Dano and dining at his heuriger. It was our first experience at a heuriger.
Dano's Heuriger is open year round. The restaurant offers a modern décor with a high ceiling and big windows overlooking Seneca Lake. We enjoyed the truly peaceful surroundings at Dano's Heuriger. We could hear the crickets in the background as we watched the gorgeous sunset from the seasonal patio overlooking Seneca Lake. The food and atmosphere were terrific and we would love to visit Dano's again in the future. If you are visiting the Finger Lakes wine region, be sure to stop in for dinner at Dano's Heuriger on Seneca Lake.
Dano's Heuriger is closed on Tuesdays. Reservations are recommended during the busy summer months. Dano's is handicap accessible.
Cheers!
Theresa & Ken