The Bistro at the Thirsty Owl Wine Company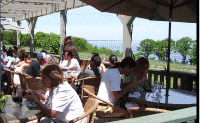 Address: Rte 89 (6799 Elm Beach Road), Ovid , New York 14521
Phone: (607) 869-5805
Web Page: http://www.thirstyowl.com/Bistro_Menu.asp
Type of restaurant: American
Entree price range: $8.25 to $9.95
Handicapped accessible: Yes
Review date: August 6, 2007
Review: The Bistro at The Thirsty Owl Wine Company is a delicious stop on the Cayuga Lake Wine Trail within the Finger Lakes wine region. The Bistro offers casual dining on the terrace overlooking Cayuga Lake. The Thirsty Owl Wine Company is one of Cayuga Lake's newest wineries and is celebrating its 5th birthday in September 2007. The winery and bistro are located on Rte 89, midway up the west side of the lake.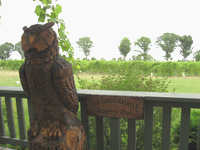 We stopped in for an enjoyable lunch at The Bistro. It was a warm summer day so we chose to sit outside on the terrace with the attractive grape vines hanging above us offering us some shade. There was a large, wood carved owl seated on the terrace not far from our table. Although you can not tell by this picture as it was a hazy day, we were delighted with the terrific view of Cayuga Lake beyond the Syrah grape vines growing nearby.
Ken enjoyed the Roast Beef Melt ($9.95) served warm on an Italian roll with fresh mushrooms and Swiss cheese. The roast beef melt was topped with red onion, lettuce and tomato with garlic mayo. It was excellent – melt in your mouth good. I tried it too and loved it.
I ordered the Turkey Panini ($9.25) served with spinach, smoked gouda cheese, tomato and garlic mayo. The turkey panini was very good. Having said that, I did like the roast beef melt better. The sandwiches and paninis were accompanied with a choice of a side dish. The choices included: sweet onion potato salad, Italian pasta salad or Thirsty Owl cabbage. Ken tried the potato salad and I tried the pasta salad. Both were very good. The Bistro offers soft drinks as well as Thirsty Owl wines. The Bistro also offers a kid's menu.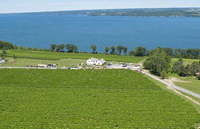 For you history buffs, according to the Thirsty Owl Wine Company's website, the land that is now the Thirsty Owl Wine Company was originally part of a Revolutionary War grant awarded to Sgt. Florence Marony for his courageous service during the American Revolution. The land surrounding the Thirsty Owl Wine Company is beautiful and peaceful. The Bistro at The Thirsty Owl Wine Company is a very relaxing setting and a great stop for a tasty lunch on the Cayuga Lake Wine Trail.
Theresa & Ken