Longfellows Restaurant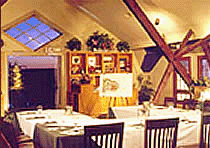 Address: 500 Union Avenue, Saratoga Springs, New York 12866
Phone: (518) 587-0108
Web Page: http://longfellows.com/
Type of restaurant: American
Entree price range: $17.99 to $28.99
Handicapped accessible: No
Review date: November 24, 2007
Review: We arrived at Longfellows on the Saturday night after Thanksgiving. Longfellows restaurant was beautifully decorated for the holidays, both inside and out. As we walked in I was struck by the magnificent fireplace in the entry way. It is very large with a huge beveled mirror over it. It truly is stunning. Just looking at it warmed me up on this cold evening. It is also worth noting that the Longfellows Restaurant is a recipient of the Wine Spectator Award of Excellence since the year 2000.
The atmosphere at Longfellows is upbeat and fun.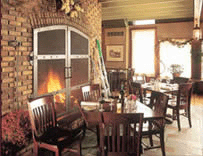 There was a wedding going on while we were there. It definitely looked like everyone was having fun. It should be noted that Longfellows also has an adjacent inn/hotel which we did not get a chance to visit. Longfellows is located not far from the world famous Saratoga Horse Race Track.
We were seated upstairs in the loft area. I began this pleasant evening with a glass of the "Very Good" 2005 Four Vines Chardonnay Unoaked from Santa Barbara County, CA, ($6.25/glass). I really like this wine a lot. I have had it a couple of times before and it is definitely one of my favorites. Ken had a glass of the "Excellent" 2005 Elk Cove Pinot Gris from the Willamette Valley, OR, ($33/bottle). Please click on the links above for our very detailed wine reviews.
For an appetizer Ken and I shared a bowl of the French Onion Soup ($4.99). It consisted of sweet white onions, Bermuda onions and leeks braised in a rich beef stock, topped with croutons and melted Gruyere cheese. This soup had the most amazing flavor. I have to say it was the best French Onion Soup I have ever had. It was a bitter cold night so the soup really warmed me up too. Ken also had a Caesar salad and I had the house salad. Both were good.
For dinner I ordered the Baked Stuffed Jumbo Shrimp ($21.99).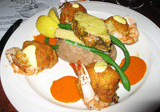 The jumbo gulf shrimp was stuffed with sweet lump crabmeat bread stuffing and topped with breadcrumbs and lemon sauce. It was delicious. I ordered the baked potato to accompany my meal. The presentation of the Baked Stuffed Jumbo Shrimp was amazing. I even took a picture. It was beautiful to look at and tasted great too.
Ken enjoyed the Sole Encroute ($21.99). It was a filet of sole stuffed with crabmeat and spinach then wrapped and baked in a flaky puff pastry served with a pancetta cream sauce. Ken also ordered the mashed sweet potatoes which he really liked.
The service was good. Our waiter was very good, although we did have to wait a bit for our dinners to arrive. I have to say we were a big party of about 20 people so this was probably why it took a little longer for dinner. We weren't in a hurry, mind you. Longfellows is a big place but it has a lot of nooks and crannies, so it doesn't seem that big.
Overall, we were very pleased with our dinners. I thought it was a romantic place-maybe it was the big fireplace or the holiday decorations and the festive occasion. We liked our Longfellows experience very much and will definitely go back again probably during the Race Track season. Longfellows is sometimes handicap accessible. I know that sounds odd. It depends on which rooms are open for dining. Some of the rooms are on the first floor and are handicap accessible and some of the rooms are on the floors above and they are not handicap accessible. We recommend Longfellows Restaurant for food and wine lovers alike.
Cheers,
Theresa & Ken