Brewery Gulch Inn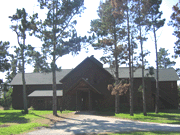 Address: 9401 Coast Highway, Mendocino, California 95460
Phone: (707) 937-4752
Web Page: http://www.brewerygulchinn.com/
Handicapped accessible: Yes
Review date: September 24, 2006
Review: The Brewery Gulch Inn has an inviting atmosphere complete with a fire going in the beautiful glass and steel fireplace in the middle of the common great room providing warmth and ambiance with beautiful classical music playing in the background. The common great room has beautiful tall Redwood doors leading out to a veranda with scenic views of Smugglers Cove and the Pacific Ocean. The Inn is about a 3 ¬? hour drive from San Francisco and about a 45 minute drive from the Anderson Valley wineries. The Inn is only one mile from the village of Mendocino.
One of our favorite things about the Brewery Gulch Inn is that every night from 5:30-6:30 they have "Wine Hour." They serve wine and appetizers to all the guests. The hors d'oeuvres are delicious and plentiful. The wines served during "Wine Hour" are from nearby Anderson Valley and Mendocino County. A few wines that we tried included:
Navarro Chardonnay 2004 (Mendocino) – Light bouquet. Nice vanilla flavors. Very Good + (Theresa's favorite).
Navarro Pino Noir 2004 (Mendocino)– Very Good.
Yorkville Malbac 2004 (Yorkville Highlands) – Very Good + (Ken's favorite). The Yorkville winery is all organic.
Yorkville Cab Franc 2004 (Yorkville Highlands) – Very Good.

"Wine Hour" menu for the first night included:
Penne pasta with bacon, brussel sprouts, parmigiano reggiano
Cheese display with French Brie, Roquefort & Artisan cheddar
Salmon tartar on rice crackers, micro greens
Romanesque dip
Marinated olives
Spiced mixed nuts
Biscotti – warm – right out of the oven! – hint of almond

We met their new chef, Charlie, who had just moved up from Oakland, CA. Charlie was friendly and very enthusiastic about his new position. His cooking was terrific!
Each room at the Inn features seating in comfortable leather club chairs in front of the gas-lit-fire place. They have Wi-Fi high speed internet access in the common great room. We stayed in the Pelican room and did have wireless internet access there as well. We could not get any cell phone coverage at the Inn or in Mendocino in general.
A fantastic complimentary gourmet breakfast was included in the price of the room. We had delicious coffee–Brewery Gulch Inn's special blend of organic shade grown, dark roast. We both had the fresh squeezed orange juice. I had the Farmer's Market Omelet – fresh mozzarella, basil, leek and tomato omelet accompanied by gold breakfast potatoes. It was excellent! Ken had the Brewery Gulch Inn Eggs & Bacon – north coast classic – two free range eggs, any style (Ken chose scrambled – very dry) served with Millionaire's Bacon cooked in brown sugar served with gold breakfast potatoes and sour dough bread toast. Ken loved it! Both breakfasts were served with fresh fruit including pineapple, grapefruit, watermelon, cantaloupe, oranges, blackberries and raspberries.
We would definitely recommend the Brewery Gulch Inn for wine lovers and anyone looking for a relaxing atmosphere with great Pacific Ocean views and delicious food. The Brewery Gulch Inn staff were friendly and helpful to us. The Inn is handicap accessible. There are no elevators but there are ground level rooms available. The Brewery Gulch Inn is a non-smoking inn. We enjoyed our stay and we think you would too.
Theresa