Legal Sea Foods (Park Square)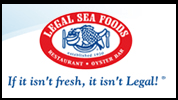 Address: 26 Park Square, Boston, Massachusetts 02116
Phone: (617) 426-4444
Web Page: http://legalseafoods.com/
Type of restaurant: Seafood
Entree price range: $14.95 to $40.95
Handicapped accessible: Yes
Review date: December 16, 2007
Review: We visited the Legal Sea Foods Park Square location on Sunday evening as Boston's first Nor'easter storm of the winter season began to blow out to sea. We left home early, allowing plenty of travel time because the roads were both icy and messy with snow and slush. We arrived about 45 minutes earlier than our reservation and opted to have a glass of wine at the very attractive bar before sitting down to dinner. We enjoyed a glass of the 2005 J. Lohr "Riverstone" oak aged Chardonnay from Monterey, CA ($8.95 per glass). We rated it Very Good. It was creamy and had a nice finish. We thoroughly enjoyed it.
We were a party of six seated at a nice round table in the corner which was perfect.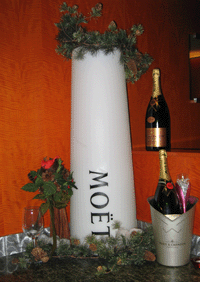 The whole restaurant was decorated for the holidays which added a festive air to the occasion. We all ordered a bowl of the New England Clam Chowder ($5.95 per bowl). It was delicious! It was the perfect night for a bowl of clam chowder. As I mentioned the storm was still swirling about outside with ferocious, bone chilling winds. The chowder was very tasty with big chunks of clams and potatoes. It had great flavor. We all liked it very much. We were also served very yummy rolls and butter.
We ordered a bottle of the 2005 Sancerre, Lucien Crochet "La Croix du Roy" from the Loire Valley, France ($38) to enjoy with dinner. The wine had a floral, springtime bouquet. It was crisp and citrusy. It tasted like grapefruit with a hint of pineapple. We really liked it. We rated it Very Good +. I also liked the glass the wine was served in. It felt like good quality stemware with plenty of room in the glass to take in the bouquet.
For dinner I ordered the Lobster and Crabmeat Ravioli in a tomato vodka cream sauce, with lobster meat, mixed greens and crostini ($22.95).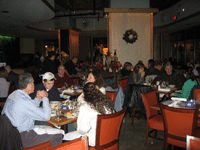 The lobster and crabmeat ravioli arrived with a great presentation including plenty of salad and delicious bread. The tomato vodka cream sauce had a little kick to it. There were sizeable chunks of lobster in the delicious red cream sauce. The lobster and crabmeat ravioli was served with a generous portion of salad greens and dressing.
The food, wine, ambiance, and the service at Legal Sea Foods (Park Square location) were terrific.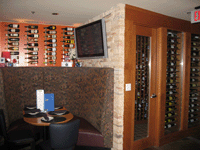 For wine lovers, or anyone who might be interested, this Legal Sea Foods has a fun wine lounge and elegant wine cellar downstairs. You can also have dinner downstairs.
There is parking in the building. Monday through Friday after 5pm, parking is validated for up to 3 hours at a cost of $8. On Saturday and Sunday parking is validated all day for up to 3 hours for a cost of $8. Legal Sea Foods (Park Square) is handicap accessible. The minimum entrée price is $14.95 for Fish and Chips. The maximum entrée price is $40.95 for Surf and Turf with Alaskan King Crab Legs. It should also be noted that Legal Sea Foods has a great children's menu.
We loved our visit to Legal Sea Foods. We look forward to returning again soon.
Legal Sea Foods (Park Square) is a short cab ride from Symphony Hall. It's a great place to have dinner and a glass of wine before heading over to Symphony Hall to see the Boston Pops.
Cheers!
Theresa