The Tuscan Grill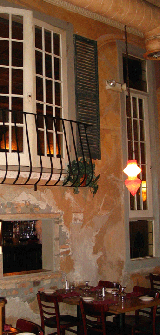 Address: 361 Moody Street, Waltham, Massachusetts 02453
Phone: (781) 891-5486
Web Page: http://www.tuscangrillwaltham.com/
Type of restaurant: Italian
Entree price range: $16 to $25
Handicapped accessible: Yes
Review date: September 22, 2007
Review: It was a warm September night as we ventured out to the The Tuscan Grill for dinner with friends. The Tuscan Grill has a rustic "old world" décor with high ceilings. We had reservations which I would recommend – especially on a Saturday night. We used OpenTable.com to make our reservations. The Tuscan Grill offers a casual dining experience in an upbeat ambiance.
Ken and I shared two appetizers. Our favorite was the Crab Cake, with fresh corn and roasted pepper salad, garlic basil aioli ($13). The crab cake was excellent. Crab cakes are one of our favorite appetizers and we enjoyed this one. It was very tasty. We also liked the Bruschetta with fresh Balsamic marinated tomatoes and basil pesto. The Bruschetta was very fresh and tasty as well.
Ken and our guests enjoyed a bottle of the 2003 Avignonesi "Vino Nobile di Montepulciano" (Tuscany, Italy), ($53). The wine opens with a very mild, oak influenced, dark berry like bouquet. The color of the wine is a very dark purple. The wine has an "old world" style. On the palate, the wine is flavorful, has an acidic, oak influence and tastes of ripe plum with hints of black cherry like flavors. The finish is dry, woody, and lingers for a little bit. I enjoyed a glass of the 2005 Pinot Bianco St. Michael-Eppan ($9/glass) which was terrific.
For dinner I had the Potato and Prosciutto Crusted Cod with a salad of white beans, sun dried tomatoes, olives and scallions ($22). The Crusted Cod was crispy and I could taste the potato. It was cooked perfectly. The tomatoes tasted very fresh. My meal was delicious. Ken liked his dinner which was the Linguine Bolognese ($18) which included chicken, sausage and veal. We were very full from our appetizers and dinner so we skipped dessert.
We recommend The Tuscan Grill for wine and food lovers alike. We look forward to returning for another visit. The Tuscan Grill is handicap accessible.