Vincenzo's Restaurant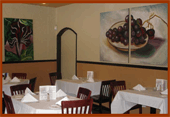 Address: 170 Concord Road, Chelmsford, Massachusetts 01824
Phone: (978) 256-1250
Web Page: http://www.vincenzosrestaurant.com/index.htm
Type of restaurant: Italian
Entree price range: $14.50 to $26.50
Handicapped accessible: Yes
Review date: January 12, 2008
Review: We ventured out to Vincenzo's of Chelmsford, Massachusetts on Saturday night with some friends. Vincenzo's Restaurant offers Italian cuisine in a casual dining atmosphere.
To begin the evening, our waitress brought us warm, fresh bread. We dipped it in olive oil with seasonings including shaved parmesan cheese. We also ordered some appetizers. I had a delicious cup of Minestrone soup ($4.25). It was served very hot-just the way I like it, especially on a cold, January evening. The soup had a nice selection of vegetables including carrots. It had a very flavorful broth. Ken enjoyed the Cozze di Cucina ($9.95), Prince Edward Island mussels sautéed in a limoncello sauce. The mussels were tasty and the limoncello flavor was a very creative change. It had a different sweetness. The garlic bread was crispy and had good balance between butter and garlic.
To complement our dinner, Ken ordered a glass of the 2004 Marchesi dé Frescobaldi "Nipozzano Riserva" (Chianti Rufina, Italy) $8.95/glass or $37.00/bottle. Ken said it was Very Good. Click on the link above for his detailed review. I tried a glass of the 2004 I'm Chardonnay (Sonoma Valley, CA) $8.25/glass. The wine had a pleasant bouquet. I tasted green apples with some oak flavors. It was an easy to drink, food friendly Chardonnay.
For dinner, I ordered Lasagna al Verdure (Vegetable Lasagna). It included layered ribbon pasta with four cheeses, spinach, roasted eggplant, zucchini, and tomatoes topped with your choice of marinara sauce or tomato basil cream sauce ($14.95). I asked our waitress which sauce she preferred and she said the tomato basil cream sauce so I decided to give it a try. My lasagna arrived with a beautiful presentation. It tasted very good and I enjoyed the vegetables. The tomato basil cream sauce was very tasty. The portion size was large. I took half of it home and enjoyed it for lunch the next day.
Ken ordered the Maiale al Autunno ($22.95). The pork tenderloin was pan roasted with apples, shallots, and sundried cranberries. It was served over pumpkin filled ravioli in a spiced rum and sage sauce. The pumpkin ravioli was good. The pork tenderloin was crisp on the outside and tender on the inside.
For dessert, I ordered the Vincenzo's Mousse ($5.95). It's a house specialty and the chef's flavor choice that evening was chocolate chip with Marsala wine. It was outstanding. It was light and fluffy with rich dark chocolate. The Marsala wine was well integrated into the mousse and gave it terrific flavor without being too overpowering. I let Ken try some of mine as I knew he would love it. This was a big mistake on my part. Ken loved it too much and even snuck the last bite! One of our guests tried the Crème Caramel ($4.95). Ken snuck a taste of that too and loved it. This old European specialty was perfectly executed. The custard had a perfect velvety consistency. The caramel was richly flavored, without being bitter. Maybe Ken should have ordered his own dessert as he sure enjoyed his samplings of others!
We enjoyed our meal at Vincenzo's with our friends. The service was very good. We will definitely be back. Vincenzo's is handicap accessible. They also serve lunch, offer take out, and have a children's menu.
Vincenzo's is a Destination for Wine Lovers!
Cheers – Theresa and Ken