Kelly's Fish House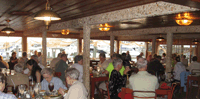 Address: 1302 5th Avenue South, Naples, Florida 34102
Phone: (239) 774-0494
Web Page: http://www.kellysfishhousediningroom.com/
Type of restaurant: Seafood
Entree price range: $15.95 to $26.95
Handicapped accessible: Yes
Review date: January 26, 2008
Review: I was visiting my parents in Naples for the weekend and we were in the mood for seafood. We had heard good things about Kelly's Fish House and decided to stop in for dinner.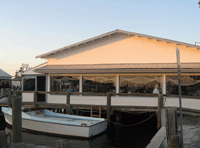 The atmosphere at Kelly's Fish House is fun and casual. We were lucky enough to be seated at a table near the window. Kelly's is on the water and we enjoyed watching the boats pass by through the channel across from "Tin City." The tables have glass tops which you can look inside and see plenty of sand and shells. The overhead beams holding up the ceiling are covered with shells pressed into them. The window treatments are fish nets. The bar area is on the water and has a "sea" theme complete with a boat holding beer on ice.
Soon after we were seated, we were served a basketful of "hush puppies." I had never had them before. For those of you who haven't tried them, they are round balls made of flour, corn meal, and minced onion. They are fried in hot water. They were delicious.
To enjoy with dinner, I ordered a glass of the 2005 Kendall Jackson "Grand Reserve," Santa Barbara/Monterey, CA ($9/glass). I'm linking to Ken's more detailed review of this wine as we have had it many times before and really like it. In summary, I think it is smooth and has a nice finish.
I ordered the Mini Seafood Platter $19.95. This "sealicious" meal included fried shrimp, oysters and grouper. It was delicious. The entrees include your choice of cole slaw, Caesar salad, mixed green salad or hearts of lettuce. Also included is your choice of a baked potato or French fries. I chose the Caesar salad and a baked potato. The Caesar salad was fresh and had a light dressing which was just right. The Mini Seafood Platter was excellent. The shrimp, oysters, and grouper were tender and perfectly cooked.
We had very good service at Kelly's Fish House. This restaurant is handicap accessible. They have a good wine list. My parents and I would definitely like to visit Kelly's for dinner again soon. Next time we will definitely bring Ken.
-- Theresa