Becco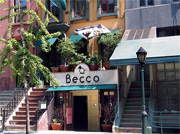 Address: 355 West 46th Street, New York, New York 10036
Phone: (212) 397-7597
Web Page: http://becconyc.com
Type of restaurant: Italian
Entree price range: $19 to $35
Handicapped accessible: Yes
Review date: April 5, 2008
Review: Becco is a wine and food lovers delight. It is centrally located two blocks from Times Square and right in the heart of the Theater District on Restaurant Row. Lidia Bastianich (of Lidia's Italian-American Kitchen on PBS) and her son, Joseph (co-author of Vino Italiano: The Regional Wines of Italy), opened Becco in 1993. "Becco" is derived from the Italian verb, beccare, which means to peck, nibble or even savor something in a discriminating way.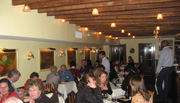 I was lucky enough to visit Becco on Saturday night with some of my extended family after we saw the matinee showing of the popular Broadway musical, Wicked. I was glad we had reservations because the restaurant was packed. Reservations are recommended.
We briefly visited Becco's attractive bar area before being seated. I tried the 2006 Tocai Friulano Bastianich (Fruili) ($10/glass; $25/bottle). This wine is yellow in color with a pleasant bouquet. It is well balanced and food friendly with good fruit flavors. This wine is very enjoyable to drink on its own or with food. Very Good +. It is also a great value at $10/glass or $25/bottle–especially in New York City.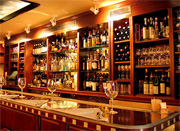 I liked the concept behind the Becco Wine List – All Selections $25 (per bottle). The philosophy behind this is simply stated on their wine list, "We created this wine list to remove the inhibition and confusion of price from your wine selection. We encourage you to explore the many styles and great values here." I wish more restaurants would take the initiative and adopt this great concept. I counted 80 different bottles of wine on this list. Indeed, they have many choices!
After being seated with my family at a terrific round table tucked in the corner of the restaurant, we were brought fresh bread and bread sticks with a tasty bean dip. I asked our waiter if he knew the ingredients of the dip. He said the dip included cannelloni beans, roasted garlic, pepper, oil, carrots, and celery. It was very good.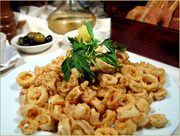 We soon ordered the Calamari Fritti ($21) to share. The crispy, tender rings of fried calamari arrived with a spicy tomato sauce. This calamari was some of the best I have ever tasted.
All of our entrees included Becco's classic Caesar salad. This Caesar salad had excellent flavor with just the right amount of dressing. I really enjoyed it.
For my entrée, I chose the Zuppa di Pesce Misto ($26) which was sautéed day-boat seafood in a lobster brodo served over polentina. My meal was delicious beginning with the polentina in the center of my plate surrounded by huge tender, scallops and shrimp, mixed with good sized pieces of swordfish and salmon encircled with a tasty red sauce. The seafood was cooked perfectly. It was also plentiful.
We had a wonderful dining experience at Becco. The food, wine, and service were all very good. I will definitely be back for another visit to Becco, and this time I will bring Ken with me!
Becco is a Destination for Wine Lovers!
Cheers – Theresa