Jimmy's Cafe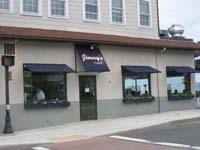 Address: 151 Linden Street, Wellesley, Massachusetts 02482
Phone: (781) 431-7616
Type of restaurant: American
Handicapped accessible: Yes
Review date: April 26, 2008
Review: We ate dinner with friends at Jimmy's Café in Wellesley last night. Jimmy's Cafe allows you to bring your own wine which we consider a significant bonus. We love to bring our own wine to a restaurant as it takes the "guess work" out of ordering a bottle of wine. We usually bring a favorite red and white wine as we are not always sure what we will be ordering. Jimmy's Café has a casual atmosphere. They do not take reservations so arrive early to avoid waiting for a table. They do take major credit cards.
To begin, we were served fresh, warm rolls which tasted like they just came out of the oven. Ken was particularly fond of the wheat rolls. Our server opened our wine and poured us each a glass of wine. We do wish the wine glasses we're a little bigger. We noticed other "regulars" brought their own wine glasses and we will as well next time.
For an appetizer, I ordered the Mixed Green Salad ($6.00) which included a field of greens, tomato, cucumber, onion, and mandarin oranges with a choice of vinaigrette, Asiago or bleu cheese dressing. I chose the vinaigrette. The mixed green salad was excellent. I loved the dressing and the salad was served with a nice presentation. It was fresh tasting and attractive to look at.
Ken ordered a bowl of the soup of the day which was Chicken Noodle ($5.00). Ken soaked up the Chicken Noodle broth with the tasty wheat rolls. The Chicken Noodle soup was fantastic. The broth had a delicious taste and we both loved all the noodles. This Chicken Noodle soup would make anybody feel better-even if they weren't sick. It is a real comfort food. We also tried the Steamed Mussels ($7.50) with garlic broth sauce that our friends had ordered. They were tasty as well.
I ordered the Baked Haddock with Crab Stuffing ($15.95) for my dinner. The haddock entree included a hint of cocononut milk with the crab stuffing and was served with roasted garlic mashed potato and sautéed spinach. The baked haddock arrived with a beautiful presentation on a square white plate. The presentation included parsley and paprika around the edges of the plate. The bright green spinach was served under the haddock with the adjacent mashed potatoes. The haddock was perfectly cooked. The mashed potatoes were delicious with pieces of the red potato skins mixed in for added flavor and color.
Ken chose the Grilled Fillet of Sirloin ($15.95) - cooked medium as his entree. The Grilled Fillet of Sirloin was brown sugar crusted, served with mesclun salad, crumbled blue cheese and raspberry white balsamic vinaigrette with a choice of rice or roasted garlic potato The salad was fresh and very delightful. The blue cheese was mild and well integrated. The fillet was very tasty, cooked perfectly to order, and the brown sugar added so much. The mashed potatoes were a definite compliment to the meal.
To finish our meal I ordered the rich Chocolate Lava Cake with a hot fudge center (served hot) and presented with dollops of whipped cream on the side and caramel decorating the plate. It was a nice presentation again. I loved this decadent dessert. This is truly a chocolate lovers delight. Ken ordered the Tiramisu which he also enjoyed.
The food at Jimmy's Café was delicious and we highly recommend it. We will definitely be back for another visit. We also love the added option of bringing your own wine. Jimmy's Café is handicap accessible. At this writing, Jimmy's Café does not have a website. They are open for lunch and dinner Monday through Saturday and closed on Sundays. We hope you have an opportunity to visit Jimmy's Café soon. Don't forget to bring your own wine!
Cheers, Theresa and Ken