The Wine Bar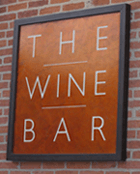 Address: 417 Broadway, Saratoga Springs, New York 12866
Phone: (518) 584-8777
Web Page: http://www.thewinebarofsaratoga.com/
Type of restaurant: American
Handicapped accessible: No
Review date: April 19, 2008
Review: The Wine Bar in Saratoga Springs is a fun place to meet friends and enjoy fine wine. The upbeat, bistro like, casual atmosphere is perfect for visiting with friends. The Wine Bar is located on Broadway in a renovated space in a historic building constructed in 1825 in the heart of downtown Saratoga Springs.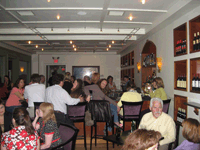 The Wine Bar features approximately 45 wines by the glass, two wine flights, dessert wines, and a high end bottle list. Ken preferred the wines by the bottle selections over the wines by the glass selections. We ordered a bottle of the 2005 Château de Puligny Montrachet Chardonnay "Clos du Chateau de Puligny-Montrachet" from Bourgogne, France. We all enjoyed this bottle.
The Wine Bar also has a light menu created to complement the wines. We tried the Cheese Sampler ($24) which includes your choice of four gourmet cheeses, nuts, and delicious bread. In addition to the other cheeses, we really liked the Lazy Lady soft goat's milk cheese from Vermont.
On Friday and Saturday nights from 7-10pm The Wine Bar has local musicians playing. While we were there that evening, we sat downstairs and we enjoyed listening to the talented piano player.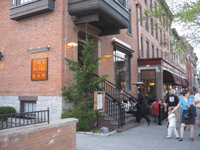 The Wine Bar is a two level establishment. You can also sit outside at patio tables in the warm weather. There are stairs leading up to the first floor and down to the basement/half street level. The front windows and patio allow great views of Broadway. Both are perfect for "people watching."
The Wine Bar has a separate smoking lounge with cigars welcome. The smoke did seem to stay contained in the smoking lounge. Since neither Ken nor I smoke, we did not venture into the smoking lounge.
We recommend The Wine Bar in Saratoga to meet friends, and to enjoy very good wine and light fare.
Cheers, Ken and Theresa