Bricco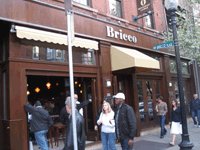 Address: 241 Hanover Street, Boston, Massachusetts 02113
Phone: (617) 248-6800
Web Page: http://www.bricco.com/
Type of restaurant: Italian
Entree price range: $18 to $42
Handicapped accessible: Yes
Review date: May 6, 2008
Review: Bricco, offering boutique Italian cuisine, is located in Boston's historic North End. We recently visited Bricco on a warm spring evening. Bricco's large windows, adjacent to Hanover Street, were wide open enhancing the upbeat atmosphere of the restaurant. We could see many people out walking and enjoying the spring weather. Also noteworthy, Bricco has a very attractive bar area, constructed with rich dark wood, rising up toward the high ceiling. The tables are packed close together as they are throughout the Italian North End of Boston. This makes for a cozy, intimate ambiance.
Ken, our guests, and I ordered a glass of the Bucci 2006 Verdicchio dei Castelli di Jesi Classico, Marches, Italy ($10/glass). The wine was Very Good. It matched well with all of our food. Everyone really enjoyed it. We also were delighted with the stemware the wine was served in. The glasses were nicely styled, versatile, and roomy enough to really enjoy the bouquet of the wine. We are convinced the wine glasses do make a difference in the wine tasting experience. These wine glasses, in particular, enhanced our wine drinking experience.
Soon after we arrived, our server brought us fresh crusty bread with olive oil, roasted garlic, and a spread consisting of crushed white cannelloni beans mixed with prosciutto water. It was very tasty.
For an appetizer, I ordered the Caesar salad ($9) with blue sky bibb lettuce, radicchio Caesar, and crispy ricotta polpette. The Caesar salad was presented in a big round white bowl with layer upon layer of lettuce, and shredded parmesan cheese on top. The Caesar dressing had great flavor. I loved the delicious round, soft croutons. Ken ordered the Scallops, U10 cappesante wrapped in smoked pancetta, in a saffron chowder, tokame seaweed ($18). Ken thought the scallops were tender, melt in your mouth, good. He really enjoyed them with the wine.
For dinner, I ordered the Chilean Sea Bass ($35) which included oven braised bass, beluga lentils, sformato, lemony potato cream, bok choy, oven dried tomato, caper, and olive sauce. The Chilean sea bass was very tender, and perfectly cooked. It was a good sized portion. The beluga lentils were also very good.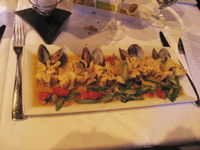 Ken ordered the Saffron Cestini ($24) with crafted pasta baskets containing shrimp, peas, and a lobster filling in a clams and bottarga sauce (a clam reduction sauce which was nice and light) with asparagus on the side. The dinner was served with a beautiful presentation, which made you want to dive in and eat it. The offering had a little kick to it and it was tasty
The service at Bricco was very good. Our server was very knowledgeable. The restaurant does take reservations and it is handicap accessible. We enjoyed our dinner at Bricco and will definitely be back again.
Bricco is a Destination for Wine Lovers!
Cheers – Theresa and Ken