The resort was recently awarded the prestigious AAA Four Diamond rating in two categories, lodging and dining. It is the only resort or hotel in New Hampshire to be recognized in both categories. As part of the wine dinner we attended on Saturday night, we were able to see the resort's beautiful new wine cellar which holds up to 9,000 bottles. (More on the wine dinner below).

We enjoyed our breakfasts in the attractive main dining room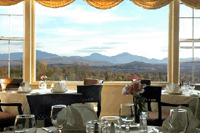 with great views of the mountains. The breakfast buffet ($18.99) was amazing, and it included: made to order omelets, made to order waffles, fresh fruit, scrambled eggs, roasted potatoes, pancakes, French toast, sausage, bacon, mini blueberry muffins, croissants, yogurt, sticky buns, cereal, coffee, and orange juice. I had a made to order omelet with ham, mushroom, onion, tomato and cheese. It was fabulous. Ken had the same and loved it. He also loved the mini blueberry muffins, and the maple flavored sausages.
We also were delighted with our tasty lunch at The Tavern.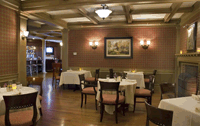 I had the Baby Spinach Salad with Grilled Chicken ($16.00). My salad included candied walnuts, Great Hill bleu cheese, and grilled pear, with an aged Balsamic glaze. I loved my salad. Ken tried a few menu options and gave me a taste of each. He had the Root Beer Bourbon BBQ Glazed Wings ($8.00). "Messy to eat, but delicious," were Ken's comments. He also tried a side salad, Leaves of Young Romaine Caesar Salad with Asiago cheese, garlic herb croutons, and the house Caesar dressing ($6.00). Ken said the lettuce was fresh and crisp, and the dressing was creamy and tasty. Ken also enjoyed a cup of the Mountain View Grand Crab and Corn Chowder ($4.00). He described it as very thick, slightly smokey, and hearty, with potatoes, corn, and crab. We really liked The Tavern menu.
We enjoyed a delicious food and wine dinner at the Mountain View Grand on Saturday night.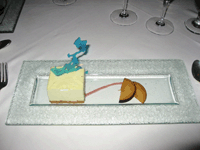 My favorite wine that evening was the 2007 Monkey Bay Sauvignon Blanc from New Zealand - Very Good. It was paired with the Yellowfin Tuna Martini, Jicama & Papaya. My second favorite wine was the 2006 Eroica Cheateau Ste. Michelle Riesling from Washington - Very Good. It was paired with the Goat Cheesecake with Plum Rhubarb Sauce. The Goat Cheesecake was a picture. The presentation of all the food was nothing short of beautiful.
The beauty of the resort is striking. You can see the majestic White Mountains in every direction. The resort offers many activities, both inside and outside. We enjoyed a peaceful Saturday afternoon just relaxing and sitting on the attractive front porch, sipping wine and nibbling on cheese and crackers, all the while taking in the natural beauty of the mountains. Earlier in the day, we took a scenic stroll along a pretty country lane. The Mountain View Grand is a very relaxing place and it is only a 3-hour drive from the hustle and bustle of Boston.
In addition to great food and wine, the resort offers many activities including: bicycling, board games, boating, children's playground, children's recreation program, croquet, cross country skiing, entertainment, equestrian services, fly-casting clinics, geo-caching adventure, golf, health & wellness center, hiking, ice skating, moose tours, picnics, shuffleboard, sleigh rides, snowmobiling, snowshoeing, spa, tennis, theater, and yoga. The Mountain View Grand offers many healthy ways to relax. Whatever "relaxing" means to you, they probably have thought of it.
The service was terrific and the staff was very friendly and helpful. We highly recommend the Mountain View Grand Resort and Spa for wine and food lovers.
Cheers!
Theresa and Ken