Sorellina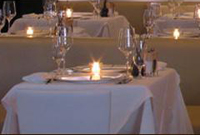 Address: 1 Huntington Avenue, Boston, Massachusetts 02116
Phone: (617) 412-4600
Web Page: http://www.sorellinaboston.com/
Type of restaurant: Italian
Handicapped accessible: Yes
Review date: February 14, 2009
Review: Ken and I enjoyed our Valentine's Day dinner at Sorellina in Boston. This was our first visit to Sorellina, and it definitely won't be our last. We loved it! We had reservations and we were happy to be seated right away as we were hungry. The hostess was friendly and efficient. We were immediately impressed with the service at Sorellina.
Sorellina has a modern décor with high ceilings and an open dining room. The color scheme is black and white and very elegant. The atmosphere was classy and sophisticated. I liked the chandeliers and the white candlelight. They added to the ambiance.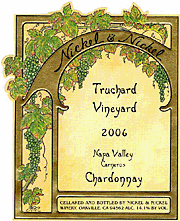 We began our evening by ordering a bottle of the 2006 Nickel & Nickel "Truchard Vineyard" Chardonnay from Carneros, California ($88). It was excellent. We requested a bottle at room temperature and then put it on ice to give it a "little" chill, rather than a cold bottle. This wine was full-bodied, very well balanced, creamy and delicious with light oak and lemon-butter like flavors. We could not stop drinking it. Over the course of the evening we finished the entire bottle, and loved every sip of it! Ken rated this wine 94 points.
As an appetizer we split the Insalata salad ($14) with baby greens, Bartlett pear, chardonnay vinaigrette, and Laura Chenel goat cheese. The salad was light, crisp, fresh and had great flavor. The Bartlett pear slices were thin and round which complemented the salad perfectly. The pears were a nice touch. The vinaigrette dressing was tasty and light. We requested our salad without the goat cheese, as neither one of us prefers it.
For an entrée Ken chose the Cod which was from Chatham, Cape Cod, and it was served in a white clam sauce, with tiny potato pearls ($36). For my entrée, I ordered the Maccheroncelli with American Kobe beef meatballs in a Barolo sauce, and topped with Parmigiano ($27). To go with our entrées, we split an order of the truffled fries with parmigiano ($12).
Ken said the pan seared cod was tender and perfectly cooked. It was served in a delicious white wine and lemon butter sauce that was to die for. This amazing dish was served over tiny potato balls, celery, and clams. The wine perfectly complemented the cod. The truffle fries with parm cheese over them were also a terrific side dish. They were to die for too! I could make a meal on those alone! My meatballs were very flavorful and served in a delicious brown Barolo sauce. They had a little kick to them – spicy – probably pepper. The pasta was cooked al dente. In summary, our meals were outstanding. I also thought the portion sizes were perfect. I was satisfied, but not stuffed – just the way I like to feel!
Our server's name was Kirk. His service was flawless and he was very knowledgeable about the menu. We would definitely request him again.
We really enjoyed our evening at Sorellina. We look forward to returning again soon. Sorellina came highly recommended to us and we can see why. It's a romantic place – perfect for Valentine's Day dinner!
Cheers!
Theresa & Ken