Willi's Seafood & Raw Bar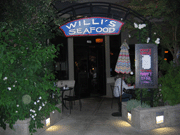 Address: 403 Healdsburg Ave, Healdsburg, California 95448
Phone: (707) 433-9191
Web Page: http://www.starkrestaurants.com/willis_seafood.html
Type of restaurant: Seafood
Entree price range: $4 to $14
Handicapped accessible: Yes
Review date: September 23, 2006
Review: Willi's Seafood & Raw Bar is tapas style. You can bring your own wine (up to 2 bottles per party) and the corkage fee is $15 per bottle. If you bring one bottle of wine and buy one bottle, they waive the corkage fee. Ken and I tried 4 terrific small plates. Willi's has a beautiful patio that you can sit out on and enjoy the warm weather and do some "people watching." The patio was full when we arrived so we enjoyed a nice cozy booth inside.
To complement our dinner, we brought a bottle of the 2004 Medlock Ames "Bell Mountain Vineyard" Chardonnay ($20). The bouquet of this wine is mildly aromatic. On the palate, the wine is acidic and creamy. A nice balance of both. The wine finishes dry, crisp and with a zing.
We tried the New England style "rolls" with Warm Maine Lobster, Garlic Butter & Fennel ($13). There were big chunks of warm lobster dripping in a garlic butter sauce on a toasted potato bread roll. They were to die for.
We enjoyed skewers from the grill with Marinated Chicken, Aji Amarillo, Mango Mustard & Toasted Pine Nuts. They were moist flavorful chicken skewers in a sweet, mango mustard sauce. It was delectable. The chicken was served with chopped cucumbers, a little red & yellow pepper, purple onion and a few chopped almonds. The sauce was delicious. This plate of marinated chicken was melt in your mouth good.
We sampled Willi's French Fries with Laura Chenel, Goat Cheese and Ranch Sauce for dipping ($7). It was a large serving. The dipping sauce was tasty but the French fries were also very good with traditional ketchup. The French fries were excellent.
The Sweet Corn & Crab Fritters ($11) served with lime and coleslaw was out of this world. The coleslaw was fresh and crispy. It had a tangy flavor with a hint of pepper. The sauce was sweet and included pesto, basil, olive and mustard. The corn and crab fritters were delicious with and without sauce.
The lowest priced item on the menu was the Warm Sourdough with Garlic Parsley Butter ($4). The maximum priced item was the BBQ'D Bacon Wrapped Scallops with Cilantro Pumpkinseed Pesto ($13.50). Willi's is handicap accessible.
We enjoyed Willi's Seafood & Raw Bar. The food was delicious. The atmosphere was fun and upbeat. We always love when we can bring our own bottle of wine. We hope to get back for a visit.
Theresa & Ken