Choosing Wine For Your Wedding
Things to Consider When Choosing Wine For Your Wedding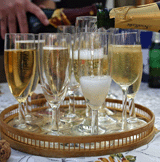 Wine has been served at weddings since the beginning of time. Nevertheless, tasting and choosing the wine for your own wedding is an important and challenging job. When planning a wedding or any important event, attending to the details can make all the difference in how memorable your special day is to you and your guests.
Choosing the wine is an important detail–not one to be overlooked. You taste and choose the wedding food and cake ahead of time, so why not taste and choose the wine in advance, too? Don't leave this important detail to chance. In addition to sampling the wine ahead of time, there are many other things to consider when choosing the wine for your wedding reception.
Your Guests
What kind of wine do you like? How about your friends and family? Do they prefer red, white, rosé, sparkling, or a dessert wine? Would your guests enjoy one or two really nice glasses of wine to sip as they socialize? Or, is wine not that important to your guests?
Time of Day
Are you having a day or evening wedding? People may drink a little less at an afternoon wedding than at an evening affair. (I know if I drink more than a glass of wine in the afternoon, I'm ready for a nap by 7:00 p.m.)
Menu
Are you trying to pair the wine with the food? If you are serving prime rib, why not pair it with an enjoyable Cabernet Sauvignon, Syrah, or Merlot? Is seafood or chicken on the menu? How about pairing that meal with a Sauvignon Blanc, Chenin Blanc, or Chardonnay?
Time of Year
Is your reception scheduled for the middle of summer or the dead of winter? The season could make a difference in what wine you decide to serve your guests–are you trying to warm them up or cool them off? If you are hosting an outdoor reception and the weather is expected to be warm, plan accordingly and serve a refreshing, lighter wine like a Pinot Gris or Sauvignon Blanc, rather than a heavy Chardonnay. For red wine drinkers, you might offer a Grand Cru Beaujolais or a Pinot Noir. You might even consider a dry rosé.
In the cold winter months, red wines may be more popular than some of the refreshing whites served in the hot summer months. Winter is a good time to consider the Cabs, Merlots, or Shiraz.
What's Your Budget?
Since most people don't have an unlimited budget to spend on wine, you need to consider cost. If you are bringing in your own caterer, you may have more wine choices than with an all inclusive package. However, there may be room to negotiate the wine expense up front in a package deal. Since you are about to spend thousands of dollars on a reception, you may be able to negotiate a deal on the wine if you are looking to bring in a specific wine. It's worth a try!
Wine Temperature and Decanting
Make sure the wine you choose is served at the correct temperature so that the wine will taste its best. In my opinion, most white wines are served too cold and most reds and rosés are served too warm. If a white wine is allowed to warm up a bit, you can often taste more of its flavors. I prefer my rosés a little chilled and my reds at cellar temperature (58-60 degrees Fahrenheit). Reds often could use some time to decant before they are served, allowing the flavor profile and bouquet to come alive.
Glasses
Believe it or not, serving wine in a glass made for that specific grape varietal can enhance the flavor as well. Many reception places may not have different wine glasses for different types of wine, but it's worth asking the question. It can make a big difference in the bouquet and taste of the wine.
What Wine Choices Do You Have?
Are you bringing in the wine yourself? If that is the case, then you have a lot of wine choices. Or, do you have to choose from a specific wine list? If you are interested in wine, you may already have a favorite wine or two you would like to serve at the wedding. Your choices can make your special day all the more enchanting and allow you to personalize your wedding by sharing your favorite wines with your guests.
Sparkling Wine for the Toast
One of the most memorable moments at the wedding reception is the toast. If you pick a "Very Good" sparkling wine or Champagne for the toast, your guests will remember the toast even more fondly. Wines do not have to break the bank to be "Very Good."
If You Need Assistance Selecting the Wine


If you need assistance selecting the wines for your wedding, please check out www.KensWineGuide.com, home of the Internet's most comprehensive wine buying guide. Ken is a trusted resource for novices and wine enthusiasts alike and Ken's Wine Guide has thousands of "Very Good" or better wine recommendations at value prices. With each grape varietal, you can sort by price and by rating. The Ken's Wine Guide Tasting Panel reviews wines monthly and publishes the results on the website. New wine recommendations are added daily.
Planning your wedding celebration requires many decisions. Let KensWineGuide.com help make the wine selection choices easy and pleasurable. Enjoy your special day!