The Montage Restaurant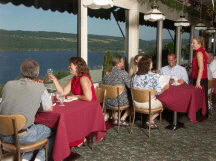 Address: 3380 Route 14, Watkins Glen, New York 14891
Phone: (607) 535-2706
Web Page: http://glenmotorinn.com/
Type of restaurant: American
Entree price range: $9.95 to $28.95
Handicapped accessible: No
Review date: August 7, 2007
Review: The Montage Restaurant – an Italian Grill at the Glen Motor Inn has beautiful views of Seneca Lake in the Finger Lakes wine country. The very good food, service, and excellent lake views more than make up for the slightly dated decor.
As an appetizer Ken and I had the soup of the day ($3.25) which was Pasta Lentil. It was delicious. In addition to the pasta and lentil, the soup contained beef, onion, carrots, pepper, sausage and other seasonings. The seasonings gave it a kick which will warm you up on a cold night. We loved it.
Two of our favorite wines we tried on the Seneca Lake Wine Trail were also on The Montage Restaurant wine menu. The Non Vintage Château Lafayette Reneau Seyval-Chardonnay (Finger Lakes, NY) listed at $4.00 per glass ($18.00 per bottle) we rated a Very Good +. The 2006 Lakewood Vineyards Gewürztraminer (Finger Lakes, NY) listed at $6.50 per glass ($30.00 per bottle) we rated a Very Good.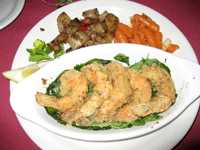 The entrées came with a choice of the house or Caesar salad. The Caesar salad was excellent – one of the best we have had recently. Our meal was also served with a small, warm, fresh loaf of Italian bread. For my entrée I had the Shrimp Anthony ($18.95). Shrimp Anthony (please see the photo above) consisted of large shrimp dusted with Romano, seasoned with bread crumbs baked "en casserole" with garlic butter on a bed of fresh spinach served with the chef's potato which was seasoned home fries– one of Ken's favorites. The Shrimp was very tasty indeed.
Ken enjoyed the Chicken Franzese ($16.95) which is a Franzese family recipe. Chicken Franzese included a fresh chicken breast dipped in a garlic-Romano egg batter, fried golden brown and finished with a limoncello demi-glace, served with the chef's potato and vegetable. Ken described his entrée as light and flavorful with a delicate lemon flavor that enhances but doesn't over power the dinner. Very tender and juicy chicken, cooked perfectly. The carrots were in a lemon and honey glaze with almonds.
We recommend The Montage Restaurant. It's a great stop for lunch or dinner as you make your way along the Seneca Lake Wine Trail. The restaurant itself is handicap accessible but the restrooms are not (stairs). The Montage Restaurant is open for lunch and dinner daily May through October. A children's menu is available. The inn and the restaurant are owned and operated by the Franzese family since 1937.
Theresa & Ken