Carrabba's Italian Grill

Address: 4320 N. Tamiani Trail, Naples, Florida 34103
Phone: (239) 643-7727
Web Page: http://www.carrabbas.com/
Type of restaurant: Italian
Entree price range: $10 to $18
Handicapped accessible: Yes
Review date: January 25, 2008
Review: Carrabba's Italian Grill in Naples is a happening place. I have been there for dinner four times and it is always packed. It doesn't matter what day of the week or what time we arrive. It's a popular restaurant and there is usually a line of people waiting to be seated. We arrived around 6:30 on a Friday night. It was busy so it took a while to be seated. We weren't in a rush. We had a glass of wine at the bar area and enjoyed ourselves.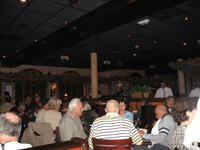 Carrabba's has a fun, upbeat atmosphere. It's a little on the noisy side, so if you are looking for a quiet place to dine, it may not be the best choice for you. If you are in the mood to be around friendly people, having fun, it's a great place. Carrabba's has an attractive bar area. It's spacious with some seating at or near the bar. I ordered a glass of the 2006 Kendall Jackson "Vintner's Reserve," California, ($8/glass). This is one of my favorite everyday wines. Ken and I think it is one of the best value Chardonnays on the market. Click on the link to read Ken's detailed wine review.
Our time at the bar flew by and before we knew it, we were already seated for dinner. To begin our dining experience, we were served fresh, warm bread with a dipping sauce containing olive oil, garlic, and other spices. It was quite tasty. I'm sure I had too many pieces of bread, as hard as I tried to resist it, I couldn't. It was too good.
For my entrée, I ordered Pasta Weesie ($14) which is shrimp sautéed in a garlic, lemon butter, white wine sauce with sautéed mushrooms and scallions, served over fettuccine Alfredo. It was delicious. The entrees include a cup of homemade soup or a House, Italian, or Caesar salad. Entrees also include your choice of garlic mashed potatoes, spaghetti pomodoro, cavatappi amatriciana or the vegetable of the day. I ordered the Italian salad which included olives, celery, carrots, tomatoes, onions, croutons, lettuce, and salt and pepper, topped with Italian vinaigrette dressing. My salad was terrific. I really liked the dressing. I love salad, especially when someone else makes it.
The Pasta Weesie was fantastic. I could taste the garlic and a touch of the white wine. The sauce was rich with great flavor. Our server offered to sprinkle Romano cheese on top which enhanced the flavor. There were plenty of mushrooms, shrimp, and scallions. Our waiter had recommended the Pasta Weesie when I had asked him earlier what his favorite entrée was. I was glad I ordered it. The portion was plentiful and delicious. I enjoyed my Pasta Weesie for lunch the next day too.
We had excellent service at Carrabba's Italian Grill. Our server was friendly and helpful. The food in the dining room smelled and tasted mouth watering good. The dining room has an open floor plan and you can see the kitchen and the wood burning grill. You can smell the delicious aromas coming from the kitchen as they float out into the dining area. Carrabba's is handicap accessible. They also offer "take out." It's a great place for food and wine lovers alike. Ken was not with me on this trip to Florida, but we will be sure to stop in together at Carrabba's again soon.
--Theresa