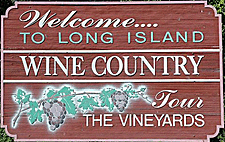 On July 30th, I had the opportunity to visit three wineries on Long Island before attending a family 50th birthday bash that evening. Getting back to the Long Island Wine Country was a treat and I wish I had a whole weekend instead of just three hours to cover some wines. In all, there are fifty-six wineries to choose from. I was able to choose three and cover many of their wines in the time I spent at each winery. I landed in Port Jefferson, NY via a ferry from Bridgeport, CT. The family and I first enjoyed a nice brunch at "Toast" in Port Jefferson before we made our way out to Long Island Wine Country. It is about an hour drive out to the first wineries on the North Fork if you have good traffic. We did! One piece of advice before planning your trip is to select your wineries in advance. I did this and it really helped. I chose three wineries that were close to each other. This meant I had more time for covering wines and less driving time. I also went with wineries that I was familiar with. This made it easier for me to set up appointments and keep on schedule. Long Island wineries sometimes host private parties and weddings. One of the wineries on my initial list was closed on the 30th for a private party. I had to pivot and adjust. I'm glad I did my homework earlier in the week versus just showing up to find out they were closed.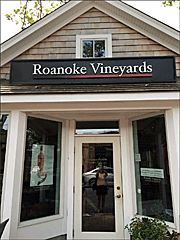 The big question: Where did I end up visiting? My first stop was at the Roanoke Vineyards Wine Bar in Mattituck. I tasted thru six wines and recommended two of them. My favorite was their 2015 "Infinite Possibility." I scored this $20 white blend 90 points. It is a blend of 50% Sauvignon Blanc, 40% Pinot Blanc and 10% Chardonnay. I found it to be slightly acidic and mouthwatering with tasty mineral-infused lime flavors along with notes of Anjou pear and a touch of lychee. This is a terrific summer wine and would pair nicely with grilled swordfish. My second favorite from Roanoke was their 2014 "Red Blend" for $20. This blend was made with 58% Merlot, 31% Cabernet Franc, 10% Cabernet Sauvignon and 1% Petit Verdot. It was a slightly acidic and juicy with blackberry flavors along with notes of old oak and hints of black olive and black pepper. It is a perfect mushroom burger wine.
W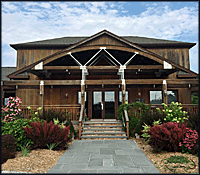 e next moved onto Macari Vineyards where I was set up with a tasting with Gibson Campbell. Gibson was extremely knowledgeable with regards to the winery and all the wines he was presenting. We started with two white wines that I was impressed with. The first was the 2015 "Katherine's Field" Sauvignon Blanc. I awarded this wine 90 points. It is light-bodied and fresh with tasty mild mineral-infused lime flavors along with notes of Anjou pear and some hints faint pineapple. It finishes off-dry and its very refreshing. I would pair it with grilled sea scallops. Next up was a kitchen sink blend of white grapes. The 2014 "Dos Aguas" is made from 49% Viognier, 18% Tocai Friulano, 17% Chardonnay, 16% Riesling, 12% Pinot Gris, 10% Sauvignon Blanc and 2% Gewurztraminer. Wow! All in all, this wine was quite interesting. It was light-bodied and very easy to enjoy. We detected some tasty mild peach and green apple flavors with hints of minerality and tangerine. This wine would pair nicely with sushi.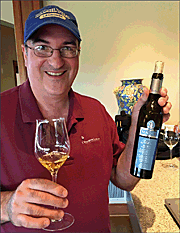 I finished with my favorite wine of the trip! The 2012 "Block E" Dessert Wine is Excellent! I rated this wine 94 points and for $32 per 375 ml bottle, it is a steal. The secret is out! Hurry, only 243 cases of this gem were made. This wonderful wine is made from 45% Chardonnay, 26% Riesling, 18% Viognier, 9% Pinot Gris and 2% Sauvignon Blanc. It is full-bodied, balanced, and concentrated. I loved its delicious ripe pear flavors with notes of apricot and honey. I also detected a hint of candied ginger. I could drink a whole bottle easily. Another option is to pour it over your favorite vanilla bean ice cream. It's fantastic!
Two other recommendations from Macari:
Macari 2015 Rose $19 (88 points)
Macari 2010 "Bergen Road Red Blend" $46 (90 points)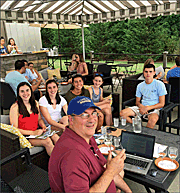 Our last stop, was at Lieb Cellars. In addition to the Lieb brand, I also tried wines from their Bridge Lane portfolio. I started with a wine that I covered before and recommended. The Bridge Lane 2014 "White Blend" for $16. This wine is a very good value and a very good every day wine. It is made from 35% Chardonnay, 26% Pinot Blanc, 20% Riesling, 15% Sauvignon Blanc and 4% White Pinot Noir. I have consistently rated this wine 88 points. It is light-bodied, slightly acidic, and fresh. I really enjoyed its green apple flavors with notes of lemon verbena, lime, and gentle minerality. It finishes dry and lingers nicely. I would serve it with linguini and clams. Staying with the whites, I also enjoyed the Lieb Cellars 2014 "Reserve" Pinot Blanc for $20. This offering was light-bodied, balanced, and easy going. I found its flavor profile to be a mineral-infused green apple with hints of light lemon-lime. This wine was dry and refreshing and a perfect match for the manchego cheese we were also enjoying on this warm summer day.
Two other recommendations from Lieb Cellars and Bridge Lane:
Bridge Lane 2015 Rose $18 (88 points)
Lieb Cellars 2014 Cabernet Franc "Reserve" $30 (88 points)
In closing, it was great to get back to Long Island. I wish I could have tried more wines and visited more wineries. My overall impression is that Long Island is still better at producing more high quality white wines vs. red wines. It is a region on the rise and the wines keep getting better. I look forward to covering more wines from this region in the future. If you get the chance, you should visit for sure! The Long Island Wine Council has a very good website covering the region. Take some time and visit the region the next time you are in the New York City area. Cheers! – Ken