Top Cabernets under $50 – Reviews and Recommendations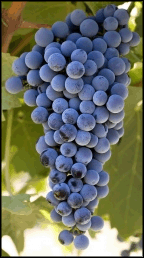 This year was a very interesting year for Cabernets under $50. The reason it was so interesting is that the 2008 Cabs at this level were such fruit bombs. Many could be confused with a very good Zinfandel in a blind tasting. We also tried some 2007s and a few 2009s as well. In general, the 2007s are very tasty and ready to go right away. However, they tend to lack the structure or tannins that we found in the 2006 and 2008 vintages. 2008s as I mentioned are fruit bombs with a decent amount of tannins. 2009 is a vintage that I think we are really going to like a lot, but it is too early to make a broad based statement on the vintage.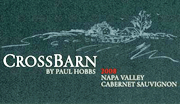 So what Cabs did well? Our top scoring wines tended to cost between $30 and $50 with a couple of exceptions. Our top 91 pointer is the 2008 Paul Hobbs "Crossbarn" Cabernet for $35. This 100% Cabernet oozes with very fragrant ripe black raspberry and blackberry jam aromas. Like many 2008 Cabs at this level, it is juicy and loaded with extracted fruit. Those fruits are ripe black currant and blackberry with complex hints of dark chocolate, oak, boysenberry, and plum. This Cab is ideal for drinking on its own as its complex and robust flavors will likely overwhelm many foods. Sit back by the fireplace on a cold winter's night and enjoy.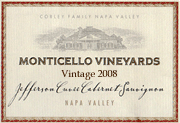 Our next 91 pointer isn't exactly a pure Cab but a cuvee of mostly Cab with some Merlot & Cabernet Franc. However, it was so good and well received, that I had to include it in the post. The 2008 Monticello Vineyards "Jefferson Cuvee" for $38 was one of our top scorers in our fall blind tasting. The panel thought it was a lot of wine for the money. It is medium-bodied, balanced, and very suave. The panel loved its tasty mild plum flavors with notes of cinnamon and holiday spices. We suggested drinking this in the near term with a beef wellington or sesame encrusted seared tuna.
Our sole 2007 91 pointer was the Ladera from Napa Valley. This $39 offering was balanced and smooth. Its flavor profile was a mild black currant with hints of black cherry and gentle oak. It finishes dry and its moderate tannins are a bit sticky and linger nicely. This wine would be perfect with a thick porterhouse steak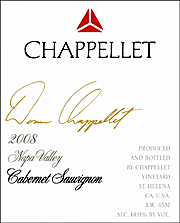 Our next offering is consistently at the top of our list for this category. The 2008 Chappellet "Signature" Cabernet from the Napa Valley cost $48 per bottle. It opens with a fragrant ripe black currant bouquet with hints of black cherry. It displays juicy ripe black currant flavors with integrated oak notes. I also detected hints of anise and black cherry as well. Its moderate and fine tannins are friendly and would pair well with a messy batch of braised short ribs.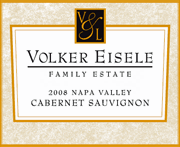 Our final 91 pointer is one of our top organic wines of the year. The 2008 Volker Eisele "Family Estate" Cabernet for $48 hails from the Napa Valley. It is medium-bodied, balanced and very approachable. The panel really liked its oak-influenced black raspberry flavors with notes of black currant and a touch of black pepper. Its big tannins are rather sticky and ripe fruit also sticks around for quite a while. This organic wine will benefit from air and cellar time. If you can't resist, you could pair it with braised short ribs as well.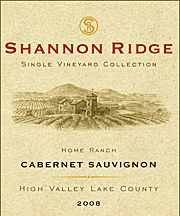 Our next grouping is our 90 pointers. We had 8 wines that qualified at this level. Our top choice is the 2008 Shannon Ridge "Home Ranch" Cabernet. This Cab is from the High Valley in California. At $25 it is one of the best value Cabs that I covered from the 2008 vintage. It is balanced, smooth, and fruit forward. It is also quite complex with several different flavors including ripe blackberry, pomegranate and a touch of vanilla, black cherry, and oak. It finishes with dusty tannins that are rather sticky and linger for quite some time after the wine is gone. This wine has lots of flavor and needs some fat in the near term. I would serve this very good Cabernet with barbecue grilled Angus steak tips. There were only 337 cases of this wine made. Seek it out soon before it is all gone!
Our next 90 pointer is our first 2009 vintage Cabernet. The 2009 Cameron Hughes "Lot 300" Cabernet for $28 is very impressive. I am sure it was a hit at the Boston Wine Expo. It is medium-bodied, very well balanced, and quite smooth. I loved its tasty blueberry and black cherry flavors with notes of vanilla oak. It is quite dry and its sticky fine tannins linger for quite some time. This Cab from Cameron would pair perfectly with pulled pork sliders.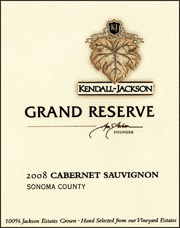 Kendall Jackson has really stepped up its red program over that last few years. Their success continues with the 2008 "Grand Reserve" Cabernet. This $30 Cab opens with an inviting mild black currant and blackberry bouquet. On the palate, this wine is medium-bodied, balanced, savory and shows off its fruit. The flavor profile is a tasty mild blackberry with an interesting peppermint flavor nicely intertwined. I would pair this friendly Cab with a Colorado lamb chop.
Our next Cab is the 2007 Matanzas Creek "Helena Montana" Cabernet from the Knights Valley. It is a nice reflection of the 2007 vintage. It is a very friendly and elegant. It is designed to be consumed in the near term. I enjoyed its tasty mild black cherry flavors with hints of oak and a splash of anise and dash of black pepper. Its dry fine tannins drift away nicely and make it a good choice with a filet mignon.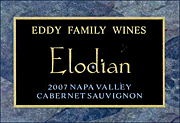 Another elegant and food friendly Cabernet Sauvignon is the 2007 "Elodian" Cab from Tom Eddy. It is medium-bodied, rather smooth and very approachable. I liked its tasty mild black currant flavors with notes of oak and hints of blueberry and blackberry. It finishes with moderate dusty oak tannins that are well managed and nicely prolonged. It comes in at $40 and would be ideal with a thick ribeye steak.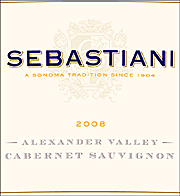 Sebastiani's white label Cabernet from the "Alexander Valley" has consistently been one of my favorite Cabs at this level over the years. The price has crept up a bit and it is now $40 a bottle. But given its 90 point status for the 2008 vintage and the fact that it was a real crowd pleaser at a Christmas party we attended makes it a worthwhile investment. Its flavor profile is a very tasty black currant and plum blend with notes of nicely integrated old oak and a hint of black pepper and black cherry. This food-friendly Cab with perfect beef stroganoff.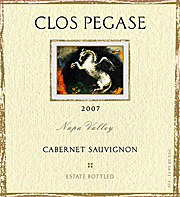 Our next two 90 pointers come from the same producer.  Both the 2007 and 2008 vintages scored 90 points. Who is this consistent producer?  Clos Pegase.  Their 2007 "Estate Bottled" Cab for $40 is medium-bodied, nicely balanced, savory and fruit forward. The panel enjoyed its tasty classic black currant flavors with hints of black pepper and blackberry. The finish is dry and its moderate tannins make it food-friendly. The panel suggested pairing it with a New York Strip steak or braised short ribs.  The 2008 Clos Pegase "Estate Bottled" Cab is is full-bodied, lush, juicy and shows pleasant acidity. It displays interesting blackberry flavors with notes of black licorice, dark chocolate and hints of black currant and gentle oak. It finishes dry and its fruit flavors linger with just a bit of sticky mild tannins. This wine is one of those fruit bombs that will appeal to readers who like fruity Cabs and Zins alike. I would pair it with Mr. P's beef brisket.
Our final 90 point wine less than $50 is the 2008 Robert Mondavi "Oakville" Cabernet Sauvignon. This popular Cab costs $45 a bottle and there is plenty of it as 7,700 cases were made. It opens with a fragrant black currant and blueberry pie bouquet with hints of mint. On the palate, it is medium-bodied, balanced, and very smooth. The panel liked its tasty black cherry flavors with notes of oak and plum. It finishes dry and its moderate dusty tannins show moderate length. The panel suggested pairing this very nice Cab with a venison steak or red wine braised lamb shanks.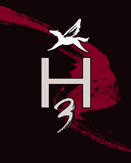 Our first three 89 pointers are all under $20, so they are worthy of some fanfare and highlighting. Our first one is the 2009 Columbia Crest "H3" Cabernet from the Horse Heaven Hills in Washington State. I often get asked for a really good value Cabernet. Here it is! This is a lot of Cab for the money. It is an impressive and affordable at $15. It is balanced and smooth and displays gentle black cherry and plum flavors with a hint of black currant and oak. Its very mild tannins that barely show up in the end which makes it very food-friendly and it would be perfect with meatloaf. It should be easy to find with 69,000 cases made.  You might want to stock up and make it your weekday Cab.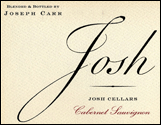 Joe Carr is known for his Very Good reasonably priced wines. His 2009 "Josh" Cabernet for $14 is another food-friendly wine. It is medium-bodied and very approachable. The flavor profile is a plum and black currant blend with hints oak of blueberry. It would pair well with veal parmigianna.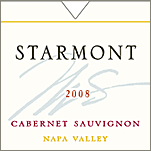 Our final highlighted 89 pointer is the 2008 Merryvale "Starmont" Cabernet. This Napa Valley Cabernet is a deal at $18 per bottle. It is mediu-bodied and juicy with tasty black cherry flavors.  I also detected notes of black plum with hints of black currant and a touch of old oak mixed in. Its dusty tannins are sticky and slightly prolonged. I would suggest that this Cab would be a nice glass pour option paired with a grilled barbecue chicken sandwich.
4. Zuccardi 2007 Cabernet "Q" (Mendoza, Argentina) $22
5. Charles Krug 2008 Cabernet (Napa Valley, California) $27
6. Chateau Ste. Michelle 2008 Cabernet "Canoe Ridge Estate" (Horse Heaven Hills, WA) $28
7. Reininger 2008 Cabernet Sauvignon "Walla Walla" (Washington) $33
8. Francois Lurton 2008 Cabernet "Gran Araucano" (Colchagua Valley, Chile) $35
9. Freemark Abbey 2007 Cabernet "Napa Valley" (California) $40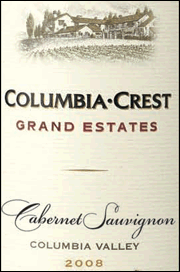 At the 88 point level I am going to tell you about another Columbia Crest Cab. Their 2008 "Grand Estates" Cabernet for $12 is a steal. It is medium-bodied and smooth. I really like its tasty black cherry and blueberry flavors with nicely integrated mild vanilla oak. This wine is a Very Good option for a $12 bottle of wine. It is also a great glass pour and it would be perfect with a thick Angus burger smothered in sautéed mushrooms and barbecue sauce. There are 225,000 cases of this wine made so it should not be hard to find. Buy it by the case.
2. Oberon 2009 Cabernet "Napa Valley" (California) $20
3. Vina Robles 2008 Cabernet "Huerhuero Estate" (Paso Robles, CA) $22
4. Franciscan 2008 Cabernet "Napa Valley" (California) $27
5. Plantagenet 2008 Cabernet "Mount Barker" (Australia) $29
Another $12 Cab to consider is the Aquinas 2009 from Napa Valley and it tops our 87 point Cabs list. It opens with an attractive oak and mild black cherry bouquet with hints of inviting plum and floral notes. Its flavor profile is an interesting blend of dark chocolate, mild black cherry and black currant. I also detected some old oak as well. It's pretty interesting for a $12 wine. It finishes with mild sticky tannins that linger for quite a while. It's a nice pub wine to enjoy with a big and juicy burger.
1. Kendall Jackson 2008 Cabernet "Vintners Reserve" (California) $18
2. Shannon Ridge 2008 Cabernet "Ranch Collection" (Lake Country, CA) $19
Our 86 point Cabs are all Good options. Three of them only cost $10. Check out the reviews and give a couple a try. They are all nice wines for the money.
1. Valentin Bianchi 2009 Cabernet "Sensual" (Mendoza, Argentina) $10
2. Cono Sur 2009 Cabernet "Bicycle" (Central Valley, Chile) $10
3. Fairview 2010 Cabernet "La Capra" (Coastal Region, South Africa) $10
4. Mandolin 2009 Cabernet "Central Coast" (California) $12
We hope you enjoy thes Cabs as much as we did.  Please be sure to post your favorite Cabs for all our readers to see.  Cheers! – Ken