Luxury Sonoma Wine Reviews And Blogger Conference Wrap Up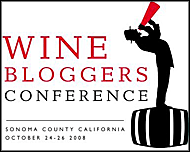 The final day of the Wine Bloggers Conference in Santa Rosa started off with some breakout sessions.  The topics varied, but the session that I found most interesting was on Wine Reviews.  It was decided that a single scoring system among all bloggers was never going to happen.  There were many varying opinions about point scoring systems, star systems, and using no scores at all.  I explained to the group how the KensWineGuide.com scoring system works and how I felt the scores were just a means to an end.  That end goal is and has always been to recommend only Very Good or Better wines to our readers.  Life is too short to drink anything less than Very Good wine.  I feel our consolidated consensus scoring system does just that.  I firmly believe that the more professionals or tasting panels that recommend a wine as Very Good or better, the greater the likelihood it is that you will be satisfied.  So I frequently tell readers that the most important number on KensWineGuide.com is the number of professional reviews.  The bigger the number, the greater likelihood you will be satisfied.  Since the KWG Score is a weighted average score, those wines with the greatest number of recommendations will rise to the top of the list.  We also know people have different tastes and different wines appeal to different people.  Some folks might think the wine we recommend is Very Good and others might think it is Excellent, but you will both be satisfied.  If we always suggest winners, we feel you will continue to use us as your source for wine recommendations and your will tell all your friends.  That is the goal of the KensWineGuide.com system and I think everyone appreciated it.
The next and final session was lunch and a mini tasting of luxury and hard to find Sonoma wines.  I recommended 6 wines from this session.  Four of them were from Adam Lee of Siduri.  Adam is a terrific Pinot producer and all of his wines are consistently well made.  The four we recommended were as follows:
Siduri 2007 "Sonoma County" Pinot Noir (Very Good)
Siduri 2006 "Terra de Promissio Vineyard" Pinot Noir (Very Good)
Siduri 2006 "Van der Camp Sonoma Mountain" Pinot Noir (Very Good)
Siduri 2006 "Keefer Ranch Russian River Valley" Pinot Noir (Very Good+)
The other 2 wines I recommended were produced by Flowers and Medlock Ames.
The Flowers wine was their 2006 Sonoma Coast Pinot Noir.  I scored this wine Very Good.  It was very smooth, silky, and elegant.  The Medlock Ames wine was their 2004 Cabernet Sauvignon from Alexander Valley.  This is a smooth and juicy Cab with many complex flavors.  I scored it Very Good + and would pair it with a steak.
That event concluded the Wine Bloggers conference, but not my final day.  From Santa Rosa I headed north to Healdsburg to meet up with my cousin Kevin, Lynn, and Randy Ullum the chief winemaker from Kendall Jackson.  We sat down on Hawkeye Mountain to re-taste many of Randy's Highland Estate series wines.  I reviewed and recommended all these wines in February of this year.  My favorites still remain the same as earlier this year: the 2005 Napa Mountain Cab and the 2006 Camelot Chardonnay (which is now all gone)  The other gems we sampled were the 2006 Grand Reserve Chard, the 2005 Trace Ridge Cab, and the 2005 Hawkeye Cab.  If you have not ever experienced Kendall Jackson's Highland Estate series wines, I highly recommend that you give them a try.  They are a steal in terms of quality vs. cost.  We really enjoyed our visit and conversations on topics ranging from bottle closures, terroir, alternative energy, and the daily tasks of a winemaker. 
After our visit, we headed back to Healdsburg and Kevin & I walked around the square and tried several wines in the many tasting rooms around town.  I recommended 2 wines from Rosenblum and 2 from LaCrema.  They were:
Rosenblum 2007 "Kathy's Cuvee" Viognier (Very Good)
Rosenblum 2006 "Pickett Road" Petite Sirah (Very Good+)
La Crema 2007 "Los Carneros" Pinot Gris (Very Good)
La Crema 2006 "Anderson Valley" Pinot Noir (Very Good)
I closed the trip with dinner at the Healdsburg Bar and Grill.  The food was tasty and we enjoyed our last glass of wine on the trip.  We also recommended it.  I scored the Seghesio 2007 Sonoma County Zinfandel Very Good+.  This wine sells for $24 retail and will not be around long.  It is that good.  It went great with Kevin's burger and my pulled pork slider. 
In conclusion, I really enjoyed the Wine Bloggers Conference and my trip to Sonoma County.  I am already looking forward to next year's conference.
Cheers,
Ken