Currently viewing the tag: "Hermann Wiemer"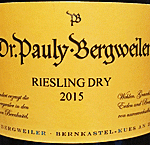 Riesling in general gets a bad rap. It is a noble grape and can be made in almost every style. Most folks know it as a sweet wine grape. While it truly does make great sweet wine, this post is about the other side. It also can be made "Dry" or "Trocken" as they […]
Continue Reading

→
As we approach New Year's Eve we always like to share our favorite Sparkling Wines and Champagnes that we discovered this fall. Below is a list of the winners that Nicolay (Chief Bubblehead), our Tasting Panel, and I found this fall. That said, we will start with my two favorite sparklers that I came across.
[…]
Continue Reading

→
2012 was a big year for Riesling submissions. I got a ton of them. As a matter of fact, this report is coming out in 2013 because I have been very busy covering so many Rieslings since last July. So finally, in this report, you will find some real gems which I am certain you […]
Continue Reading

→