Our Top New Year's Eve Sparkling Wine and Champagne Recommendations
As we approach New Year's Eve we always like to share our favorite Sparkling Wines and Champagnes that we discovered this fall. Below is a list of the winners that Nicolay (Chief Bubblehead), our Tasting Panel, and I found this fall. That said, we will start with my two favorite sparklers that I came across.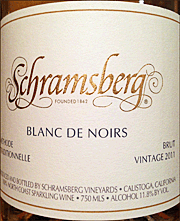 The 2011 Schramsberg "Blanc de Noirs" for $41 seems to excel each year. The 2011 opens with lots of small bubbles and a mild pear bouquet with a hint of orange and bread dough. Our mini-tasting group found it to be light bodied, fresh and elegant. We loved its mineral infused lemon flavors with hints of bread dough and faint strawberry. It is very food friendly and we suggested serving it with grilled swordfish skewers.
Another terrific discovery that I found this summer at the Blogger's conference in the Finger Lakes was the 2009 Hermann Wiemer "Blanc de Blanc" for $45. This 92 point gem is light bodied, slightly acidic and fresh. I really liked its tasty apple flavors with notes of lemon and gentle minerality. This sparkler would pair perfectly with oysters. Note: This bubbly is only available via the website or at the winery and they didn't make much of it. So hurry up an place an order.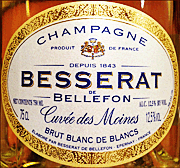 Our last 92 pointer and our top Champagne is the non-vintage Besserat de Bellefon "Cuvee des Moines Brut Blanc de Blancs" for $70. It is always one of Nicolay's favorites and it is as classic as Champagne can get. It displays exciting notes of brioche, roasted cashews, and creme brulee on the palate. It finishes with bright acidity and long lasting flavors. Another gem to consider with oysters.
Our first two 91 pointers are values when compared to the other high scoring offerings. The first is the non-vintage Ferrari "Brut" for $25. Nicolay fell this if there was ever a true substitute for Champagne, this offering is as close as it gets in terms of style. It displays fruits like Golden Delicious, Asian pear, and Bartlett pear along with deeper tones like creme brulee and caramel as well. Its finish is long, yeasty and bright!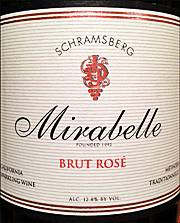 Our second very good value is the non-vintage Schramsberg "Mirabelle Brut Rose." Nicolay thought this one was as good as the "Estate Brut Rose" that the Panel recommended. (See below) The main difference is this offering is $29 while the "Estate Brut Rose" is $44. The Mirabelle's flavor profile is huckleberry, cassis, pomegranate, and dragon fruit along with hints of mint, ginger, and toast towards the end. Nicolay gave it an A+, especially at this price point. That said, the 2012 Schramsberg "Brut Rose" is no slouch. I challenge readers to try these two side by side and tell us which one you liked better. In both cases, you clearly will not be disappointed. According to the panel, the big brother is full bodied, pleasantly acidity, and approachable. We all liked its tasty mild red raspberry and strawberry flavors with notes of minerality and hints of plum, watermelon and toast. As you can see both of these Rose's from Schramsburg are quite complex. The panel suggested pairing this one with fresh sliced salmon or a lobster casserole.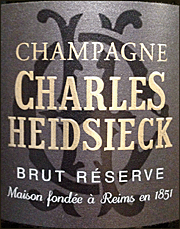 We close our 91 pointers with two Champagnes. The first is the very consistent non-vintage Charles Heidsieck "Brut Reserve" for $65. This sparkler always finishes near the top of our tastings. The current blend is light bodied, elegant and smooth. The panel really enjoyed its mild mineral infused green apple flavors with hints of lemon verbena, pineapple and toasty oak. This bubbly finishes dry and fades away nicely. You can pair it with smoked Gouda.
Next up is the non-vintage Besserat de Bellefon "Cuvee des Moines Brut Rose" Champagne for $65. This most Pinot Meunier blend is full bodied, slightly acidic, round and totally fills your mouth. The panel was impressed with its mineral infused mild pink grapefruit flavors with notes of watermelon, tangerine and cranberry. This beauty shows nice length as it fades away. This panel suggested pairing this food friendly Champagne with dried fruit stuffed game bird or Stuart's cranberry apple crisp.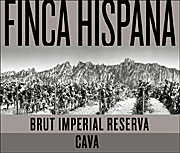 Our next cluster of recommendations is our 90 point wines. There are ten of these. We will start with a great value Cava that Nicolay discovered. It is a non-vintage Cava from Finca Hispana.  Their "Brut Imperial Reserva" for $15 is an extraordinary value. It delivers upfront notes of apples, peaches, and Bartlett pears. The mid-palate is rounded out by tropical flavors like pineapples, mangos, and papaya while the finish has the standard brioche found in well-made sparklers. The finish was one of the longest Nicolay covered.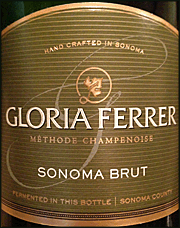 Our next few 90 pointers is a block of three from Gloria Ferrer. Nicolay feels the Gloria Ferrer portfolio is an unsung hero in the domestic sparkling wine scene. They regularly produce high-class wines for half the price of the big boys out of Champagne. These three all cost $22 per bottle. So each one is a very good value. The non-vintage "Sonoma Brut" is made mostly from Pinot Noir. It displays plenty of upfront fruit. You will find caramel, white peaches, wet stone, pear flavors along with hints of toasted bread. The non-vintage "Blanc de Blancs" opens up with notes of blood orange, kumquats, pink guavas, honeyed citrus fruit, and hints of lychee fruit. From the front of the palate to the finish, this sparkler leaves nothing at the table. It finishes medium to long, while displaying ripe citrus fruits. The last one was Nicolay's favorite of these three. The non-vintage "Blanc de Noirs" has a nose that reminded him of a fresh summer fruit salad. Watermelon, honeydew melon, fresh cut strawberries, and raspberries that jump from the glass. On the palate, you will find raspberry creme brulee flavors on the mid-palate and it finishes with a Meyer lemon. Try them all this New Year's Eve and vote for your favorite.
Dr. Konstantin Frank 2008 "Chateau Frank Brut" (Finger Lakes, NY) $25 (90)
This Sparkler from the Finger Lakes won over the Tasting Panel. It is medium bodied with a nice blend of acidity and fruit. They enjoyed its mild mineral infused gentle tart lemon flavors with notes of tangerine and a hint of Pink Lady apples. The panel suggested pairing this with steamed mussels.
Schramsberg NV "Mirabelle Brut" (California) $27 (90)
Although this isn't quite the same as the Schramsberg Blanc de Blancs, Rose, and Blanc de Noirs it is a very good substitute. It has notes of toasted bread with butter and fig jam. In addition, there are notes of dried grapes, candied dates, and the slightest hint of aged cheddar.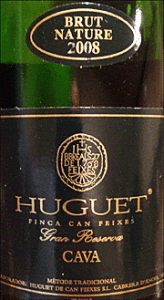 Huguet 2008 "Gran Reserva Cava" (Cataluna, Spain) $29 (90)
This nice sparkler was a crowd pleaser with the Panel. It displays tiny bubbles and a fragrant bread dough, green apple, and wet stone bouquet. The panel found it to be creamy and approachable. They really liked its tasty mineral infused green apple with hints of lime, strawberry, saline, and ginger. The suggested pairing spring rolls and sushi.
Schramsberg 2012 "Blanc de Blanc" (North Coast, CA) $39 (90)
This Schramsberg sparkler once again performed very well for the tasting panel. It is medium bodied, easy going and fresh. The flavor profile is lemon with notes of mild minerality and green apple. We also detected hints of bread dough and strawberry. The panel suggested pairing this very good sparkler with grilled lime shrimp or a baked scallop casserole.
Gloria Ferrar 2007 "Royal Cuvee" (Carneros, California) $40 (90)
This Sparkler from Carneros opens with an appealing Granny Smith apple, Anjou pear and wet stone bouquet with a hint of wild rose. The panel found it to be medium bodied, slightly acidic, and brisk with mineral infused mild lemon flavors. They also picked up some hints of caramel, tangerine and almond. The panel's pairing this sparkler with Coquille St. Jacques or grilled tuna.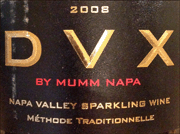 Mumm Napa 2008 "DVX" (Napa Valley, California) $60 (90)
This sparkler displayed very fine bubbles along with a mild lemon and wet stone bouquet with hints of bread toast and faint grapefruit. It was more full bodied than most. It was also pleasantly acidic, elegant and fresh. Its mineral infused tangerine flavors with notes of bread dough with hints of grapefruit, Granny Smith apples, and lime were well received. It was food friendly received several food suggestions, like broiled scallops, cherrystones, or lobster bisque.
Lucien Albrecht NV "Cremant d'Alsace Rose" (Alsace, FR) $17 (89)
A nice sun kissed pink color, this Rose opens with pink guava, watermelon, fresh raspberry, and hints of mint. The palate is fresh and vibrant, displaying notes of eucalyptus, hints of cinnamon, Asian apples, and washed strawberries. The finish is medium in length, but very clean.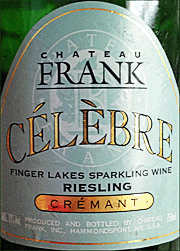 Chateau Frank NV "Celebre Cremant" (Finger Lakes, NY) $21 (89)
This sparkler is made from 100% Riesling. It is light bodied, balanced and fresh. I liked its tasty lemon flavors with hints of nicely integrated minerality. I would serve this good value sparkler as an opening aperitif with quiche Lorraine appetizers.
Chateau Frank 2009 "Blanc de Blancs" (Finger Lakes, NY) $30 (89)
This is another great example of what Dr. Konstantin Frank has been able to do with his vineyards on the Finger Lakes. Airing on the lighter side, this sparkler open ups with lime zest, pears, granny smith apples, and cantaloupe. Its flavors are granny smith apple, watermelon, and strawberries with bright acidity and a hint of toast on the finish.
Chateau Frank 2009 "Blanc de Noirs Extra Brut" (Finger Lakes) $35 (89)
This sparkler from the Finger Lakes is relaxed and mellowed allowing the wine to show through. Medium sized bubbles give this sparkler a needed boost in body but without compromising flavors. Ripe, pink guava, hints of lychee fruit, and fig jam on toast show through on the palate.
We hope you enjoy these Sparklers and Champagnes as much as we did. For a complete listing of all of our recommended Champagnes and Sparkers check out our website via this link. Happy New Year!! Cheers! Ken