Twas the night before Wine-mas, when all through the vines,
Not a creature was stirring through the grapes grown in lines,
During harvest the grapes are each handpicked with care,
With hopes of being bottled as a delicious wine to share.
Wine-lovers were all buzzed and snug in their beds,
While visions of sugar grapes danced in their heads.
They dreamt of California, Oregon, and Washington too,
And wished for Santa to check off their holiday to-dos.
So many wines to try and regions to see,
How could they choose what to put under the tree?
Do not fret wine fanatics; Touring & Tasting is here,
Our 12 days of Wine-mas will make your choice crystal clear!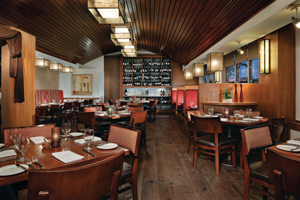 On the 12th Day of Wine-Mas my true love gave to me…
A weekend getaway at the Heathman Kirkland Hotel
The Heathman Kirkland hotel is a perfect balance of bustling city life and a peaceful oasis, resting just steps away from the crystal waters of Lake Washington on the outskirts of Seattle. They offer many luxurious amenities, including a choice in mattress, a gourmet restaurant, and scenic views of downtown Kirkland. Guests of the hotel have easy access to Woodinville Wine Country, downtown Seattle, and the heart of the vibrant city of Kirkland. A trip to Woodinville is just what you should ask Santa for this year!
On the 11th Day of Wine-Mas my true love gave to me…
Horseback riding at the Alisal Guest Ranch
Established more than 150 years ago, the employees at Alisal Guest Ranch are seasoned pros in hospitality, and have been inviting guests to enjoy the beautiful 10,000-acre cattle ranch since 1946. They offer a quiet and rustic getaway with no in-room TVs or phones, while still providing modern amenities and a cozy atmosphere. Guests are welcomed to enjoy a number of outdoor activities on the ranch, including horseback riding on a variety of trails for riders of all skill levels. Turn off the electronics this year, and focus on what Christmas is really about at Alisal Guest Ranch, spending time with your loved ones.
On the 10th Day of Wine-Mas my true love gave to me…
Elk watching at Cache Creek Vineyards
Cache Creek Vineyards is a 500-acre sanctuary located in the eastern foothills of Lake County. This relaxing nature setting is the perfect environment to taste their outstanding varietals: Cabernet Sauvignon, Petite Sirah, Sauvignon Blanc, Syrah, and Chardonnay. Guests are invited to relax by the creek and watch for elk, deer, wild turkeys, and other animals that are regular visitors to the vineyards. What could get you more in the Christmas spirit that spotting Rudolf himself?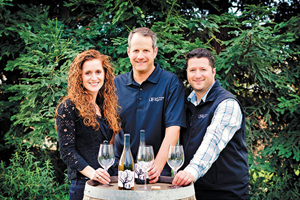 On the 9th Day of Wine-Mas my true love gave to me…
An afternoon lakeside picnic at Oak Farm Vineyards
Guests who visit the new Winery and Hospitality Center at Oak Farm Vineyards are greeted with the upmost friendliness and hospitality, making it a favorite stop for many visitors to Lodi Wine Country. Those who join their Circle of Friends enjoy special privileges and benefits on the property, and visit regularly to enjoy a home away from home while sipping their delicious, food-friendly wines. This Christmas season, lay down a blanket next to their private lake and enjoy an afternoon picnic by the water!
On the 8th Day of Wine-Mas my true love gave to me…
A day spent admiring the visual art exhibits at Robert Mondavi Winery
Robert Mondavi Winery understands that guests are now seeking much more than an average wine tasting experience. Their winery has become a cultural center for both locals and visitors to Napa Valley, showcasing art exhibits, concerts, book signings, and many more exciting events. They have expanded their outdoor seating to include many patio areas with comfortable seating that guests can use to relax and enjoy their renowned wines without feeling rushed or crowded, as in many tasting experiences. Get more out of your wine tasting adventure by spending the day at Robert Mondavi!
On the 7th Day of Wine-Mas my true love gave to me…
Shopping in the Italian Marketplace at V. Sattui Winery
Sattui Winery offers the perfect European getaway without the hassle of leaving the country. They have kept their family's Italian traditions alive, offering a wine tasting experience that is both exceptional and authentic to their roots. The property is disguised as a quaint Italian village, and visitors instantly feel as though they are a part of the Sattui family. Guests are invited to browse the Italian Marketplace where they can find hundreds of cheeses, meats, and other Italian specialties and then take them out to the two acres of property dedicated solely to picnicking under the breathtaking oak trees that populate the grounds.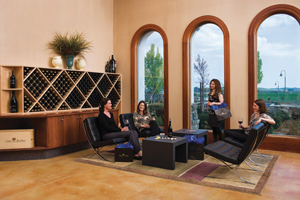 On the 6th Day of Wine-Mas my true love gave to me…
A Tasting Experience at Vina Robles
Vina Robles is the quintessential happy medium between old and new world wines. It stays true to the bold, fruit-forward wines that we expect to see from Paso Robles, while still remaining loyal to its European roots by incorporating a finesse and elegance that makes their wines stand out. Their 14,000 sq. foot Hospitality Center offers guests the ultimate wine country experience, including choices in wine flights, private wine and cheese pairings, a gourmet lunch tasting (Recommended by Wine Enthusiast), and much more.
On the 5th Day of Wine-Mas my true love gave to me…
A food & wine pairing in the glass-walled tasting room at Calcareous Vineyard
The unique location of Calcareous Vineyard is the secret ingredient to their award-winning wines. The high elevation, dry and chalky soils, and coastal climate produce wines that are reminiscent of famous wine regions in France, creating the Rhone and Bordeaux blends that Calcareous is famous for. Visitors to the winery can admire the stunning views of Paso Robles and the countless miles of picturesque hillside from their glass-walled tasting room at the highest point on the property. Looking for the backdrop for this year's Christmas card? Snap the perfect shot at Calcareous Vineyard!  PS – Try their 2011 "Moose" while there – you will love it!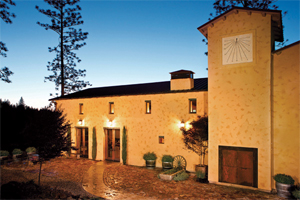 On the 4th Day of Wine-Mas my true love gave to me…
A visit to the Mediterranean-style tasting room at Miraflores Winery
Located in the stunning Sierra Foothills lies Miraflores Winery, a 254-acre estate that has a home-style charm and amazing terroir for a vast portfolio of wines. The Mediterranean-style tasting room is an attraction of its own, featuring sky-high cathedral ceilings and stunning glass doors. Here guests can soak up the region's rich history while enjoying a glass of their highly regarded collection of wine. Don't forget your camera, you won't want to miss capturing the beauty of Miraflores Winery!
On the 3rd Day of Wine-Mas my true love gave to me…
A day in the Chehalem Mountain range at ROCO Winery
ROCO Winery is the ultimate success story of a husband and wife working together as a dynamic winemaking duo, the name itself taking two letters from their names (Rollin + Corby) to represent the importance of this bond. Together they have made their decade-long dream of starting their own winery come true in the Chehalem Mountain range in Oregon's Willamette Valley. ROCO wines have taken off with a bang, receiving numerous accolades and making an appearance in the White House. They are continuously moving forward to improve the future of ROCO Winery, with a 15-acre addition to their land for Chardonnay and Pinot Noir, as well as a brand new sparkling wine program. There is a lot to look forward to from ROCO Winery!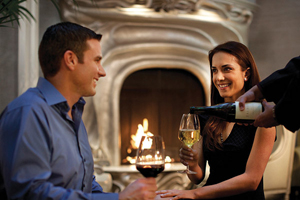 On the 2nd Day of Wine-Mas my true love gave to me…
A romantic rendezvous at the Galleria Park Hotel
The Galleria Park hotel is truly an urban oasis and offers the best of both worlds; located in the heart of Union Square, it's just steps away from the vibrant city life of Downtown San Francisco, yet inside it remains a tranquil retreat that promises complete relaxation. Explore downtown and enjoy the sights and sounds of the city, then come back to the comfort of a peaceful place to unwind. Cozy up next to the fireplace for a complimentary wine hour, take a stroll in the scenic Park Terrace, or just stay in and order room service from your luxurious guestroom with all the amenities.
On the 1st Day of Wine-Mas my true love gave to me…
A Touring & Tasting Holiday Gift Set
Give your loved ones what they really want this Christmas – wine!  We have prepared a wide range of two bottle wine gift packs; from crisp Chardonnay, a bold duo of Napa Cab's, to sparkling, and Pinot!  There is something for everyone.  Visit our gift section to view all the choices, and if you don't see just what you're looking for, give us a call and we'll be happy to customize the perfect gift for you.
Merry Wine-Mas and Happy Holidays from Touring & Tasting!
The following article was provided by our contributing partner – Touring and Tasting Magazine.
Cheers – Ken