Thanksgiving is right around the corner, and we know you've been refreshing your Pinterest feed tirelessly, searching for the perfect recipes for this year's menu. While we would never want to replace Grandma's family secret, we have hand selected a few recipes that we think everyone around your table would be thankful for! We know wine pairings can be stressful and often the last thing on your never ending holiday to-do list, but this year, there's nothing to whine about…we've done the work for you!
The Appetizer Course
Ancient Oak Cellars, Rosé of Pinot "Lucy," Sonoma County 2012
Paired with: Charcuterie Board
Rosé is the perfect appetizer wine to kick start your Thanksgiving meal. It has a sweetness that compliments gamey meats, with enough acidity to balance the saltiness and cut through the fat. We recommend a charcuterie board to start your meal off with your favorite meats, or try ours: Prosciutto, Soppressata, & Coppa!
 About Ancient Oak Cellars
The story of Ancient Oak Cellars is an amazing tale of families working together and taking pride in their wines. Husband and wife, Ken & Melissa, decided to start making their own wine with the grapes that Ken's grandfather planted 20 years ago. They live on the land, working closely with other families in managing Siebert Ranch, and helping with Pagnano & Berger Vineyards. These wines can be tasted at Corrick's in downtown Santa Rosa!
The Side Dishes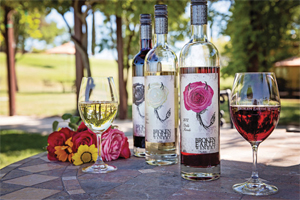 2012 Broken Earth Chardonnay
Paired with: Winter Squash Soup with Roasted Pumpkin Seeds
The wine is dominated on the palate by citrus fruits with an elegant backdrop of new French oak. It has a complexity and balanced acidity that make it a great pairing wine for Thanksgiving. California Oaked Chardonnays pair beautifully with rich creamy soups and the sweetness of the butternut squash will bring out the vanilla oak notes in the wine.
About Broken Earth Winery
Broken Earth Winery is Certified California Sustainable and was one of the first wineries in California to operate on 100% solar power. In fact, it produces enough electricity to power 100 homes for a year! Aside from their deep commitment to the environment, they are also dedicated to producing high quality wines. Their five brands: Broken Earth, Shimmin Canyon, Pull, Quadrant, and SWN, each stand out with a unique style and appeal to a specific market, however, they are all beautifully structured and balanced representations of their special terroir.
2012 Sextant Wines Edna Valley Chardonnay
Paired with: Butternut Squash Risotto
This Chardonnay is fruit driven, highlighting tropical guavas, ripe apricots, and juicy nectarines, and is followed by a buttery sensation of cheesecake crust and marzipan. This warm and inviting wine will pair perfectly with the comfort of this butternut squash risotto, and will be a perfect addition to your Thanksgiving menu!
About Sextant Wines
Sextant Wines is located in the heart of Paso Robles, recently named Wine Enthusiast's 2014 Wine Region of the Year. Their cooler climate vineyards are perfect for producing their delicious Pinot Noir and Chardonnay, but they are better known for their Zinfandel, Bordeaux blend, and GSMs. They involve a variety of old-world varieties from three distinct AVAs, expanding not only their portfolio of wines, but also that of the California Central Coast in general.
The Main Course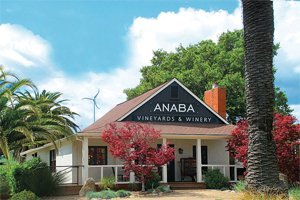 Anaba Wines, 2011 Pinot Noir Las Brisas Vineyard
Paired with: Thanksgiving Pioneer-Style Herb Roasted Turkey
Pinot Noir is the classic wine pairing for a Thanksgiving meal, and we couldn't agree more. The bright acidity and gentle tannins are essential for pairing with turkey, bringing out the juiciness of the meat and complimenting the green vegetables. The elegant flavor profile is versatile for a variety of side dishes, and the lighter body won't over power the star of the show.
About Anaba Wines
Anaba Wines was named after the anabatic winds that blow through the vineyards, slowing down the ripening process ever so slightly, and allowing the fruit to develop to its full potential. The wind is an important part in the process, and after building a 45-foot turbine, Anaba Wines became the first winery in Northern California to use wind in wine production. Visit the renovated century old farmhouse to taste their exciting profile of wines. Chardonnay, Pinot Noir, Rhone varieties and Rhone blends are their most well known, but don't forget to follow them with one of their delicious collection of dessert wines!
Mettler Family Vineyards 2012 Lodi Zinfandel
Paired with: Ina Garten's Homeade Gravy
Rather than pair a wine to the simple flavors of turkey, choose a wine that can stand up to the wide array of flavors found across your Thanksgiving table. The richness and complexity of this California Zinfandel can stand up to the varying degrees of acidity within the meal, such as in your favorite cranberry sauce, while still complimenting your Grandma's famous gravy recipe (or in this case, Ina Garten's!)
 About Mettler Family Vineyards
The Mettler Family first began growing grapes in Germany in the 1770s and arrived in Lodi in the early 1800s. These eight generations of premium winegrowing has helped produce the high quality fruit used for their own label as well as for other respected wineries. Mettler Family Vineyards is both sustainable and certified organic, and their careful involvement in every step of the winemaking process helps set the standard for the quality of wine they produce. Amidst 25 acres of vineyards you can find their secluded tasting room, where guests can enjoy the picturesque landscape while tasting some delicious wine!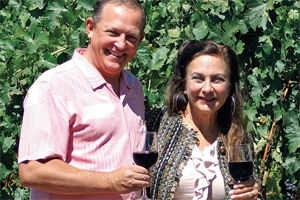 2011 Tara Bella Petite Syrah
Paired with: Charcoal Grilled Turkey with Fresh Herb Butter
Although Petite Syrah is not a typical pairing with turkey, it pairs beautifully with BBQ. Open up the space in your oven for your favorite side dishes by cooking your turkey out in the backyard this year.
About Tara Bella
Size doesn't mean anything, and Tara Bella Winery is here to prove it! With only 6 acres, they have made a name for themselves by producing some of Sonoma's best Cabernet Sauvignon, attaching at least one gold medal to nearly every vintage. Their wines are 100 percent estate grown Cabernet Sauvignon, and 95 percent of all they produce is sold directly through their wine club. They have a solid following of Cabernet lovers who take occasional trips together, so visit their tasting room to find out why you should join in on the fun!
And…Things to Do, Places to See, Where to Stay this Holiday Season
Napa Valley Wine Train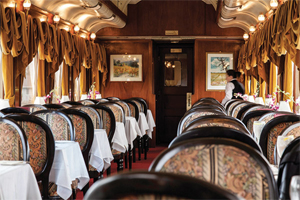 The Napa Valley Wine Train offers a unique opportunity for experiencing the Napa Valley wine country. The train starts its journey at their very own train station and then makes the trip from Napa to St. Helena and back. Guests can choose between lunch and dinner, both prepared with the freshest of ingredients under the careful eye of Executive Chef Kelly MacDonald, in one of the three dining cars, and enjoy a first course or dessert in one of the lounge cars. Guests may then choose to do a VIP tour of one of the region's many wineries, and then embark on a one-way trip, or choose to enjoy both lunch and dinner on the train, and spend the day admiring Napa's beautiful landscape!
Nicknamed "The Jewel of Placerville," this quaint hotel is located in the heart of Northern California wine country and is right on the way to Lake Tahoe. It was built in 1857 and has a rich history, including legendary guests such as Elvis Presley, Buffalo Bill, and Mark Twain. The 38 historic rooms and suites have been updated with modern amenities to make guests' stays both confortable and rich with history!
Traverse City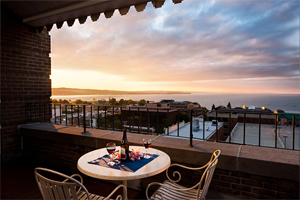 Traverse City is a hidden gem just waiting for you to discover all it has to offer. It is home to some of the best chefs in the world, being rated one of Bon Appetit's Top 5 Food towns, and producing some amazing wines to compliment them as well. Sitting on the 45th parallel, the same as the Bordeaux region of France, Traverse City has a unique microclimate that helps produce outstanding wines, and was rated in the Top 10 Places to Taste Local Wines by USA Today. Traverse City sits on Grand Traverse Bay, and offers picturesque views of both the Leelanau and Old Mission Peninsulas, which are home to the Traverse City wine country. Whether it's for the food, wine, or beautiful views, Traverse City should definitely be on your holiday bucket list!
Old Edna Townsite
The Old Edna Townsite is a century old building that has had a very colorful history, serving as a speakeasy, general mercantile, post office, and a dance hall throughout the years past. Today, it is home to the tasting room for Sextant Wines, and offers and enchanting experience for guests to take a stroll through history while enjoying some delicious food and wine. The Suite Edna also provides the special opportunity to stay overnight and fully experience the uniqueness of this unique landmark!
The following article was provided by our contributing partner – Touring and Tasting Magazine.
Cheers – Ken