In the last 2 months we have reviewed over 65 Pinot Noirs.  The results of our large blind tasting were posted last month.  In this post we will highlight the Pinots that were recommended from our mini tastings and blind flights.  There are 35 recommendations below.  We will showcase the Pinots that scored 90+ points.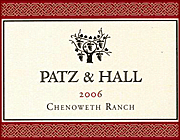 The envelope please……And the best Pinot we found in this tasting, and overall the best so far, was the Patz & Hall 2006 "Chenoweth Ranch" Pinot Noir from the Russian River Valley.  We scored this wine 93 points.  It costs $55.  It was the clear winner among many high end wines that we reviewed.  It opened with an attractive blueberry and cherry-like bouquet.  It is very nicely balanced and has harmonious acidity throughout.  The flavor profile is a delicious black cherry and blueberry blend.  It was quite impressive and would be a perfect complement to a filet mignon.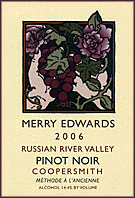 Our second place wine took the early lead as we tried this wine early on.  The 2006 Merry Edwards "Coopersmith" Pinot Noir $54 from the Russian River Valley was the best offering from her portfolio this year.  We scored this wine 92 points.  This offering is medium-bodied, really well balanced, smooth, and elegant.  Everyone that tried this wine was quite impressed. It was probably its delicious light black raspberry flavors with a hint of licorice.  The consensus was it was a very food-friendly wine that would pair perfectly with salmon.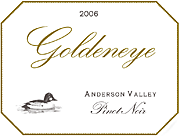 In third place was an old standby.  The 2006 Goldeneye from the Anderson Valley in California was again impressive this year.  This wine costs $55.  We awarded it 92 points.  Goldeneye always seems to be a top performing Pinot.  This year's version is a quite substantial.  It is big enough to pair with prime rib.  This bottle did not last long as the group quickly asked for another pour.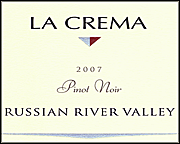 Our 4th place finisher also comes from the Russian River Valley.  That makes 3 out of the top 4 Pinots coming from this valley.  The 2007 La Crema "Russian River" Pinot Noir also scored 92 points.  This Pinot is La Crema's best option from the 2007 vintage and its costs $40.  On the palate, this wine really comes alive.  Its flavor profile is a very tasty blend of strawberries and raspberries.  We also felt this was a very cellar worthy Pinot.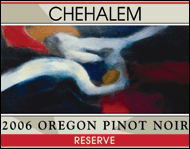 In fifth place we head north to Oregon.  The 2006 Chehalem "Reserve" Pinot Noir from the Willamette Valley is very impressive.  This wines cost $60 and we scored it Very Good+ and gave it 91 points.  What we liked best about this Pinot is that it was very nicely balanced, silky, and suave.  The flavor profile it displayed was a delicious blend of light raspberry, and syrupy red cherry.  It is elegant and would pair perfectly with raspberry chicken.  In sixth place was the 2006 Fess Parker "Bien Nacido" Pinot Noir for $48.  This like the Chahalem was balanced, smooth, and very easy to drink.  We scored this elegant Pinot 91 points.  Our group agreed that this wine would pair quite nicely with prime rib.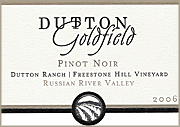 In 7th place was the Dutton Goldfield 2006 "Freestone Hill Vineyard" Pinot Noir.  Dutton Goldfield performed consistently well with its 2006 Pinots.  This offering scored 90 points and was one of my favorites from their portfolio.  This wine stood out in its small sampling flight.  It costs $58.  Its medium-bodied, balanced, and gentle with spicy raspberry flavors.  We found this wine very easy to drink. Our group found this wine to be food-friendly and we would pair it with grilled salmon.  In 8th place we return to Merry Edwards.  Her 2006 "Tobias Glen" Pinot Noir for $54 scored 90 pointsfrom its group of tasters.  Like the Dutton Goldfield, this wine was medium-bodied, balanced, smooth, and very easy to drink.  What made this wine stand out were its juicy strawberry flavors with hints of light raspberry and licorice mixed in.
In 9th place we return to the Anderson Valley and the La Crema winery.  The 2007 Pinot Noir from Anderson Valley costs $50 and scored 90 points.  After trying this wine I told winemaker, Melissa Stackhouse that I thought this was her perfect Pinot to pair with salmon.  It displayed savory raspberry flavors with notes of blueberry detected as well.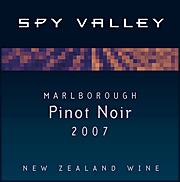 It was a very easy wine to consume and a second glass is not far behind the first.  Next up was our first qualifier from New Zealand.  Typically we do not describe New Zealand Pinot Noir as smooth and elegant, but 2007 Spy Valley has seemed to capture that magic formula with this vintage.  We scored this wine 90 point and at $29 it is a steal when compared to some of the wines listed above.  It is nicely balanced and silky with tasty raspberry flavors with notes of spice mixed in.  Like the La Crema, this wine would pair very nicely with grilled salmon.
In 11th place was the 2006 Dutton Goldfield "Devil's Gulch Vineyard" Pinot Noir for $55.  A couple of cool things struck me about this wine other than its name.  First of all it comes from Marin County in CA, which does not get a lot of press.  So I was impressed to find a wine perform so well from this region.  I also found the wine to be well balanced and show impeccably integrated acidity.  Those features plus its savory and very tasty light raspberry flavors make it an excellent choice to serve with duck.  We awarded this wine 90 points.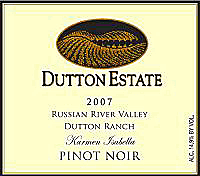 In 12th place was a wine from the Dutton Estate.  Their 2007 "Karmen Isabella" Pinot Noir for $38 was well received.  This is another impressive Russian River Pinot.  We scored this wine 90 points.  This Pinot had a different feel to it.  It was full-bodied, very well balanced, and has quite a smooth texture.  The flavor profile is a restrained strawberry and plum blend that is quite luscious.  This was a graceful wine that would really pair well and enhance pork tenderloin.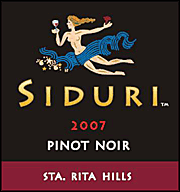 Our 13th Pinot is another bargain.  The 2007 Siduri "Sta Rita Hills" Pinot Noir only costs $29.  For a 90 point wine, that makes it quite a deal.  This Pinot opens with an attractive spicy black cherry bouquet. This wine is light to medium-bodied and balanced with juicy black raspberry flavors.  It is quite dry and its moderate tannins stick around for quite some time.  This impressive value Pinot would be a fine complement to prime rib.
Other recommended Pinot Noirs:
14. Merry Edwards 2006 Pinot Noir "Flax Vineyard" (RRV) $54 (89.5)
15. Willamette Valley Vineyards 2006 Pinot Noir "Signature Cuvee" (Willamette Valley, OR) $45 (89)
16. Landmark 2007 Pinot Noir "Grand Detour"(Sonoma Coast, CA ) $40 (89)
17. Siduri 2007 PN "Sonoma County" $20 (89)
18. Navarro 2006 Pinot Noir "Deep End Blend" (Anderson Valley, CA) $49 (89)
19. Fog Dog 2006 Pinot Noir "Sonoma Coast" $40 (89)
20. Lionheart Wines 2007 Pinot Noir "Sonoma Coast" $40 (89)
21. Dutton Ranch 2007 Pinot Noir "Dutton Thomas Road Vineyard" (RRV) $48 (89)
22. Patz & Hall 2006 Pinot Noir "Pisoni Vineyard" (Santa Lucia Highlands) $80 (89)
23. Merry Edwards 2006 Pinot Noir "Klopp Ranch" (RRV) $57 (88)
24. Napa Cellars 2007 Pinot Noir "Napa Valley" $26 (88)
25. Siduri 2007 Pinot Noir "Sonoma Coast"(Sonoma Coast, CA) $30 (88)
26. Truchard 2006 Pinot Noir "Carneros" $35 (88)
27. Adobe Road 2006 Pinot Noir "Sonoma Coast" $39 (88)
28. Robert Stemmler 2006 Pinot Noir "Carneros" $36 (88)
29. Dutton Goldfield 2006 Pinot Noir "Sanchietti Vineyard" (RRV) $58 (87.5)
30. Dutton Goldfield 2007 Pinot Noir "Dutton Ranch" (RRV) $38 (87)
31. La Crema 2007 Pinot Noir "Los Carneros" $38 (87)
32. Tom Eddy 2007 Pinot Noir "Elodian"(Yamhill Carlton, OR) $35 (87)
33. Amity 2007 Pinot Noir (Willamette Valley, OR) $20 (87)
34. Cambria 2007 Pinot Noir "Julia's Vineyard" (Santa Maria Valley, CA) $21 (87)
35. Atwater 2007 Pinot Noir "Finger Lakes" $18 (86.5)
As you can see, there are lots of Very Good Pinots to choose from.  We found you the best ones.  Now go find them and enjoy.  Cheers – Ken