Listed below are 10 of my favorite wine gifts. If you are looking for a gift for Dad, and he likes wine, you can't go wrong with any of these.  Don't forget a bottle of Very Good wine to go with it!  Happy Father's Day.
Cheers,
Ken

Wine Away—Hard as I try not to, I am always spilling wine on my shirts. Splash back is an occupational hazard for a wine reviewer. Nothing gets the red wine stains out better than Wine Away. If your Dad has the same problem as me, get him a bottle or two of Wine Away. He will love it!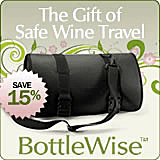 Bottlewise Duo 2 Bottle Travel Bag— I love this travel bag. It is great for bringing a couple of bottles of wine to a friend's house for dinner. Its best use is when you travel to wine country and want to bring back two special bottles in your packed luggage. I like to bring it to the Annual Wine Blogger's Conference in wine country, and return home with two wine gems protected neatly in my luggage!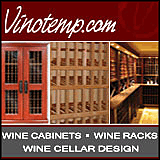 Dual System Wine Refrigerators— I am a big fan of dual system wine refrigerators. The main reason is that white wines and red wines should be served and stored at different temperatures. One of my biggest pet peeves is that we are frequently served Chardonnay that is too cold. Solve this problem for Dad by buying him a Dual Zone Wine Refrigerator from Vinotemp!
 


Bagged Wine Covers—Have you tried doing a blind tasting? It is fun to do with family and friends. Test Dad's skills and buy him these wine bottle covers. We use these for the KWG Tasting Panel. They are easy to use, and they are good for the environment because they are reusable!
 


Riedel Cabernet/Merlot Stemware—I believe Dads need great stemware to drink great wine. This Cab glass will make all the wines we recommend perform at peak levels. I love my Riedel Cab glass! Believe it or not, I take this glass with me everywhere I taste wine.

Ridel O Decanter—I received this decanter for Christmas from Theresa and the kids a few years ago. It's one of my favorite wine gifts! 
 


Windows on the World Complete Wine Course: 2008 edition (hardcover) by Kevin Zraly—This is one of my favorite wine books. It's quite comprehensive!
 


Riedel Large Microfiber Crystal Cloth—I use this on our best wine glasses, and they always shine like new! This cloth gets used many times per week at our house. It's machine-washable too!
 


Monopoly "The Board" Wine Charms—These are my favorite wine charms, and I use them every day. We picked up a set of these fun wine charms at Gary Vaynerchuk's Wine Library in Springfield, New Jersey two years ago. Serve your wine in style!
 


Vacu Vin 3-Piece Wine Saver Gift Pack—We think every household should have one! Wine lasts longer if you use the Vacu Vin. We also recommend refrigerating any opened bottles of wine.