Take the gloom out of June and start planning your summer getaway! The Fourth is right around the corner, and we can't think of a better way to celebrate America's birthday than by raising a glass of patriotic pinot to cheers good ole' Lady Liberty & Uncle Sam! You may immediately think cool cocktails & ice cold beer when you imagine yourself poolside this summer, but we have some wine country recommendations that will make you second guess the longneck & reach for a nice big glass of vino instead. Kick back, relax and follow our lead on where to taste, stay & spend time in wine country for an unforgettable summer getaway—wine style!
Where to taste:
LangeTwins Family Winery | Lodi, CA
At LangeTwins, winemaking is a family affair, and it is a passion passed down through generations since the 1870s. Their state of the art winery has a modern feel that makes guests instantly aware of their quest for perfection and devotion to sustainability. The Press Room provides a welcoming space for visitors to come together and taste their impressive portfolio of wines, and those wishing for a more in depth tour can participate in a wine & cheese pairing experience behind the glass cellar doors.
Castello di Amorosa | Napa Valley, CA
Dreaming of an Italian summer getaway? It might be closer and more accessible than you'd think! Castello di Amorosa provides the perfect slice of medieval Italy, right in the heart of the Napa Valley. The 121,000 square foot fortress is four stories high and has 107 rooms, with additional levels underground. Guests can taste New World wines within the atmosphere of an Old World castle, complete with a drawbridge, moat, dungeon and torture chamber, secret passageways, courtyards, church, 12,000 square-foot barrel room and more! It's a "must-see destination" for sure, and paired with their delicious wines, your Italian getaway dreams will come to life!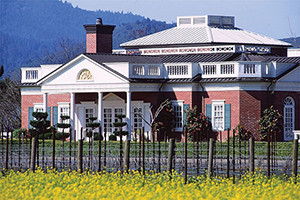 Monticello Vineyards | Napa Valley, CA
Monticello Vineyards pays a tribute to Thomas Jefferson, who once said, "Good wine is a necessity of life for me." The property boasts a downsized version of the elaborate plantation home that Mr. Jefferson once resided in, where winery guests can enjoy private tastings and dinners. Jay Corley and his three sons have carried out Mr. Jefferson's love for wine and viticulture through their hands-on, family-oriented approach to winemaking. This dedication and love for the craft is evident as visitors taste award-winning wines in the comfort of the cozy tasting room. We can't think of a better way to celebrate the 4th than to raise a glass to one of our founding fathers at Monticello this summer!
C.R. Sandidge Wines | Cascade Valley, WA
Ray Sandidge is one of the top Winemakers in the Pacific Northwest, a humble fact that is backed up by a quarter century of International and National award winning wines. The Sandidge Family believes faith is a prerequisite for success, and their faith in their winery endeavor has led them down a path of success with delicious wines that are cherished around the world. Guests are invited to see what all the buzz is about by joining the Sandidge family at their tasting room in the Village of Manson on the north shore of Lake Chelan for a friendly and knowledgeable tasting experience this summer.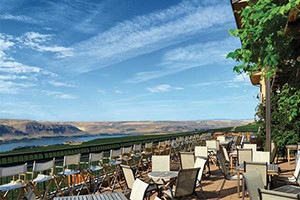 Maryhill Winery | Columbia River Gorge Area, WA
Owners Craig and Vicki Leuthold once had a dream of opening a winery in the Columbia River Gorge National Scenic Area, and have made this dream come alive over the years by constructing a stunning portfolio of over 50 exceptional and affordable wines at one of Washington's largest and most visited wineries. Each year their 3,000 square-foot tasting room greets more than 70,000 visitors from around the world, and their welcoming outdoor terrace provides free live music throughout the summer. With delicious wines and an unbelievable location, Maryhill Winery is the perfect package deal for your summer vacation!
Westerly Wines | Santa Barbara County, CA
Winemaker Adam Henkel was originally fascinated by the viticultural diversity of Santa Barbara County. He has made it his mission to express the unique characteristics of the region through exceptional winemaking practices that result in the high quality wines that Westerly is known for. The Westerly name resonates in the Santa Ynez Valley, and each of their impressive varietals exemplifies Santa Barbara County in a bottle. This summer, transport yourself to beautiful Santa Barbara by uncorking a bottle of Westerly Wines.
Where to stay:
Inn at the Tides | Sonoma Coast, CA
Summer is a time to wind down and kiss your worries goodbye with some much-needed relaxation. Alongside the Sonoma coastline is the enclave of 86 guest lodges that make up the Inn at the Tides, your picture perfect sanctuary for summer rejuvenation. Their two restaurants, swimming pool, spa, and central location with easy access to all that Sonoma wine country has to offer make it an ideal place for every kind of traveler to stay this summer!
What to do: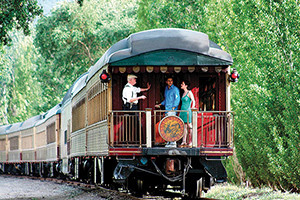 Climb Aboard the Napa Valley Wine Train
Calling all train lovers, foodies, wine-os, history buffs, and adventure seekers, the Napa Valley Wine Train offers a unique way to tour the beautiful Napa Valley that is unlike any other wine country experience. Climb aboard one of their distinctive train cars, each with its own special charm, and soak in the rolling stunning vineyard landscape as you taste exceptional Napa Valley wines paired with incredible culinary bites made with the finest local ingredients. It's a bucket list experience you won't want to miss this summer!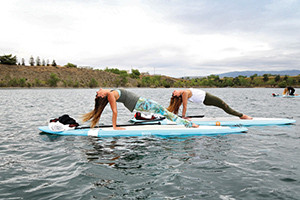 Visit Tri-Valley, CA
Just east of the San Francisco Bay Area lies the five cities that make up Tri-Valley: Danville, Dublin, Livermore, Pleasanton, and San Ramon. Each has a unique quality, yet all five are bustling with opportunities for recreation and entertainment while still maintaining the small town charm that is rare to find so close to San Francisco. From incredible cuisine made with bountiful local produce paired with exceptional Livermore wines, to championship golf courses, and beautiful hiking and horseback riding trails, there is truly something for everyone's perfect summer getaway!
The following article was provided by our contributing partner – Touring and Tasting Magazine.
Cheers – Ken