It's April and no joke, we're back with more wine country experiences for you this month. It seems like April has a bad reputation for bringing "showers" and taxes, but there is actually a lot to celebrate! Break out your best suit for National Tweed Day (April 3), take a stroll around a winery on National Walking Day (April 6), try a nice port pairing for National Chocolate Covered Cashews Day (April 21) and enjoy the brisk Spring air on April 23rd for National Picnic Day. Whether you're celebrating one of the many National Days of April or merely spending a day in wine country, we have the perfect spot for you.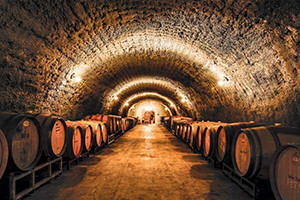 El Dorado County (Gold Country)
Whether it's whitewater rafting, fishing, or wine tasting you're after– look no further than El Dorado County, located in beautiful Gold Country, California. Although some may consider El Dorado County a hidden gem, The El Dorado Wine district has been producing wines since the Gold Rush era.
With over 70 wineries to visit and countless outdoor activities, El Dorado County has something for everyone. The 25th Annual Passport Event Weekends, offer passport holders the chance to visit 20-plus wineries, enjoy food pairings and much more!  While the Winemaker Dinners on April 8 and 15 ensure that you taste all that one of California's oldest winegrowing regions has to offer.
Harney Lane Winery (Lodi)
The Mettler Family has been farming the 100 acre Harney Lane parcel, just east of Lodi, for over one hundred years, but the family just turned to winemaking in 2006 and they are already winning awards for their exceptional hand-crafted estate wines. Bring your dog, sit out in the beautiful garden, and enjoy the April weather over a cheese platter and their acclaimed Old Vine Zinfandel.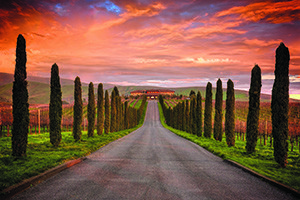 Jamieson Ranch (Napa Valley)
From pinots to ponies, Jamieson Ranch embodies the lively spirit of the Napa Valley. They provide three fun pairing options: The JRV Napa Comfort Food Pairing is a guided food and wine pairing that teaches the essentials of creating and enjoying food with wine; the JRV Veranda Cheese Pairing is a guided cheese and wine pairing overlooking the winery's rolling hills; and the JRV Experience takes guests on a guided food and wine pairing, plus a tour of the winery. Or, sit outside while you enjoy the acclaimed Jamieson Ranch wines, you may very well be greeted by one of the miniature horses that live on-site!
Robert Mondavi Winery (Napa Valley)
In 1966, with his belief that the Napa Valley could be the center of a gracious lifestyle embracing wine, food, and art, Robert Mondavi built the valley's first major winery since Prohibition. Visit Robert Mondavi and enjoy the expansive, picturesque grounds, which look stunning rain or shine. There are tables indoors with large windows looking out over the property and knowledgeable, hospitable staff. Take one of the tours and learn about the winemaking process, enjoy a three-course lunch paired with wines, or visit in the evening for a sunset tour. This iconic Napa winery is the perfect spot to relax on a spring day.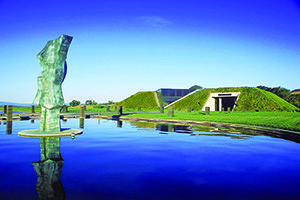 Artesa Vineyards & Winery (Napa Valley)
Artesa Vineyards & Winery is a Napa Valley standout. The unique hilltop construction designed by Barcelona architect, Domingo Triay, and the one-of-a-kind artistic installations by Artist-in-Residence, Gordon Huether, are absolutely breathtaking. Guests are greeted as soon as they arrive and the tasting room is spacious enough to easily accommodate groups. Weather permitting, sip out on the patio and enjoy unparalleled views of the rolling Napa hills. Save room for their pre-order menu of food pairings- a foodie's dream!
Klinker Brick Winery (Lodi)
Klinker bricks (named for the unusual sound they make when banged together) were chosen by 1920s craftsmen architects for their distinctive qualities including unique shapes and dark, rich color. A rich, deep color, enormous density, and other unique characteristics also help describe this winery's exceptional lineup of red wines like the Old Vine Zinfandel and Farrah Syrah. The tasting room at Klinker Brick is known for its friendly, knowledgeable staff and great ambiance.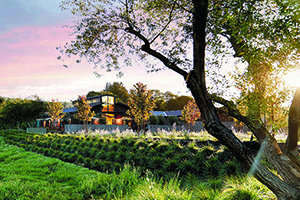 B Cellars Vineyards & Winery (Napa Valley)
B Cellars has taken a unique approach to wine tasting with the unveiling of its Hospitality House. Here, guests are engaged in a variety of tasting rooms and private event spaces that lead to the chef's garden, chicken coop, and apiary program that brings many beneficial elements to the vineyards and gardens while doing its part to strengthen the health of the local bee community. Try their magnificent organic cuisine along with their esteemed wine, B Cellars never disappoints.
Stags Leap Winery (Napa Valley)
Located on the east side of the Napa Valley, the 240-acre Stags' Leap estate rests in its own intimate valley, graced with natural beauty, historical buildings, gardens, and a legendary reputation for elegant wines that express their unique terroir. The tasting room delivers floor-to-ceiling windows with views of the vineyard and Stags' Leap Mountain.  Try one of their exquisite cabs while enjoying the gardens and be sure to ask your host about the legend of Stags' Leap.  Stags' Leap is always memorable.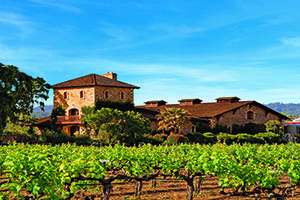 V. Sattui Winery, Artisan Foods & Italian Marketplace (Napa Valley)
If spring picnics interest you, look no further than V. Sattui. With their large picnic area that wraps around the building and an excelled deli and cheese shop, there is no need to pack your own lunch; on some days there is even an outdoor barbeque! The attentive, generous staff contribute to the lively, bustling atmosphere that keeps guests coming back. Enjoy the scenic grounds and their portfolio of over 60 wines. Try one of their flights, their moscato frizzante, and their fresh made mozzarella cheese.
Gary Farrell Winery (Sonoma County)
Set high atop the Russian River Valley, Gary Farrell Winery is a Sonoma county standout. In the winery's 33-year history, the winery has consistently produced Pinot Noir and Chardonnay, forging a legacy of collaboration between the winery and the appellation's top growers. Stand on the terrace and gaze out over the valley while enjoying their outstanding wines, or take a tour of the winery's crush pad and cellar and learn about the winemaking process. The indoor space is cozy and features stone fireplaces, but the long tasting counter can accommodate a group. For magnificent views and a warm, comfortable atmosphere, Gary Farrell is the perfect place.
The following article was provided by our contributing partner – Touring and Tasting Magazine.
Cheers – Ken