As May rolls around, we begin to look forward to summer and the warm weather and adventures that await.  It's time to take advantage of that nice weather and plan those summer wine country getaways you've been waiting for! Our latest list of great wine destinations offers top-notch wineries, touring services, and hotels to aid you in planning an outstanding and unique wine county vacation. With Mother's Day approaching on May 8th, consider gifting her a fun wine tasting excursion. Also, the International Chardonnay Symposium and National Wine Day occur in May, making it the perfect month to embark on a tour of wine country.  No matter the occasion, the destinations listed below guarantee priceless summer memories with family and friends full of great wine, food, and fun!
J. Lohr – Paso Robles, CA
Jerry Lohr founded J. Lohr Vineyards & Wines in 1974 and ever since, the winery has continued to prove why they are one of North America's most successful family wineries. A visit to their Paso Robles tasting room, conveniently located halfway between San Francisco and Los Angeles, will provide you with access to flavorful wines and stylish event facilities.  Enjoy a glass of one of their award-winning wines from the wrap-around veranda and take in the amazing vineyard views.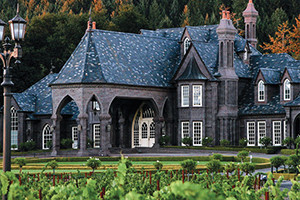 Ledson Winery & Hotel – Sonoma, CA
Have an unforgettable Sonoma wine country experience by visiting the iconic Ledson Winery & Hotel.  Visitors can tour the illustrious Ledson Winery castle, stay at the vintage-style boutique hotel and visit one of the tasting rooms.  Guests at Ledson Winery & Vineyards are offered a complete tasting experience and can choose from a variety of tasting options. They are welcome to drop in for a general tasting at one of the three separate tasting rooms, or they can plan ahead and make a reservation for a personal tasting hosted in a private tasting suite with one of Steve Ledson's knowledgeable winemaker's assistants.  No matter your selection, the staff at Ledson will render  an experience like no other!
Beau Wine Tours – Napa Valley and Sonoma, CA
Beau Wine Tours is the perfect service to take you on your next Sonoma or Napa Valley wine country adventure.  The tours are led by guides able to provide guests with knowledge regarding local Wine Country history, geography, and winemaking practices. They have a variety of vehicles and are able to accommodate tours for 2-200 people.  Whether you take one of their tours or indulge in a private chauffeured ride, Beau Wine Tours and their exceptional drivers and tour guides will provide you an unforgettable experience!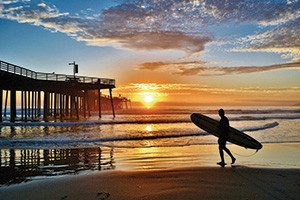 Pismo Beach, CA
Pismo Beach is the perfect summer destination for any wine lover. Travel to Pismo Beach to experience a unique getaway full of waves and wine, with more than 20 wineries and tasting rooms located within 15 minutes of downtown.  Or take a short drive to tour and taste at one of the more than a dozen Edna and Arroyo Grande Valley wineries.  On top of visiting wineries, visitors to Pismo Beach can surf, walk the boardwalk and pier, golf, cycle, explore museums, and much more!
Anaba Wines – Sonoma, CA
Anaba Wines is named after the anabatic winds that flow through the vineyard's 16-acre estate where their elegant and classic wines come from.  Anaba wines continue to receive recognition for their excellence.  They also receive major recognition for their green initiatives, including their utilization of wind energy in the production of their wines. Visit the century-old farmhouse tasting room or their patio overlooking the vineyard to sample their exceptional wines this summer.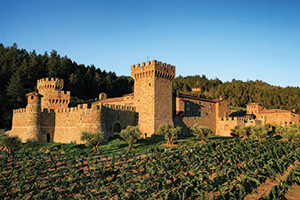 Castello di Amorosa – Napa Valley, CA
Dario Sattui built the must-see destination that is Castello di Amorosa in order to honor his Italian heritage and showcase his exceptional wines. The winery sits within the walls of a medieval-style castle and features a drawbridge, moat, dungeon, and a 12,000-square-foot wine barrel room. Guests can take a tour of the castle, that also includes a barrel tasting experience, or participate in the Royal Food and Wine Pairing featuring authentic Italian food.
Trione Vineyards & Winery – Sonoma, CA
Through the decades and three generations, The Trione family has been honored with awards for their contributions to the Sonoma County Wine Industry with their dedication to bringing in quality fruit and crafting small lots of premium wine. Trione's state-of-the-art winemaking facility and tasting room was built alongside Sonoma County's historic Old Stone Building–dating back to 1908. Unwind at the bocce courts that host amazing views of the Alexander Valley, or attend one of their many food and wine events.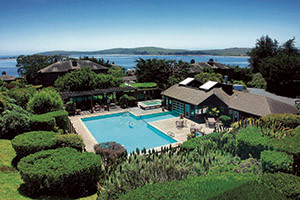 Inn at the Tides – Sonoma, CA
Enhance a trip to Sonoma wine country by staying at the Inn at the Tides.  Set along the isolated Sonoma coastline, the Inn provides the ideal sanctuary for rejuvenation and relaxation.  Enjoy a day at the spa or swimming pool and compliment it with a decadent dinner at one of their dinning outlets.  The Tides Wharf Restaurant will evoke a sense a familiarity, even for first time-diners.  This is because the restaurant was featured in the famed Alfred Hithcock movie, The Birds. Or for a more wine focused dining experience, the Bay View Restaurant hosts monthly winemaker dinners featuring many top Sonoma and Napa Valley vintners serving four-course wine and food pairings. The Inn at the Tides is truly a Sonoma sanctuary!
Silvan Ridge Winery – Willamette Valley, OR
Silvan Ridge Winery offers a multitude of fun events to check out this upcoming summer, including: dinners, outdoor movies and a Friday night concert series featuring live music and wood-fired oven pizzas. Their tasting room is located just 12 miles from downtown Eugene, Oregon, where they offer an impressive tasting menu and gorgeous views of the sunset. May is recognized as Oregon Wine Month and thus is the perfect excuse to take a trip to Silvan Ridge Winery and experience impressive Willamette Valley wines.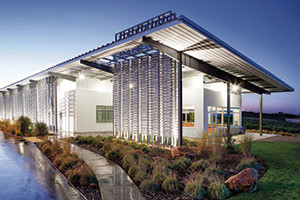 Andis Wines – Sierra Foothills, CA
From first glance, Andis Wines impresses guests with its stunning architecture.  They remain a leader in the green movement with their dedication to the environment; even offering electric vehicle charging stations. Andis Wines seeks out the best vineyards of the Sierra Foothills region in order to create delicious and elegant wines through traditional and innovative winemaking techniques.  The expansive tasting room, open daily 11am-4:30pm, offers amazing views of Amador wine country and picnic areas where guests can relax and enjoy their favorite Andis wine.
The following article was provided by our contributing partner – Touring and Tasting Magazine.
Cheers – Ken