Wine country is bustling this time of year! Harvest season is in full swing and while that means a lot of work for the winemakers—it translates into a lot of fun for wine enthusiasts! From exclusive tastings and winemaker dinners to harvest festivals and so much more, harvest season truly is the ultimate time to visit wine country. Read on to learn more about some of northern California's best places to visit to gain the full harvest season experience!
Livermore Valley—CA
With a history dating back to the Spanish missionaries in the 1760's, Livermore Valley has a colorful history! Today the valley's history is steeped in wine and, in fact, it was awarded America's first international gold medal for wine in 1889. Just 45 minutes over the Golden Gate Bridge and easily accessible by car, train or BART. Livermore Valley beckons visitors and local northern California residents alike. Besides its 40 plus wineries throughout its picturesque canyons and peaks, the valley has an array of charming towns and an assortment of outdoor activities. There truly is something for everyone in the Livermore Valley so… check it out!
Wente Vineyards—Livermore, CA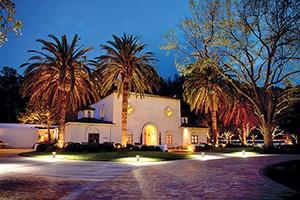 Wente Vineyards remains the nation's oldest continuously family-owned and-operated winery. And when one visits Wente, they feel like they too become part of the family! Beyond the traditional tasting room, the Wente family heartily embraces each guest with gracious hospitality through a world-class restaurant, outdoor concert venue, 18-hole championship golf course and the Winemakers Studio. It is literally a campus dedicated to sharing the art of winemaking! During the month of October, they host their annual Winemaker's Dinner—a can't miss four course meal paired with award winning wines.
Cedar Mountain Winery & Port Works—Livermore, CA
This boutique winery specializes in handcrafted small lot table wines and ports produced from Livermore Valley grapes. The location's rolling hills and vistas beckon visitors to linger on its grounds and enjoy a fantastic port paired with their favorite cheese. The owners believe that quality wines are born in the vineyard and invite wine lovers to visit and taste what they mean.
Harney Lane Winery—Lodi, CA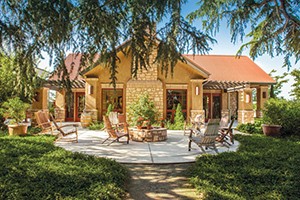 To experience the Lodi legacy firsthand, join Harney Lane Winery on an intimate one-hour grape to glass tour where guests can wander the grounds and discover the love behind every bottle of Harney Lane Wine. For more than one hundred years, the Mettler family farmed the 100-acre parcel that is Harney Lane. But it wasn't until 2006 that they decided to venture into winemaking. Since then, their hard work and dedication has paid off as just in those seven short years, the winery has developed a portfolio of unique, memorable estate varietals. This October, the winery welcomes you to join them for their 2nd Annual Harvest Cookout where you can join in the celebration of their bountiful harvest!
LangeTwins Family Winery & Vineyards—Lodi, CA
Located north of the city of Lodi amidst the family vineyards, the winery offers visitors the opportunity to have a true grape-to-glass experience in its new tasting room, the Press Room. Tucked beneath an elevated crush pad, the Press Room's awe-inspiring entrance features a stunning concrete and stainless water feature. Once inside, guests are welcome to wander through the cellar and taste from a large portfolio of estate, reserve and single barrel wines. It is recommended to make an appointment for an in-depth tour of the industrial facility where the winery makes the most environmentally friendly wine possible. And during the month of October, LangeTwins is host to the annual Sacramento Cyclocross event—a day of wine and bike racing!
Materra |Cunat Family Vineyards—Napa, CA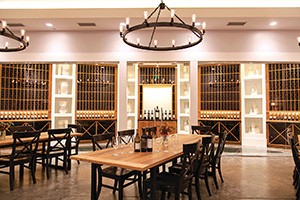 The new winery architecture at Materra | Cunat Family Vineyards is a sight to be seen! The floor of the library room is made of clear glass where guests can look down onto the soil of the vineyard. Even the restrooms are so unique that guests have asked to have their tastings there! And it's not just the architecture that sets Materra | Cunat apart, it's the wines themselves. Through their heartfelt blending and growing process, the winery has produced some exceptional vintages including the 2011 Howell Mountain Cabernet Sauvignon which received 90 points from Wine & Spirits. Three different tasting options are offered and appointments must be made in advance so that each tour can truly be a one-of-a-kind experience!
Stags' Leap Winery—Napa, CA
A reservation is required for a Historical Tour & Tasting at the estate of Stags' Leap Winery but it is well worth it. The estate is a magical place and the wines are divine. The tour showcases the natural beauty and history of the buildings and gardens that populate the sprawling estate's grounds. Beyond the breathtaking views, the focal point of the estate is the old stone Manor House—originally built in 1892. There are a variety of tours to choose from including the Ne Cede Malis Vineyard Tour and Tasting where guests learn about viticulture and fermentation processes and their impact on the resulting wine. At the end of this tour, participants have a private Petite Sirah-focused tasting.
Castello di Amorosa—Calistoga, CA .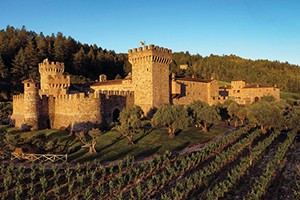 Inspired by his Italian heritage and in need of a place to showcase his exceptional wines, Dario Sattui created Castello di Amorosa—a 136,000 square-foot fortress built stone by stone to look like an authentic medieval castle. The castle even features authentic elements such as a drawbridge, moat, a church and secret passageways. This unique fortress sets the stage for the winery's classically structured and intensely flavored handcrafted wine. The winery offers a myriad of ways for guests to enjoy their visit including tours of the castle and private tastings. It truly seems like there is always something happening at Castello di Amorosa and October is no exception as that's when they host their annual Pagan Ball—a Halloween lovers dream or maybe nightmare…?
Chateau St. Jean—Kenwood, CA
Reminiscent of those found in the South of France, the gardens at Chateau St. Jean are considered some of Sonoma County's most beautiful. Sit at a bench or table scattered throughout the property's meticulously manicured lawns and enjoy a picnic and a glass of one of their exceptional quality wines. Guests are encouraged to make an appointment for one of the Distinctive Experiences at Chateau St. Jean including the foodie friendly Charcuterie at the Chateau. This tasting pours four single vineyard and reserve wines paired with local bites. On October 16, Chateau St. Jean is host to a complementary Wine Club Pick Up Party where guest can enjoy wine, food and live music.
Fountaingrove Inn and the Steakhouse at Equus—Santa Rosa, CA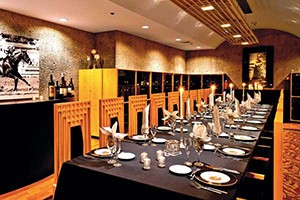 On the grounds of a late 1870's commune that produced 90 percent of the region's wine stands an old Round Barn circa 1899. The barn is now a gateway to the Fountaingrove Inn and Steakhouse at Equus. Close to famed Dry Creek, Alexander and Russian River Valley appellations, this wine country retreat is the ideal location for leisure and business guests alike.
The Steakhouse at Equus is a not to be missed dinning experience with a world class wine list and the restaurant's new menu which features old favorites and showcases premium meats. With 124 guestrooms and suites, unique architecture, and a dedication to their guests, Fountaingrove Inn is truly the perfect home-away-from-home for anyone traveling to Sonoma Wine Country!
The following article was provided by our contributing partner – Touring and Tasting Magazine.
Cheers – Ken