As 2016 comes to a close, it's time to reflect on the year and the memories created. But that doesn't mean there aren't more memories to be made! Before you close the book on 2016, let this list be your inspiration to create one last wine country memory—one to last a lifetime! Or just an excuse to drink some good wine and maybe pick up some last minute gifts along the way!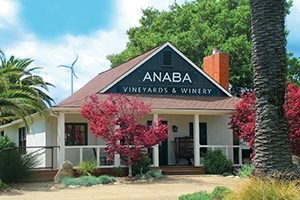 Anaba Wines – Sonoma Valley, CA
Known for their 5-star tasting experiences, Anaba hosts a wide range of enlightening wine education experiences at their charming tasting room throughout the year. These seminars highlight the winery's passion for being earth-friendly. Anaba is very proud of the fact that they were the first winery in Northern California to utilize wind power. Not only does the harnessed wind power create energy for the tasting room, offices and irrigation pumps but for car charging stations too! As you enjoy their delicious wines, you feel good knowing that Anaba takes great care in preserving the ground and earth where they came from.
Beringer Vineyards – Napa Valley, CA
The beauty of Beringer Vineyards is evident in the wines and fully realized when visiting its historic grounds in the Napa Valley. As the first winery in the valley to offer public tours, they have mastered the art of hospitality. Beringer offers a one-stop experience where one can be fully immersed in every aspect of the Napa Valley wine country experience. From Private Reserve tastings to their Legacy Cave Tour, a customized experience is available with an advance appointment.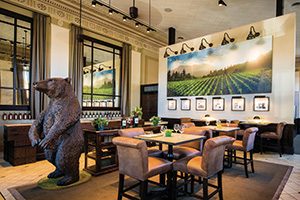 Huge Bear Wines – Napa Valley, CA
Located in the converted, historic Calistoga National Bank, Huge Bear Wines takes pride in preserving the history and folklore of the building that hosts them. Even their labels tell the story of the rogue bear whose fight for independence inspired the California state mascot—hence the name "Huge Bear Wines." This sense of historical pride trickles down through everything Huge Bear Wines does. From the great care shown in their winemaking to their appointment-only Vault Tasting, every guest leaves with a new appreciation for the history and passion involved in the winemaking process. Visit Huge Bear this December to help celebrate their new releases!
Sterling Vineyards – Napa Valley, CA
Perched 300 feet above the town of Calistoga, Sterling Vineyards offers panoramic views of the Napa Valley. Access to the winery's entrance is achieved by a stunning gondola ride through the treetops. If that's not exhilarating enough, the winery's Greek inspired architecture and beautiful bell towers are sure to impress! The striking scenery is only to be matched by Sterling's award-winning wine portfolio including its critically acclaimed 2012 Reserve Chardonnay and Reserve Cabernet Sauvignon. During the winter months, Sterling Vineyards offers the Winter Silver Experience. For just $39 per person, guests will enjoy two current releases in the lower portion of the winery then with special access to the upper portion, enjoy two limited releases while viewing the Sterling Art Collection including original pieces from Picasso, Chagall, Renior, Frasconi and rare Ansel Adams.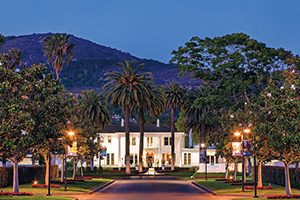 Silverado Resort and Spa – Napa Valley, CA
A stay at the Silverado Resort and Spa will rejuvenate all of your senses. Indulge in a luxurious spa treatment including seasonal specials like the Pumpkin Souffle Body Wrap then take a dip in one of the 10 swimming pools. Afterwards, dine at the Grill or Mansion Lounge where the sommelier will assist you in choosing the most palate pleasing wine to complement your meal. If you are looking for something more energizing, play a round at one of their two PGA championship golf courses or a set at one of the 13 tennis courts! And if your senses are not fully piqued among the 1,200 resort acres, go off property to one of the many wineries close by—a concierge will be happy to help create the perfect itinerary. December is an ideal time to book your trip as the Resort is currently offering an array of packages.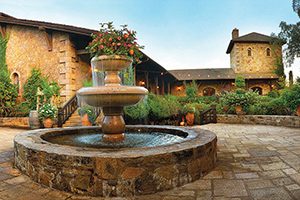 V. Sattui Winery & Italian Marketplace – Napa Valley, CA
V. Sattui is all about pleasing the palate! Food is king at the winery's Italian Marketplace where tempting picnic fare is made fresh daily. It is strongly advised to pick your picnic first and then move to the lawn where you can pair your spread with some of V. Sattui's excellent wines. Once you've had your fill, stroll through the winery's charming grounds—reminiscent of an Italian village. If you prefer a more customized experience, make an appointment for a tasting in the Gold Room for a sit-down, food paired tasting in the elegant cellar cave.
Lodi, CA
Situated south of Sacramento and West of the Sierra Nevada Lodi, California is a delightful region of over 100,000 acres of vineyards built upon ancient vines that are as old as 130 years. Steeped in a multigenerational family-farming culture, Lodi has become a beacon for exceptional wineries, restaurants and is a true California gem! The region offers a diverse portfolio of wines including: Zinfandel, Cabernet Sauvignon and other exciting varietals such as Albarino, Tempranillo, Graciano and Vermentino, plus many others. Since the climate is mild, December is the perfect month to visit and try some of the region's award winning wines and perhaps even partake in an event or two! During the month of December Lodi will host a variety of holiday themed events from the traditional Nutcracker ballet to the town's annual Holiday Golf Cart Parade.
Lodi Vintners – Lodi, CA
Although Lodi Vintners charming tasting room is one of the region's newest, it is located on the site of the region's oldest operating winery which dates back to 1900. Designed as a custom crush facility and immersed in fascinating winemaking techniques, including giant concrete fermentation tanks, visitors to Lodi Vintners are assured not only something new to sample but something new to experience. The winery offers a variety of wine events and educational seminars held throughout the year including their annual grape stomp!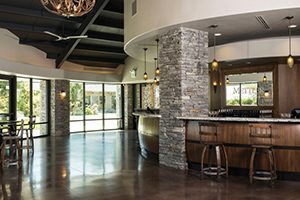 Mettler Family Vineyards – Lodi, CA
Through eight generations in the grape growing industry, Mettler Family Vineyards has cultivated an unrivaled kinship with the earth. As stewards of the soil, the Mettlers have chosen to run their farm as both sustainable and certified organic. This earth friendly attitude is evident in every aspect of the vineyard including their "must-see" tasting room which is nestled in the center of their 25 acres of vineyards. Arriving guests at Mettler enter a secluded world of lushly landscaped grounds and the friendliest of staff. Mettler is known for hosting several events throughout the year including regular painting parties paired with their best wines.
Peltier Winery – Lodi, CA
Known as an innovative, cutting-edge crush facility, guests of Peltier Winery will find no shortage of impressive wines or reasons to return. Now is an exciting time to visit the winery at their temporary pop-up tasting room where one can share in the excitement of building a new winemaking facility. While there, try one of their hy-brid wines born from the revolutionary winemaking process that combines highly advanced technology with environmentally sustainable winegrowing principles. Be sure to make an appointment in advance to get the full experience!
The following article was provided by our contributing partner – Touring and Tasting Magazine.
Cheers – Ken